'Genius, Billionaire, Playboy, Philanthropist' Elon Musk Eager to Host Saturday Night Live despite Backlash
SNL announced that Elon Musk would be a guest host on their show on May 9, which received a lot of backlash from the public.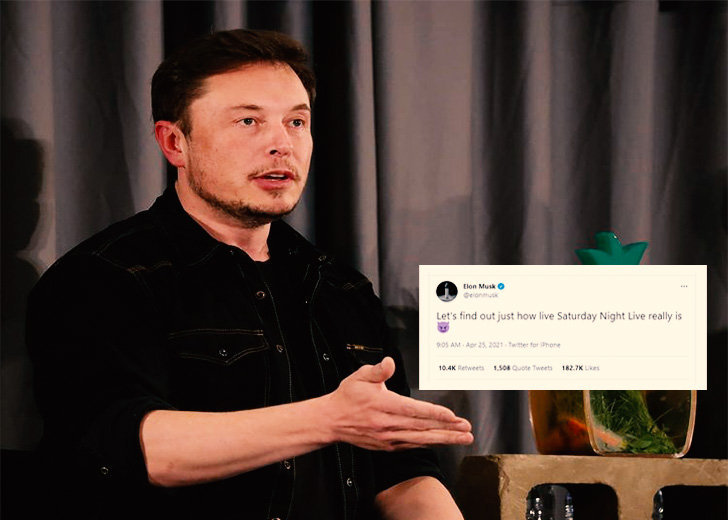 According to Forbes, Elon Musk is a multibillionaire with a staggering net worth of $177.6 billion. The CEO of the auto company Tesla and aerospace firm SpaceX is currently the second richest man in the world behind Jeff Bezos, founder and CEO of the e-commerce company Amazon.
NBC's Saturday Night Live (SNL) recently announced that Musk would host the show on May 8, which people are not happy about.
Musk To Host SNL
The late-night comedy show SNL recently announced through their official Twitter that Musk would guest host their show on May 8 along with musical guest Miley Cyrus. 
Just hours later, the billionaire also confirmed the news about it by posting about it on his Twitter. He seemed to look forward to it as he again tweeted, saying he was eager to find out how 'live' the live show actually was. 
Cyrus also seems to be ready to co-host the show with the business mogul as she had also tweeted about it.
She has been a host and performer in SNL plenty of times throughout her career, with this marking her 6th time appearing on the show. 
Public Criticism
People were not happy about the decision as many have been criticizing SNL and Lorne Michaels, the show's creator for simply allowing a billionaire CEO to host, while others expressed disappointment that the show had given a platform to a person who had been such a controversial figure.
One user @negaoryx tweeted that there are a few things in the world they want to see less than Musk hosting the show.
Another User @keithedwards tweeted saying Musk hosting SNL was the most reckless casting decision they had made since Donald Trump.
SNL had invited to Donald Trump host the show in 2015, which had not been well received. He had also been running for president at the time.
Fans are also expecting that Musk will talk about the meme cryptocurrency Dogecoin, which the CEO claims to be a big fan of.
Popular user @DogecoinRise tweeted that Musk will mention Doge on SNL.
Despite all this controversy, one of the most successful YouTubers with over 60 million subscribers, MrBeast replied to Musk's tweet saying he'd tune in to watch the show on May 8. 
Controversies Of Musk
In September 2018, Musk was in controversy because he smoked marijuana and drank whiskey during a live podcast with Joe Rogan in his widely popular podcast Joe Rogan Experience. 
Musk had drawn a lot of outrage for his stance on COVID-19 throughout the pandemic, as he had tweeted a lot of controversial statements.
During the rise of the pandemic in March 2020, Musk had tweeted saying that the coronavirus panic was dumb. 
Musk had also tweeted that the malaria drug chloroquine was a possible COVID-19 treatment, which had not been scientifically proven.
He had falsely claimed that children were essentially immune to the virus despite evidence showing that children could catch the disease and become sick among many other statements that he had made. 
In May 2020, Musk tweeted Tesla's stock price was too high, which caused Tesla's price to crash 9%.
The tweet wiped off $13 billion from Tesla's valuation and $3 billion from Musk's fortune based on Tesla's market cap. 
Musk Is No Stanger To Media Appearances
Elon Musk has made several cameos in various TV shows and films over the years. He had made a cameo as himself in Iron Man 2 in 2010. 
His SpaceX factory had also been featured in the movie. He had also played himself on episode 12 of Season 26 of The Simpsons, titled 'The Musk Who Fell to Earth.'
He had also appeared on the popular sitcom The Big Bang Theory and its spinoff Young Sheldon where he made a guest appearance as himself. 
He had also been invited as a guest on the talk show The Late Show with Stephen Colbert, where he talked about the possibility of humans inhabiting Mars, eventually.