Meanings Behind David Bromstad's Impressive Tattoos
David Bromstad's colorful tattoos hold special meanings.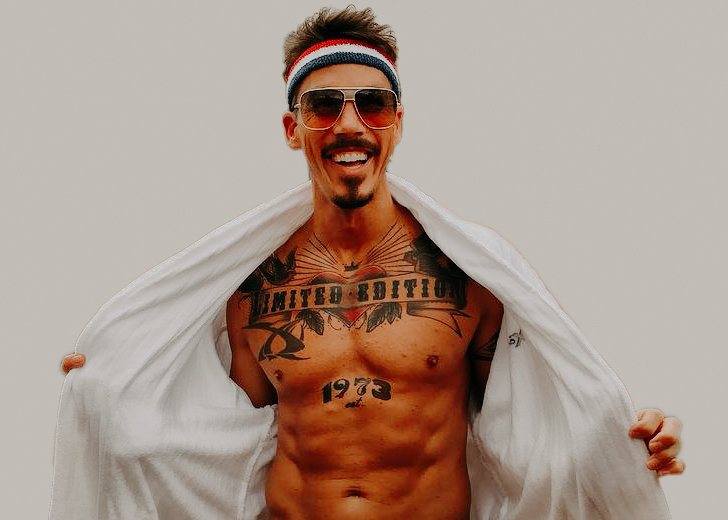 David Bromstad's love for designing is evident through his show My Lottery Dream Home, much like how his love for tattoos is glaringly obvious once you take a scroll through his socials. 
The reality star's Instagram is tattered with shirtless selfies. They showcase the canvas of his skin inked with colorful tattoos, and he has more than a few of those.
Tattoos on His Torso
The designer likes to embrace his individuality and has just the ink to cement the sentiment. The most prominent and readily visible tattoo on a shirtless Bromstad is the "Limited Edition" ink across his chest.
The words inked in an old American font sit proudly over a backdrop of two birds flying towards a red heart tattoo. Just below that is another one of his iconic tattoos: a dabbing unicorn. 
Further down, Bromstad has his birth year inked across his upper abdomen. "estd 1973," reads that tattoo.
The next most prominent tattoo on his front torso is the intricate rainbow "Family" tattoo. He got the tattoo to celebrate Pride 2020 and his LGBTQ community, which he considers his family. 
In the same session, he had his favorite scratch-and-sniff sticker from the '80s tattooed right below the family tattoo. He admitted, in an Instagram post, that the "Poppin Good" tattoo brought back his childhood and his family's love for popcorn. 
He also wears a neck tattoo of a striding tiger around his neck. He likely carries some tattoos on his back too, but those sightings are rare, if not, nonexistent on his social media. 
A Disney Fan
Moving away from the torso, his limbs feature a host of Disney-themed tattoos. The most visible one is the Mickey Mouse tattoo on his left arm. The tattoo covers his entire left sleeve and is complemented by a Minnie tattoo.
He also has a proud Cinderella Castle on his left thigh. The Disney tats are an ode to his dream job of being a Disney animator. 
According to HGTV, the designer actually went to Ringling School of Art and Design in Sarasota, Florida, after high school and landed his dream job. 
Celebrating Pride
Right below the cinderella castle is a proud lion with a line crown. Born on Aug. 17, 1973, the lion symbolizes his birth sign, Leo. As for the other leg, he has a very colorful and fun-looking tattoo decorating his right calves. 
There is a lot more than what meets the eye when it comes to the "LOVE" tattoo on his right leg. In Bromstad's words, 
It symbolizes so much for me. The gay flag, my love for color, my first tv series, color splash, freedom and it's just plain happy.
Above the colorful ink, on his right thigh, the designer has a simple graphic design of the wizard school Hogwarts under a crescent moon and over the word "Magic" written in the Harry Potter signature font. 
And to round off the list, the former Disney illustrator has a small lightning bolt right below his left eye.