Zoella and Alfie Deyes Clear the Air on Secretly Giving Birth
Zoella is still pregnant, but not for long.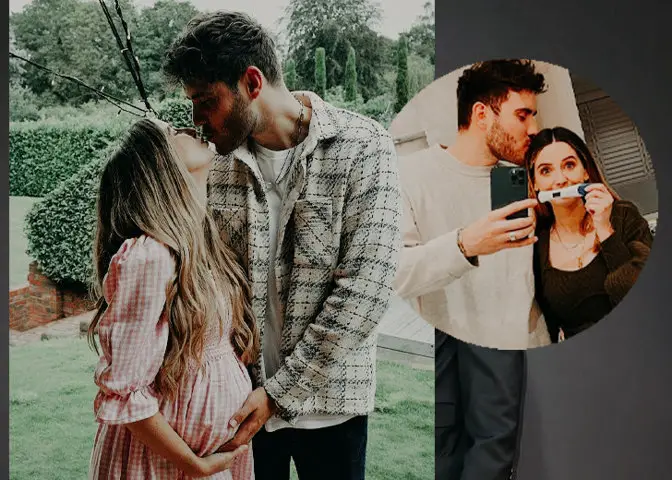 Zoe Sugg, more commonly known as Zoella, and Alfie Deyes have been in a relationship for a while now. And they had been waiting to welcome their child into the world until recently.
However, in a recent social media post, Zoella's baby bump seemingly disappeared. This sparked widespread speculations about them having their baby in secret.
So, did the British YouTuber duo give birth to their baby in secret, or was it just the camera angle that deceived the whole internet?
Zoella Is Still Pregnant 
After a few days since Zoella's bump went missing, it resurfaced back on Deyes' Instagram stories on August 24, 2021. He posted a series of videos on his IG stories which cleared up the confusion.
The videos begin at their vegetable garden, where Deyes and his friend Sean find a big courgette. They pluck it and rush indoors to show Zoella and his sister Poppy.
But from the next clip, our eyes weren't on the courgette anymore, but on Zoella, to know whether she still had a big tummy.
And she did. Even though the two girls were sitting on the sofa and getting astonished by the size of the vegetable they just saw, her baby bump was sort of visible.
In the subsequent clip, seemingly a while later, Deyes asked her to stand up and show her still-existing baby bump to the world. "Zoe, stand up a second. Everyone in my DMs is asking if you're pregnant or if you've had the baby," said Deyes laughing.
She, too, started giggling and stood up to show the bump. Dressed in a white t-shirt, she cradled her bump from outside the clothing.

Zoella showing off her baby bump after setting off speculations about secret delivery. (Source: Alfie Deyes/Instagram)
Then, she even admitted that the pictures were misleading in a way, saying, "I'm still pregnant… It did look like I wasn't pregnant though!"
Due In September
Zoella, who's expecting a little girl with Deyes, is due in September. She is 37 weeks pregnant right now.
The couple announced the good news back in March. In the announcement post on Instagram, they were seen looking at the sonogram of the baby. The caption revealed that their daughter would be joining them in September.
While they're waiting for her arrival, they have had one hiccup along the way. Nothing bad, though. They just cannot decide a name for her.
Deyes told Metro in early August that he might have to see his yet-to-be-born daughter's face before deciding what to call her. The couple did have one name in mind, but they still wanted to see her before.
He also said that he wasn't the slightest bit nervous about becoming a father. But that could also be because the couple waited enough years to commit to something like this.
They took their sweet time before deciding to start a family together. Zoella and Deyes first started dating back in 2012 after meeting at a meet-and-greet session.
Now, all that's left is to welcome their daughter into the world and pick a name, of course.