Zaven Collins' Mom Prepared Him For Success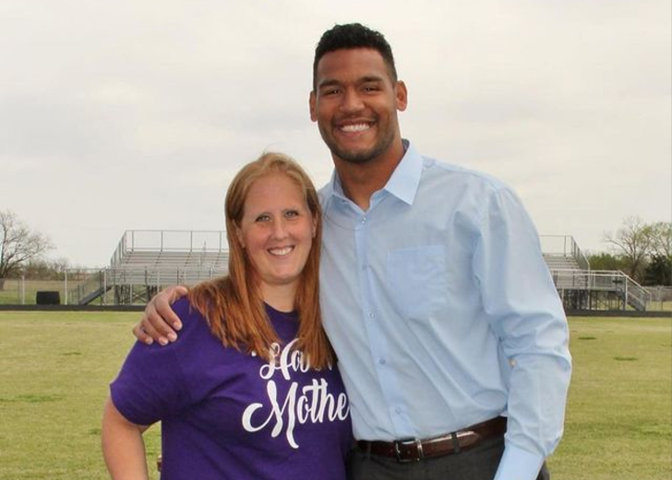 Zaven Collins was selected by the Arizona Cardinals in the first round of the 2021 NFL Draft.
He joined the team as a linebacker and signed a four-year contract worth $14 million on June 8, 2021.
Collins' story can be seen as an outstanding success story. However, he nearly didn't make it into college football and had to give up on his dreams just years prior.
He played for a small high school, and there weren't many colleges willing to give him a chance.
He was invited to many places, but the coaches were interested in giving him exposure and not an opportunity.
It was a tough and demotivating period for Collins. Thankfully, he had a reliable pillar for support, his mom Haley Collins.
Not only was his mother integral to his success and athleticism, but she also played a big part in helping him get recognized.
Zaven Collins' Mom his Biggest Supporter
Much of Collins' success can be attributed to his mother. She was pregnant with him when she was 21.
However, the pregnancy wasn't something she had planned, but she did her best to raise him right.
Though his father was out of the picture and he didn't have both parents with him, she single-handedly filled in the role of parents.
When talking to Tulsa World, Haley admitted it wasn't easy filling in the shoes of both parents as a single individual.
"There are always challenges (to being a single mom). You have to be a Mom and Dad both. It wasn't always easy, but you keep moving forward."
Haley did her best to get her life on track as a single mom. She also started working as a bailiff while finishing her degree so that she could provide for him.
Under her guidance, Collins grew up to be athletic and excellent academically.
She shared she hadn't set aside a college fund for him and couldn't rely on him getting an athletic scholarship, so she pushed him to maintain good grades throughout his life.
Collins shared Haley was tough on both him and her nephew, whom she later took in.
"She was tough. I never had to get whuppings or anything because I knew better. If it got to that point, it was going to be bad."

Zaven Collins shows off his gymnastic medals (Source: Tulsaworld.com)
She also instilled in him the principle to finish what he started. He was obsessed with gymnastics at a young age and spent three years in the sport.
In one particular event, Collins had a stomach bug and recalled he was "dog sick."
However, his mother wouldn't let him sit out of the event. "I was vomiting and running a fever and she was like, 'We're going.' My grandmother sat with me in the backseat while my mom drove two hours and I was throwing up in a trashcan."
Haley has been with Collins through every step of his journey and prepared him for success.
When he retired his high school number in April 2021, he posted a photo of him and his mother alongside his jersey.
She was also present when he was selected to join the Arizona Cardinals. The team uploaded the emotional video of his draft call, where he and his family couldn't contain their excitement.