How Young Rolf Buchholz Looked before Piercings — What Happened?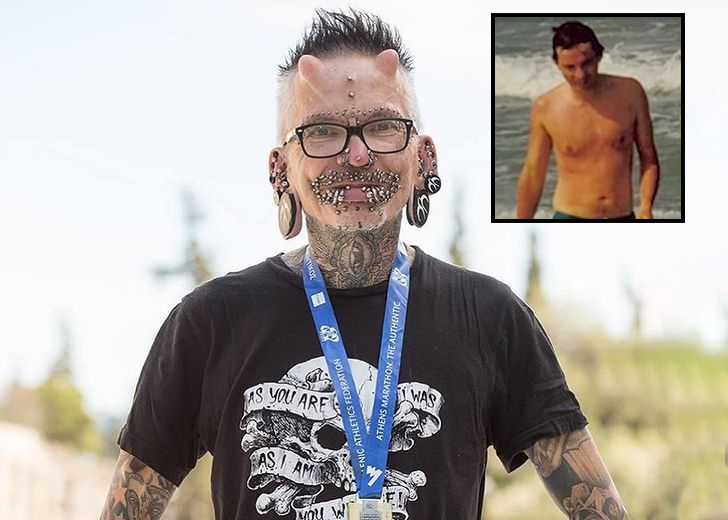 If you think that the human body can only be modified to a certain extent, you might change your mind after witnessing the living airport security nightmare, Rolf Buchholz or Young Rolf Buchholz.
Having only started to tinker with his normal physicality at the age of 40, Buchholz has certainly come a long way.
With 453 metal piercings all over his body, the German, 61, holds the Guinness World Record for having the most body adornments.
How Young Rolf Buchholz Looked Before his Piercings?
Only 20 years ago, Buchholz was a very normal-looking young man living in Dortmund. 
He had a job in an IT company and very much looked the part back then, with a thin frame of round spectacles being the only thing metal on his face.
From that to now, rocking studs from head to toe, with 278 of them on his penis alone, one will definitely find it difficult to recognize him by just looking at his old pictures.
An Instagram photo from Guinness World Record shows Buchholz in his underpants with a total of zero body modifications.
The man only got his first tattoo at the age of 40. He then became addicted to body art and began experimenting with piercings.
Check the picture out!
All of Young Rolf Buchholz's Modifications
The record holder doesn't limit his modifications to just piercings. He first caught attention in 2010 after being recognized as the man with the most body piercings, with an official count of 453.
However, the Guinness World record for the person with the most body piercings in a lifetime goes to Elaine Davidson from Brazil. She has a total of 4,225 piercings on her body.
Buchholz opts for a method of "whatever is possible" to go to extents one could never think of, ranging from literal horns inserted on his forehead to tattooing his eyeballs.
He has two subdermal implants that stick out from his forehead like a pair of devil horns. The following picture speaks for itself.
"A lot of people think I'm the devil. But I don't believe in the devil," he said in an interview with Guinness.
Not only that, Buchholz also has scarification markings all over his skin, making him look like a reptile.
To make it more convincing, he also has six subdermal implants around his wrists that stick out like scales.
Roughly 90 percent of his body is tattooed, including his eyeballs. When asked about their unusual coloring, he said, "The eyes are ink, they are black. They are very black. I like it."
According to Mirror, Buchholz's piercings on his penis have not negatively affected his performance in bed.
"It's not a problem at all," he said. "I have had the piercings already so long. If there was a problem, I would have got rid of them already long ago."
Out of all the extreme altercations he has had in his life, he says the most painful one was the tattoos he got on his palms. He claims that all the physical pain he has endured has not made him immune to it.