Why Did Amber Luke Get So Many Tattoos? Behind Her Transformation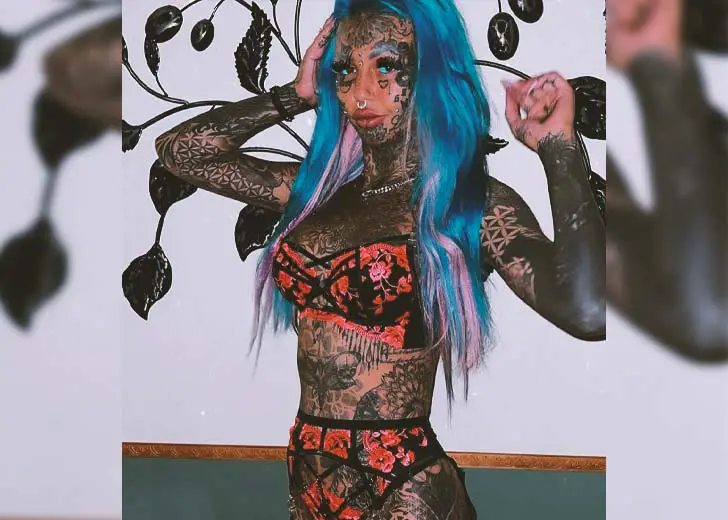 TW: This article includes references to mental health issues and suicide. If you or someone you know is thinking about suicide or would like emotional support, reach out to the National Suicide Prevention Helpline at 1-800-273-8255.
Body modification is pretty common these days. We have seen it all, from plastic surgeries like breast implants and Brazilian butt lifts to face tattoos and piercings. 
But in 2019, Australian Instagram and OnlyFans model Amber Luke took her obsession for modifications up a notch when she tattooed her eyes balls that left her temporarily blind for three weeks.
Luke, who calls herself the "Blue Eyed White Dragon," described the experience as "brutal."
And despite the painful incident, the Instagram star explained that it was "worth it," and she was happier than ever.
"Every morning when I wake up and look at my eyeballs, it makes me happy because blue is my absolute favorite color," she said.
As a person obsessed with tattoos, Luke has over 200 tattoos all over her body and multiple piercings. She even shared the reasons behind her obsession. 
Why Did Amber Luke Get So Many Tattoos?
For ink-mad Luke, tattoos are therapeutic. 
She got her first tattoo at 16, and after her curiosity for what it felt like got the better of her.
She said it felt "like home," and at 20 years old, her passion for getting inked developed, resulting in her transformation and getting heavily tattooed.
She covered more of her body and, at some point, lost count of how many designs she had.
Luke explained that the moment the needle hit her skin, she felt the negative energy dissipate from her body. As an only child with mental health issues, tattoos were a form of therapy. 
Luke revealed that she had attempted suicide 15 times. Growing up as a single child with her mother, she was incredibly lonely.
Her mother worked hard to provide for her, and as a result, Luke rarely saw her. 
Over time, I developed an immense desire never to be alone. Depression and anxiety developed at age 15, Borderline Personality Disorder with Schizophrenic traits came later on.
Luke was working to be a tattoo apprentice and studying to be a traffic controller, but reports surfaced that she was charged with drug peddling in May. 
Where Is Amber Luke Now?
On May 4, 2021, Daily Mail reported that Luke broke down in court even though she had escaped jail time for drug trafficking previously. 
Last year, the OnlyFans model was found guilty of seven drug charges after sealed bags of marijuana and MDMA and other drug-related paraphernalia were discovered in her Capalaba home during a police raid. 
However, her defense lawyer stated that the MDMA found in her home was for personal use and that the trafficking of marijuana mainly was to support 'her addiction.'
In addition, her lawyer clarified it wasn't intended for criminal proceeds. 
Judge Michael Williamson acknowledged her struggles with mental health issues and issued her empathy despite the large amount of drugs being sold.
So instead of serving jail time, Luke was sentenced to immediate parole for three years so that she could seek treatment.