Wesley Snipes' Wife and Kids Made a Cameo in 'Coming 2 America'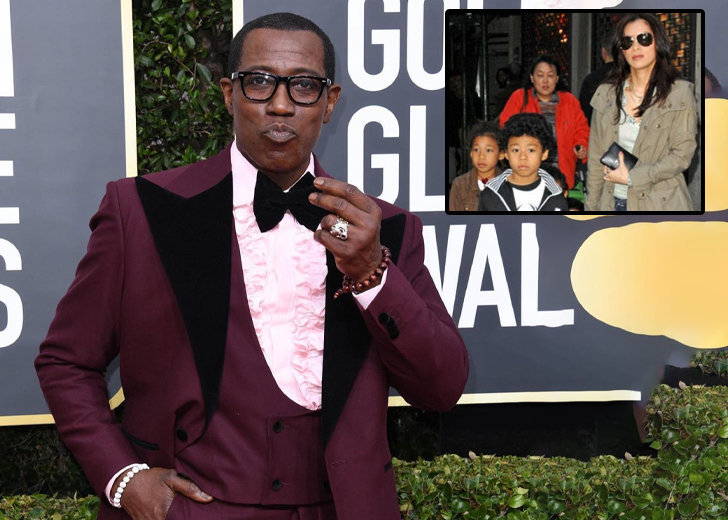 Wesley Snipes is a very private man when it comes to his wife and children. But in one instance, he merged his private life with his professional one. 
Coming to America is a critically acclaimed movie, and when its sequel, Coming 2 America, was announced, people were happy and excited. 
While the sequel was interesting in its own right, there were several cameos that people enjoyed. From Morgan Freeman to Trevor Noah, various celebrities appeared in the movie. 
Moreover, several other people made secret cameos but were not spotted. One of them was the Snipes family. Yup, his wife and kids made appearances on it.
The Snipes' Family In The Movie
Snipes has five kids with two wives. He has a son with his first spouse, April Dubois, whereas he shares four children with his current wife, Nakyung "Nikki" Park. 

Wesley Snipes as General Izzi in Coming 2 America. (Source: Instagram)
While having a conversation with Fatherly in March 2021, Snipes talked about his role in Coming 2 America. The actor played the role of General Izzi, the leader of Nexdoria. 
General Izzi is a funny yet fearsome man who cares a lot about his kids. Snipes said that the General was "definitely a loving dad" who does not mean to be funny but is. 
The actor credited his children for being the inspiration behind General Izzi. He said that his character was the reflection of his kids and "their influence and impact" on him. 
He said the timing, humor, nuances - everything was because of the kids. Moreover, he gushed that his joy "is a reflection of them and their effect" on him. 
He revealed that his family was in the movie in the same interview. He did not reveal if they were together but said they were all in one particular scene. 

Wesley Snipes with his second wife, Nakyung "Nikki" Park. (Source: Wikimedia Commons)
Wesley Snipes' Wife and Children
Snipes and his first wife, Dubois, got married in 1985. It is reported that the two were high school sweethearts, and they dated for a long time before tying the knot. 
The two were blessed with a son named Jelani in 1988. When he was one year old, he made a cameo in his father's movie, Mo' Better Blues.
Unfortunately, the marriage did not last long. The two separated and got a divorce in 1990.
Thirteen years later, Snipes married his second spouse, Park, in 2003 in a private ceremony.
They allegedly met each other in the late 90s and dated for approximately three years before marrying. 
Park is South Korean, and she is the daughter of Park Cheol, a South Korean television producer. While Cheol is no more, the actor appreciates and praises his father-in-law.


Wesley Snipes and wife Nakyung "Nikki" Park at Festival du Cinéma de Venise. (Source: Wikimedia Commons)
He died in 2020, and in his eulogy, Snipes said Cheol was responsible for leading South Korea "to the forefront of cultural history." He was also there for his wife to mourn her father's death.
Park's father and husband are heavily invested in the entertainment industry, but she did not choose that career. She is a painter who often exhibits her work in various exhibitions. 
She also often uploads her projects on her social media. Park and Snipes had their first son, Akhenaten Kihwa-T, before their marriage in 2000. 
They welcomed their daughter, Iset Jua-T, on July 31, 2001, and their second son, Alaafia Jehu-T, on May 26, 2004. They were blessed with their fourth kid, Alimayu Moa-T, on March 26, 2007.