Wes Brown and His Wife Openly Joke about Hollywood Marriages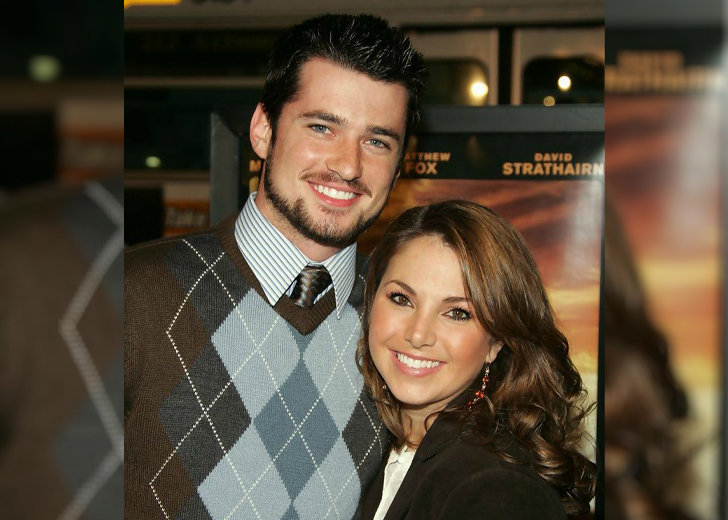 Wes Brown is not quite Hollywood. The Hallmark Channel staple has been with the network for a long time and rarely shows any signs of going Hollywood.
This gives him all the freedom to make fun of Hollywood and its short-term things. And that's exactly what he and his wife, Amanda, do during their anniversaries.
Wes and Amanda use their long-lasting marriage and stable family to poke fun at the frivolous Hollywood marriages. Wes, especially, makes no effort to hide his jokes.
Wes Brown and His Wife Amanda Poke Fun at Hollywood Weddings
Wes and Amanda got married on May 2, 2008, which means 2022 marked their 14th wedding anniversary. The Hallmark actor took to Instagram to celebrate the day of their wedding.
On the day this year, he uploaded a cute picture with his wife and daughter and wrote in the caption what they had gone through in all their years together.
"14 years. 1 kid. 1 dog. 2 hamsters. 1 goldfish (RIP). 3 chickens," he wrote, remembering all the pets they had had over the years.
Then he mentioned a few other things. "Few mortgages. Several moves. Few good investments. Couple bad ones," he added. "Lots of laughs. Lots of love. Lots of adventure."
In the end, he joked, writing, "All that and zero arrests," with a laughing emoji next to the sentence.
The actor, who prefers calling Amanda his bride over his wife, then attached a few hashtags to the post, one of which read #thatslike110yearsinhollywood, poking fun at the short-term marriages we see among the A-listers in Hollywood.
And this isn't the first time he has made this joke, either, although the age of their marriage seems to have decreased since the last time he used that punchline.
On the same day in 2020, when they were celebrating their 12th anniversary, he wrote #127yearsinhollywoodyears in his anniversary post.
Regardless of the change in the made-up age of their wedding, one thing that remains constant is how proud he is of his relationship with Amanda. He's rarely shy to show off his family of three on his social media, especially on Instagram and boasts about his 'bride' at every chance he gets.
The couple had their first and only kid, daughter Meribeth, on September 16, 2009. The little girl is the highlight of both her parents' IGs.

Wes Brown with his wife, Amanda Brown, and daughter Meribeth Brown. (Photo: Instagram)
She is 12 years old as of this writing and is in sixth grade. But Amanda is already feeling like she's losing time with Meribeth.
"I plan to slow down this summer and treasure every minute I have with he," she wrote in her thoughtful Instagram post on June 28, 2022. She realized she had to soak in every moment with her daughter because there weren't many left.
Who Is Wes Brown Married To?
Wes's wife, Amanda, is an accomplished woman in her own right.
Now 46, she was born on March 15, 1976, and has been working behind the scenes in Hollywood for years. Her LinkedIn suggests she has worked at Playhouse Disney of the Disney ABC Television Group since 2006.
During the quarantine, all of them had to stay home, which made Wes realize how nice it was to spend more time with his family.
"I know it won't last forever, so we are just soaking up this time we get to have together," he said of the times when he, Amanda, and Meribeth, hunkered down at their home in Los Angeles, California.