Vybz Kartel's Wife and Children to Star in a Reality TV Show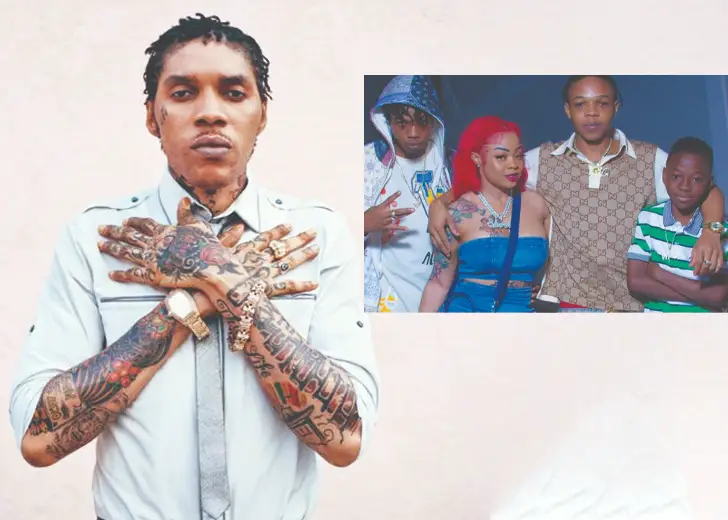 Vybz Kartel's common-law wife, Tanesha 'Shorty' Johnson, and children are having their reality TV series.
Kartel is currently in prison, serving his life imprisonment sentence.
He has been accused of possession of marijuana, the murder of Barrington "Bossie" Burton, and the murder of Clive 'Lizard' William and has been in custody since September 29, 2011.
While Lizard's body was never found, the singer and three other people, who were declared guilty, received a life sentence.
Initially, he had to serve 35 years before being eligible for parole.
But now, it has been reduced, and the singer will be eligible for parole by around 2046. Even though Kartel is in prison, he is active in his family's life.
His common-law wife often posts about him, and his children gush about their dad on social media. Now that the family is getting a reality TV show, Kartel and his journey to prison might be featured there.
Vybz Kartel's Reality Show — 'The Palmers'
To date, no production companies have revealed they are working on a reality show for Shorty and her children. However, Shorty confirmed it was being produced in May 2020.
She talked about the show on DJ Lava's Instagram show, Chat & Laugh (via Dancehall). She said that her family was working on a show named The Palmers.

Vybz Kartel's common-law wife and children are reportedly filming their reality TV show, 'The Palmers.' (Source: Instagram)
The show was named after Kartel's family name (his real name is Adidja Azim Palmer) and would feature the singer's wife and children. Shorty revealed that production and filming had already begun.
However, she did not say who was producing it and did not announce the release date. It has been two years since she revealed about The Palmers, but there has been no other information about it to date.
Vybz Kartel's Wife and Children
The singer has been married only once. It is reported that he tied the knot with his first wife, Stacy Elliot, in 2006 after dating for four years.
They got married in a private ceremony but divorced in 2008. Kartel allegedly filed the divorce in the Jamaican Supreme Court, reasoning that his wife gave birth to a child that was not his.
Since then, Kartel has been with his current partner, Shorty. The two are not married but share three children: Adidja (aka Likkle Vybz), Akheel Raheim (aka Likkle Addi), and Aiko (aka World Boss Jr.).
Throughout the years, there have been reports of the pair parting ways. But Shorty has denied the rumors multiple times, claiming she would wait for her partner until he came out of jail.
All three of Shorty and Kartel's children are involved in the music industry, with their mother managing them. Two of their sons already have their own families, making Shorty and Kartel grandparents.
In May 2020, Kartel announced her son Likkle Addi was a father at 15, with the baby's mom being an 18-year-old girl. The father-son duo faced backlash, saying Likkle Addi was too young to be a dad.
However, the singer defended his son on Instagram, saying, "Don't worry bout those two millionaires. What the [expletive] you think I work so hard for..#legacy."
In August 2021, Likkle Vybz announced he and his partner were expecting their first child. But unlike his brother, Likkle Vybz received nothing but love and appreciation for the new journey in his life.