Does Von Miller Have a Wife? A Look into His Relationship History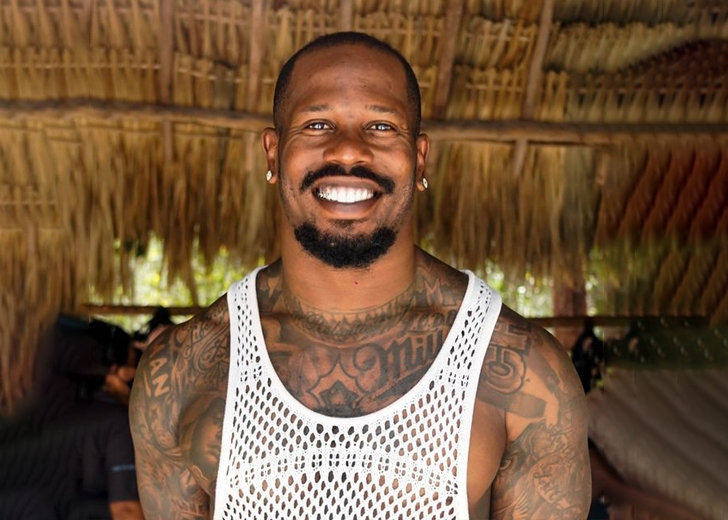 Von Miller has had his fair share of controversy regarding his personal life. Many wonder about his love life, especially if he has someone special to call his wife. 
But the outside linebacker for the Los Angeles Rams' relationship history is kind of murky. Here is everything about Miller, including information about his wife, ex-fiancee, and the scandals. 
Does Von Miller Have a Wife?
The speculations about his marriage and wife started after Miller took part in Kevin Hart's Celebrity Game Face's 'Show Me Your Junk' segment in October 2021.
While most contestants and celebrities were partnered with their spouses, Miller's partner was Rob Gronkowski and actress D'Arcy Carden. So naturally, this made people think if Miller had a wife or not. 
No, Miller does not have a wife, and he has not married to date. However, he was close to marrying someone and calling her his wife. 

Von Miller posing for a picture in his Los Angeles Ram uniform. (Source: Instagram)
The NFL player was together with an Instagram model named Megan Denise since 2018. According to The Sun, she was a stripper at the Las Vegas club called Girl Collection club.  
She worked there in 2017 for almost a year before being an Instagram influencer. She is also a certified laser specialist, licensed medical esthetician, and cryo skin specialist.
Denise has dipped her toes in acting as well and has appeared in a couple of projects like Typecasted, Private Investigations, Bikini Mayhem, and Fates of Ambitions.
After dating for a while, Miller and Denise were engaged. However, the two parted ways and are not together anymore.
It is unknown when they broke up, but it was at least before January 2021 because that is when the public feuding and scandals started. 

Von Miller's ex-fiancée Megan Denise and son Valor. (Source: Instagram)
Feud Between Von Miller and His Ex-Fiancée
On January 4, 2021, Denise claimed via Instagram that she was pregnant with Miller's child. She then exposed a couple of texts between her and her ex-fiancée where he allegedly did not want the kid. 
Miller texted her he was disappointed in himself and said it was the "biggest mistake" of his life. He also claimed he was "honestly praying for a miscarriage."
The texts also showed that the NFL player was urging Denise to get an abortion. He also called her lame for wanting to keep the baby.
The Instagram model tried to reason with him saying, that she had wanted to get pregnant for a long time. She said she was beyond disappointed in him and posted a photo of her ultrasound saying, "JUST US."
She wrote on her Instagram stories that she was tired of protecting him.
In another story, she wrote, "My heart goes out to any woman or man who is or has ever dealt with mental, physical or verbal abuse. Praying death on me and mine was enough. Protecting me and mine all 2021."
Miller also took to Instagram Stories to respond to the allegations by his ex-fiancée. He denied all the accusations and said it was fake news. 
He claimed it was the "reality of somebody leaving you make some people literally crazy." He deleted the story shortly after. 
Regardless of all this scandal, it seems like he is currently on good terms with Denise and their son Valor. In August 2021, he gushed about Denise and said he was impressed by her strength while giving birth to Valor. 
He said it was "a great, great labor, great delivery," and he was impressed by her. He also said he knew it was hard to have a kid, but witnessing the birth blew his mind.
He took a break from his training to be with his baby mama but returned shortly after.