Model Camille Kostek and Boyfriend Rob Gronkowski Support Each Other's Thriving Career
Camille Kostek and her boyfriend Rob Gronkowski cannot help but share love and support for one another on their socials.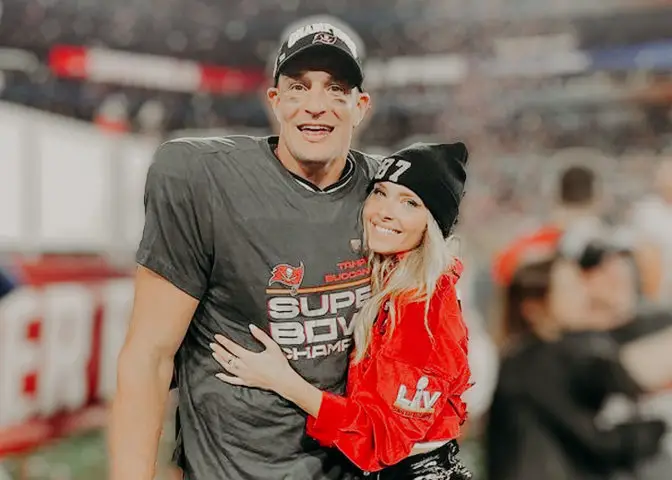 While Rob Gronkowski has gone on record to admit that his biggest fear was picking out an engagement ring that his girlfriend, Camille Kostek, hated, he has no reservations against gushing over her on his socials. 
Take, for instance, his Instagram post on March 29, 2020. The Tampa Bay Buccaneers tight end shared a snap of his stunning girlfriend celebrating her fourth year in a row shooting for the Sports Illustrated Swimsuit magazine. 
"Wowsers you're the best," he wrote alongside a snap of Kostek sporting a stunning blue and white swimsuit. 
The Couple Gushing on Instagram 
Prior to that, the NFL superstar took to his Instagram on Valentine's Day to sing praises about the SI model.
After wishing his partner a happy Valentine's Day, Gronkowski commented that his "baby" was one of the hardest workers he knew. 
He then celebrated her for always cheering him on, always caring, and always being there for anything he needed.
 Alongside the loving caption, he shared a few snaps of himself and Kostek on the field and elsewhere, celebrating one another's company.
Kostek has also ensured, on her part, to reciprocate the love and support from her boyfriend.
In June 2020, Kostek shared a snap on her Instagram to reflect on the couple's time on Fox's Beat Shazam. 
Kostek was on the show to raise money for Gronk Nation Youth Foundation, an institution dedicated to helping kids stay actively involved in school and sports.
The institution named after her boyfriend also provided opportunities for children to have access to the equipment, playgrounds, sports fields, and the tools they need to help them realize their dreams.
In the caption, she also thanked the show and the host, Jamie Foxx, before she announced that they had managed to raise twenty-five thousand dollars for the foundation. 
They Have Been Dating Since 2015
Gronkowski and Kostek have been dating since 2015, shortly after Gronkowski won his first Super Bown playing for the New England Patriots.
Surprisingly, it was also around the same time that Kostek ended her two-year career as a cheerleader for the Patriots. 
Kostek revealed in an interview on Fox News in March 2018 that she only "got in touch" with the NFL player after she resigned from the cheerleading squad. She added, 
I always knew who he was before I was even a cheerleader. I knew who he was on the roster. I just never paid any mind.
It appears as though the pair found a spark early on, because as Kostek said, they only met in March 2015, and by April that same year, TMZ already had reports out claiming that the two were dating. 
Not long after, Kostek decided to address the rumors head-on and revealed during her time on the Inside Track radio show that the two of them had, in fact, gone on a couple of dates and enjoyed each other's company. 
"But him and I both have super busy schedules," she said at the time, "I'm working all the time, he's traveling a lot."
Even then, she confessed that Gronkowski had been "super supportive" of everything that she had been doing.