Virginia Madsen Enjoying Her Married Life with Her Husband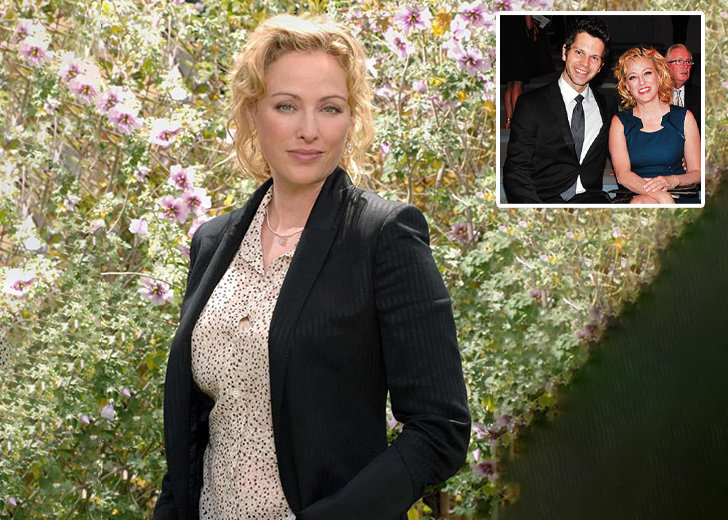 After a failed marriage and multiple relationships, Virginia Madsen finds herself settled in a happy marriage with her new husband.
The Candyman star is presently married to Nick Holmes, a Los Angeles-based actor, and photographer.
More importantly, Madsen seems happy in her marriage, which is evident through her social media posts.
She has been regularly posting pictures with her spouse for the last few years, with most of her posts showing the couple's chemistry.
For instance, the actress spent her quarantine with her beau and often entertained her followers with humor-filled posts featuring the couple.

Virginia Madsen and her husband Nick Holmes during quarantine. (Photo: Instagram)
Doing that, she once shared a picture of her and Holmes posing in front of their balcony, as she thanked her family and friends for bringing them supplies during quarantine.
"Helloooooo from our quarantine time! Thanks to family and friends who brought us supplies. We love you!" Madsen captioned her post.
Virginia Madsen and Husband Married amid Quarantine
Madsen and Holmes allegedly walked down the aisle in the middle of the quarantine.
Even though the couple has not released an official statement or any trustful source has not confirmed the news, Madsen implied that she and her partner had an intimate wedding ceremony during the pandemic via her November 2020 Instagram post.
In the post, she shared a couple of pictures of the pair dressed in a formal wedding dress. Madsen wore an elegant knee-high white shift dress with a pair of dizzy heels, while her groom sported a black suit.
The couple also wore a face shield in one of the pictures to display that they had followed the COVID-19 protocol.
"Hitched in quarantine (don't tell anyone)," she wrote in her caption.
"Congratulations. We hope you live happily ever after," a fan also commented on her post, while actress Ashley Platz similarly congratulated the couple, writing, "So profoundly happy for you."
In January 2022, she again took to Instagram and addressed her man as her husband. She gushed about him by revealing that he brought her breakfast in bed every day.
But the wedding didn't surprise many people since it was always in the cards. The two have reportedly been together for more than a decade.
The couple has also traveled the world together and explored various cuisines of exotic destinations, including Bucharest, Fiji, London, Paris, Istanbul, and Aruba.
Meet Virginia Madsen's Husband Nick Holmes
Madsen's spouse Holmes, who is apparently 20 years younger than her, has worked as an actor in films and TV shows such as Gilmore Girls, Guardians of the Galaxy, Super, and The Thirst: Blood War.
In addition, a quick look into his Instagram shows that he has dedicated his recent years as a fashion photographer.
As a professional photographer, he has worked with filmmaker MK McGehee, actress Natasha Halevi Gunn, and his wife, Madsen.
Virginia Madsen's past Relationships
The famed actress was previously married to her first husband, Danny Huston, an actor.
They tied the knot in 1989 after they met on the set of the film Mr. North. But their marriage didn't last forever, as they divorced in 1992.
Madsen then went on to find love in Italian former model and actor Antonio Sabàto.
She was in a relationship with him for five years, starting in 1993. They also had a son [Madsen's only child], Jack Sabàto, from their relationship.