Who Is Vincent D'Onofrio's Wife? Inside His Family Life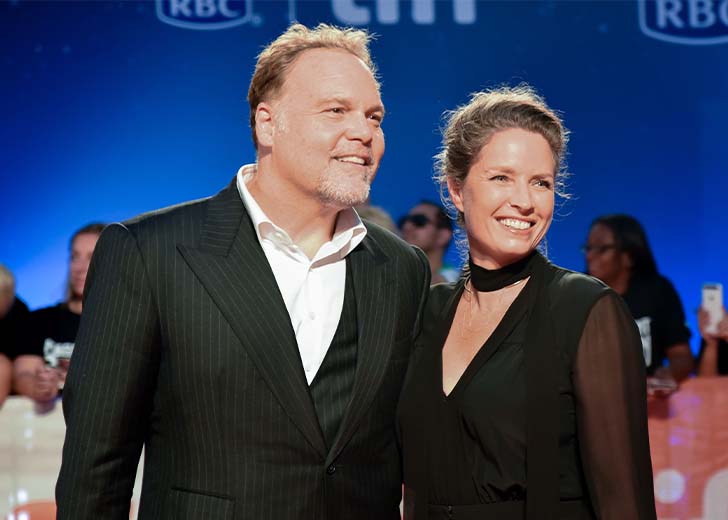 Vincent D'Onofrio has been married to his wife, Carin van der Donk, for 25 years.
There were rumors that the actor divorced his wife in 2003 and reconciled in 2007 when they welcomed their second son. 
However, as reported by WENN in 2012, D'Onofrio had to set the record straight on his marital status. The actor explained that some profile websites still had the couple as unwed or divorced, which upset his spouse.
He urged the tabloids to get their facts straight and said he found rumors about his divorce ridiculous.
One thing that might have contributed to these speculations is that The Law & Order: Criminal Intent star is extremely private about his personal life, especially his relationship with his wife.
Meet Vincent D'Onofrio's Wife
D'Onofrio married the former dutch model Carin on March 22, 1997. 
Carin was an international fashion model at 15. After settling in New York City, she became an assistant producer of Art and Commerce.
As a photographer, she worked with many renowned photographers, such as Ellen von Unwerth, Frank W. Ockenfels III, and Mary Ellen Mark.
Then she also became an agent and producer at Julian Meijer et Associes.
Her photography is most inclined toward political use. Carin has worked with No IDC NY, 32BJ SEIU, Sister District, Future Now, and Housing Justice for All in support of abortion rights and fair contracts for building service workers.
D'Onofrio's wife has also contributed stills to HBO documentaries: The Sentence (2018) and Kill Chain (2020).

Vincent D'Onofrio's photographer wife, Carin van der Donk. (Source: Instagram)
Carin's portraits of her husband appear in Mutha, a book of the actor's poetry. 
She co-produced and directed the documentary Fogo Azul A Powerful Noise. It's a film that explores the power of music and drumming, in particular, to transform lives and empower women in Brazil and the United States. Carin herself is a band member of Fogo Azul.
Vincent D'Onofrio's Relationships and Family
The Daredevil star has two sons with his wife. Their first son, Elias Gene D'Onofrio, was born in December 1999, and in February 2008, they welcomed their second son, Luka D'Onofrio, to their family.
D'Onofrio also has a daughter, Leila George, from his previous relationship with actress Greta Scacchi. 

Vincent D'Onofrio with his wife and kids in their family Christmas photo. (Source: Instagram)
He and Scacchi broke up not long after they had their first child in 1992. The split left the actress so distressed that she had to take a hiatus for four years.
As reported by Dailymail, Scacchi revisited her heartbreak to play a role in the 2008 revival of Terence Rattigan's The Deep Blue Sea. Her performance in the play was highly acclaimed and deemed the role of a lifetime.
The actress said she was grateful that she had experienced such a heartbreak. It enabled her to understand her character on a deeper level.
D'Onofrio's had a four-year relationship with Sacchi that ended acrimoniously. However, the Full Metal Jacket actor's recent Instagram post dedicated to Sacchi suggests he is on good terms with his daughter's mother.
The actor's daughter has also pursued an acting career, but she has taken it slow and does it on her own terms. Her recent notable work was in the family drama Animal Kingdom.
George was previously married to actor Sean Penn for just over a year. Penn and George officially tied the knot on July 30, 2020, and kept their union under wraps. However, they finalized their divorce in April 2022.
D'Onofrio's eldest son, Elias, also dipped his feet in the acting pool, but his latest released work was in 2017. The actor's youngest son, Luka, has been raised away from the spotlight.