Vin Diesel Is Done with Dad Bod Jokes Shaming His Weight Gain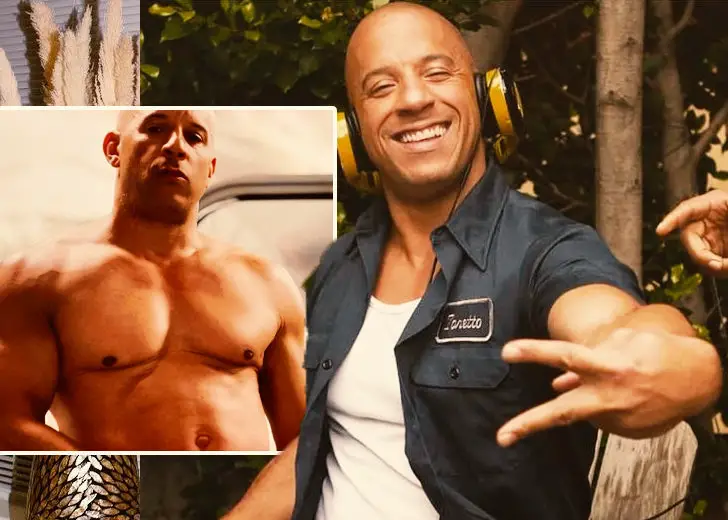 Vin Diesel's physique is an evergreen topic of discussion amongst fans.
While the actor's fit build, jam-packed with muscles, is often talked about, the chatter grows especially loud when he lets loose for a while.
Vin Diesel Gained Weight Again
Most recently, Diesel made headlines for his "dad bod" weight gain when Dailymail got its hands on a couple of snaps featuring the Fast & Furious star. Back in September, he was found hanging out with Zoe Saldana and her husband Marco Perego on his luxury yacht in Portofino, Italy.
Of course, his girlfriend Paloma Jiménez was there with him on the boat. 
As the action star was working up a tan by relaxing shirtless, his girlfriend joined him on deck clad in a stylish patterned cover-up.
Saldana and her boyfriend arrived later via a dingy. The actress sported a long-sleeved white top and chic sunhat, while the 42-year-old artist wore his hair swept up into a bun and donned a white T-shirt.
However, the outlet drew focus to Diesel, who had definitely gained a few pounds. It doesn't really come as a surprise, though, because he had previously admitted to relaxing his strict healthy eating and workout schedule in between roles or when he was away from the camera.
Vin Diesel's Reaction to Internet Trolls
The last time Diesel caused a stir in the press for his so-called "dad-bod" was back in 2015, when he had put on a few pounds for his role in The Last Witch-Hunter. 
Apparently, his director insisted that there were no Gold's Gyms in the 13th century—the era that the movie is based on, and so Diesel had to tone down his gym hours. 
During an appearance on Good Morning America (via The Hollywood Reporter), the actor dished on his recent experience with body shaming. While he was adamant that body shaming was wrong, he admitted that he could take it. 
Honestly, I would rather it come to me than somebody else. I can take it.
It wasn't just that he could handle the harsh criticism on his weight. Instead, he wished that people rather come at him instead of hurting someone else. Indeed, Diesel is very confident about himself. 
Whatever the case, he did not care very much about people's comments about his appearance online. He shared that he was not all about staying in shape all the time.
Instead, the primary focus for him at this point in his life was to master the craft of making movies, and that was what he was gunning for. 
Vin Diesel Had the 'Best Body' In NYC
Then again, there was this one interview with Complex, where Diesel outright stated that he had nothing to prove to anyone. He said, 
How do I feel about people being so focused on [dad bod]? I'm okay because I've had the best body in New York City for decades.
Diesel had a chiseled look going since his teenage years. He was a bouncer when he was 17. Then again, he had played roles that did not require toned physiques.