Sidemen's Vikkstar Got Engaged to Girlfriend Ellie Harlow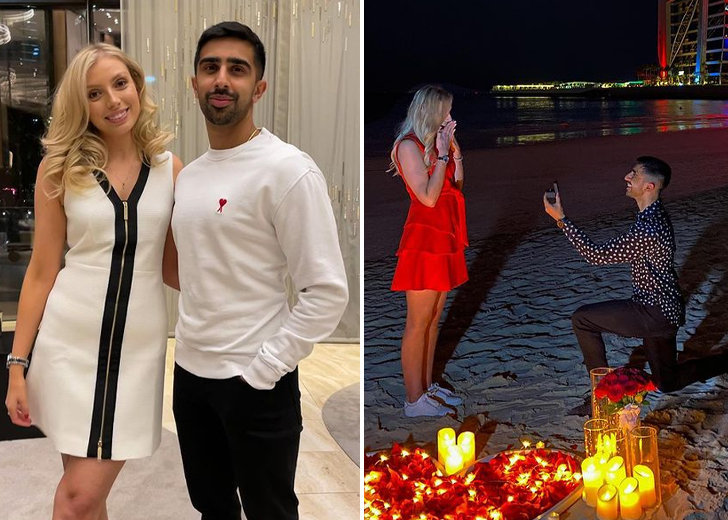 Sidemen's Vikkstar finally gets engaged to his girlfriend, whose name he is yet to reveal himself.
On December 22, the popular English YouTuber, whose real name is Vikram Singh Barn, took to his Instagram to announce his engagement to his girlfriend.
In the post, he shared a couple of pictures of the newly engaged pair, writing, "We're engaged! These years together have been magical, here's to many more."
The pictures showed Vikkstar going down on his knees for the proposal in front of the Burj Al Arab in Dubai, United Arab Emirates.
He also decorated the beach area with candles and roses.
In addition, the first picture saw the couple posing with a big smile on their faces. The second snap had the internet personality on his knees with a ring while his fiancée was captured surprised.
"congrats bro!!" soccer midfielder Noah Beck commented.
Famed DJ Alan Walker also congratulated, saying, "Wooooow! So happy for you brother! Congratulations to you two."
"Congratulations to the both of you! What a spot too!" someone added.
What Is Vikkstar's Girlfriend's Name?
As stated earlier, Vikkstar himself has not revealed his girlfriend's name to date. Not just that, he has not tagged her in any of his Instagram posts with them together.
However, a quick internet search reveals that his now-fiancée's name is Ellie Harlow.
Harlow also has a private Instagram handle with a limited following of 290 people. She has followed 352 people from her handle.

Vikkstar with his girlfriend, Ellie Harlow. (Photo: Instagram)
"I'm always funny because my life is a joke," she interestingly described herself in her bio.
Vikkstar Reveals the Reason behind His Girlfriend's Private Life
During a Q&A video on YouTube in February 2021, one of his fans asked Vikkstar why he kept his partner and relationship private and why she was not seen in his videos.
Replying to that question, he said that she didn't want to be in the spotlight, and therefore, she preferred not to be in his videos. 
"Think about it like a lot of YouTubers that are in couples, both of them are on YouTube making videos and it kind of it makes a lot of sense because it's kind of like easier you share a lot in common you do stuff together you film it but… she's just not really interested in kind of having lots of followers."
In the video, he further implied that he also liked the practice of keeping his dating life with Harlow away from social media.
Vikkstar first revealed his girlfriend in April 2020 by sharing throwback pictures of them together. 
In the post, he said he missed the "simpler times," which he hinted at the pre-pandemic period when he used to travel freely with his "amazing other half."
"The reveal of a century! You guys are so cute!" one of his followers commented.  
Since then, the now engaged couple is occasionally seen on his Instagram, as he loves expressing his love for her.