Vicki Gunvalson Is Calling Names to Her Ex Boyfriend Steve Lodge Following His Engagement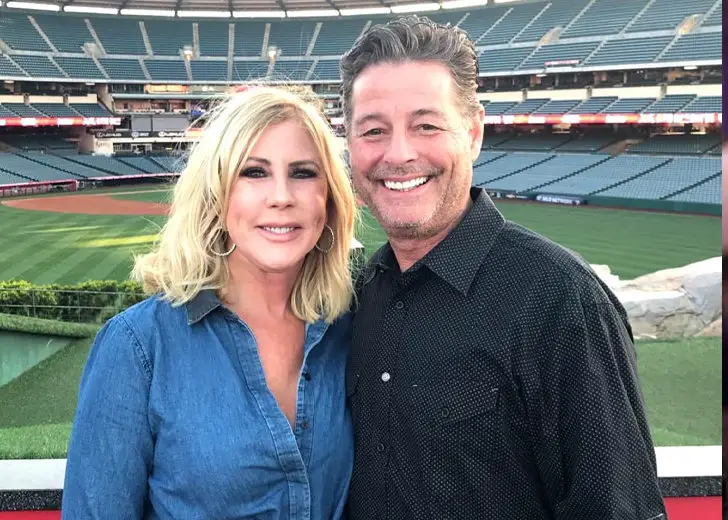 Vicki Gunvalson has been making headlines lately. It is not related to her professional career but rather something scandalous.
The Real Housewives of Orange County (RHOC) star has a very interesting relationship history. She was married to her husband Donn in 1994 and took his last name, Gunvalson.
After two decades of marriage, the pair parted ways. Gunvalson then was in a relationship with Steve Lodge. 
Lodge was her boyfriend for a while before the two got engaged in April 2019. But once again, Gunvalson's relationship with her boyfriend did not work out.
As a result, the couple broke their engagement in September 2021. But soon after, Gunvalson started calling names to her ex boyfriend and revealing details about her relationship.
Vicki Gunvalson and Her Ex Boyfriend, Steve Lodge
Before Gunvalson and Lodge made their split official, many had already guessed it. They had parted ways in June 2021 and reconciled. 

Vicki Gunvalson's announcement of her breakup with her boyfriend, Steve Lodge. (Source: Instagram)
Moreover, they were spending time separately during the COVID-19 pandemic. Regardless of the hardship, the couple tried to make their relationship work.
However, when the duo unfollowed each other on Instagram and deleted pictures together, their breakup was finalized. After that, they re-followed one another, but the two had parted ways by then.
When Gunvalson announced her breakup with her boyfriend in September 2021, she did not point fingers at him. Via an Instagram post, she said that it was time for her and Lodge to move forward and move on.
She added that there was "no fault with either person," but instead, they were "just going in different directions." She also wished Lodge the best for the future.
The reality TV star ended her caption in a cryptic note saying, "I gave it my all, but sometimes the 'ALL' isn't enough." Then, not even a month later, the name-calling started.
Another RHOC star, Tamra Judge, took to Instagram to encourage her friend. She asked Gunvalson to get out of the bed and confessed that she hated to see her sad.
Judge also revealed that Gunvalson had allegedly found something about Lodge. Gunvalson commented that her former boyfriend used and lied to her.
Similarly, Lodge had also been dating someone else, and he alleged was "not what he portrays himself to be." Judge responded, "While sleeping in your bed, running for governor, using your followers."
Gunvalson further commented that when she was out on business trips, Lodge took his girlfriend to Gunvalson's condo in Mexico. She also accused him of flaunting his girl in Orange County and said it was "disgusting."
Lodge denied all the allegations in a statement to People. He confessed the two had not been intimate since September 2020 and parted ways in December 2020.
They remained friends, but Gunvalson wanted more, which Lodge denied. He further said he "wanted to move on" but could not do so with Gunvalson.
At last, he asked her to stop spreading lies about him on social media. Everything had slightly stopped until January 2022, when Lodge announced his engagement.

Vicki Gunvalson posing with her friend, Tamra Judge. (Source: Instagram)
What Is Going on with Vicki Gunvalson and Steve Lodge?
People exclusively reported in January 2022 that Lodge was engaged to his girlfriend, Janis Carlson, on December 20, 2021. Lodge revealed he would be getting married to Carlson in April 2022.
Soon after the announcement, Gunvalson called Lodge names in an interview with Page Six. She also said that she did not want to give Lodge any more publicity than he currently has. 
In another interview with E! News, Gunvalson called Lodge, a "cruel manipulator." She also called him "a narcissist" for moving out of her home in September 2021 and getting engaged in December 2021.
However, moving on from Lodge was good riddance for Gunvalson. She thanked God for taking her away from "the lies, the mind games, manipulations, being used."
While Gunvalson did not reveal how she felt about the engagement, Judge said she was having a hard time. Similarly, she confessed Gunvalson did not want to be single and wanted a boyfriend.
But it seems like Gunvalson is finally ready to find herself a boyfriend. In an interview with E! News on February 6, 2022, she said she was dating again.