A Look inside Tyler Hubbard and Wife Hayley's Adorable Family of Five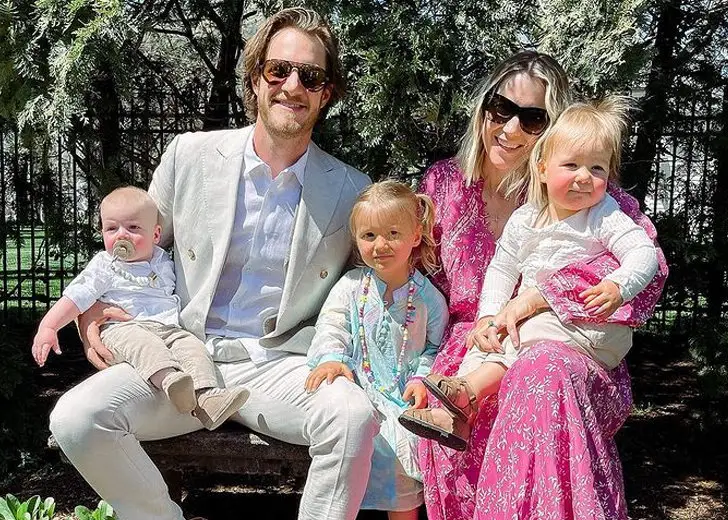 Tyler Hubbard and his wife Hayley Hubbard (nee: Stommel) have been setting family goals with their blissful marriage and three adorable children.
The beginning of their happy union was when Hayley worked at Merrill Lynch. After much thought, she had decided to quit her job and move to California.
But one particular friend asked her to stay. Meanwhile, her boss also proposed to double her salary if she stayed.
Hayley stayed in the wake of the opportunity and realized she had nearly missed the chance to be with her future husband. 
The friend who had asked her to stay was no other than Hubbard. Shortly, the pair started dating around 2013. 
A year later, the country music singer proposed to his girlfriend in a dream-like setting. 
He took her on a helicopter ride on September 22, 2014. And as the aircraft hovered above their house in circles, Hubbard posed the big question with an enormous diamond ring.
After Hayley said "yes," the duo went for a private dinner date and celebrated the big day. 
Tyler Hubbard and Wife Married in 2015
Hubbard and Hayley took little time to step further into their relationship. They married at the Trail Creek Cabin in Sun Valley, Idaho, on July 1, 2015. 
The 34-year-old donned a white shirt and white pants with matching shoes for the nuptial. As for Hayley, she wore a Monique Lhuillier lace wedding gown with a low back. 
The lovebirds took their traditional vows and even exchanged letters of self-penned vows in an outdoor ceremony. 

Tyler Hubbard and his wife Hayley Hubbard at their wedding on July 1, 2015. (Photo: Instagram) 
Around 150 guests, including fellow singers Brian Kelley, Canaan Smith, Sarah Buxton, Charles Kelley, and Thomas Rhett, attended the ceremony.
And the most special attendee was their golden retriever, Harley, who served as the ring bearer for the couple. 
"There's something about being able to call Hayley my wife and say that it's official!" Hubbard told People of the wedding. He also added they were "so happy to share" their love forever. 
Tyler Hubbard and Wife Have Three Kids
Hubbard and his spouse welcomed their first child, daughter Olivia Rose, in Nashville on December 23, 2017. 
Two years later, their second child and first son, Luca, joined the family on August 19. The married couple gave birth to their third child, son Atlas Roy, on September 24, 2020. 

Tyler Hubbard and Hayley Hubbard with their three children. (Photo: Hayley Hubbard's Instagram)
"Atlas stands for strength," Hubbard gushed about his son's name in an interview with People a day later. He explained the name represented their family's passion for travel and experiencing different cultures.
The singer also mentioned that his son's middle name was his dad's moniker. His father had passed away when he was 20. 
He noted, "Getting to name our son after him is so special to us."
With his three kids and a loving wife, Hubbard is seemingly living the best days of his life. For 2021 Halloween, the family-of-five dressed up as Cinderella characters.
Hubbard and Hayley became Prince Charming and Cinderella, respectively. And they dressed their sons as Gus and Jaq and their daughter as a princess.