Thomas Rhett Announces Fourth Child with Wife Lauren Akins
The Rhett family is expecting a new member.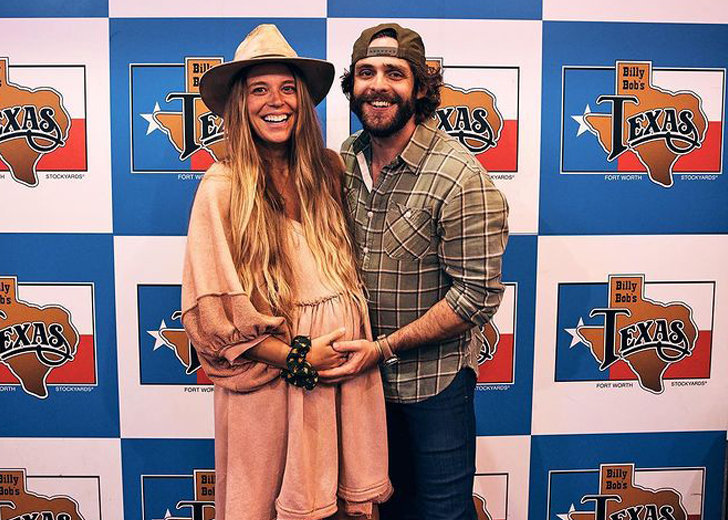 Thomas Rhett and his wife, Lauren Akins, made a special announcement this Mother's day on Instagram that they are expecting their fourth child together. The 31-year-old country singer uploaded a photo of himself and his wife on Instagram as they smiled wide for the camera while cradling her pregnant belly. 
In the post, Rhett reveals how his wife encouraged him to announce the news during his concert in Fort Worth, Texas when he was about to play his latest hit, 'To The Guys That Date My Girls.' He ended the post with a joke about his future as a father of four.
"Feel free to buy all the merch you want, knowing that all the proceeds are going straight to all these weddings I'll be paying for one day! Love you so much, @laur_akins we always wanted a big thanksgiving table."
Rhett and Akins
Rhett and Akins' love story sounds like one that's straight out of a fairytale. The two first met when they were they were first graders growing up in Georgia. They became close friends in the years that followed.
As teenagers, they dated briefly but remained good friends when Akins decided they were better off as friends. The pair dated other people for a while and almost married different people until Rhett's father-in-law intervened with a threat. 
Her dad called me and said, 'If you don't come over here tonight and tell Lauren how you feel about her, then I'm going to tell her how you feel about her. 
Rhett confessed he still had feelings for Akins, and they began dating again. After six months of dating, Rhett proposed to his then-girlfriend over dinner at her favorite Nashville restaurant, Giovanni, with a wine bottle that had "Marry Me" written with a Sharpie marker.
Many felt the couple were too young to take such a big step, and Rhett Akins, the father of the groom who echoed the same sentiments, had a change of heart and realized the two were meant to be together when his son and daughter-in-law stared at each other the entire 20 minutes they exchanged their vows. 
Following this announcement, the country crooner and the mom-to-be will become a family of 6 with three adorable kids, Willa Gray, Ada James, and Lennon Love. 
On Making Their Marriage Work
While the two might look like the perfect couple on the outside, their marriage has not always been a fairytale bliss. In her memoir Live In Love, Akins gave fans an inside look into her relationship with Rhett and how they overcame obstacles to make their marriage work. 
Akins recalled when Rhett was focused on his music career and how she felt lonely and isolated. Rhett was busy touring the U.S while Akins was pregnant with Ada James and living in Uganda to complete their adoption process for Willa Gray. 
During a phone call, Akins mentioned that the couple was living two completely different lives, and that was when they realized that they needed help. They sought marriage counseling and revealed that they still keep in touch with their marriage counselor. 
The duo is definitely in it for the long haul.