Tyler Hilton Married His Wife Megan Park After Dating For Years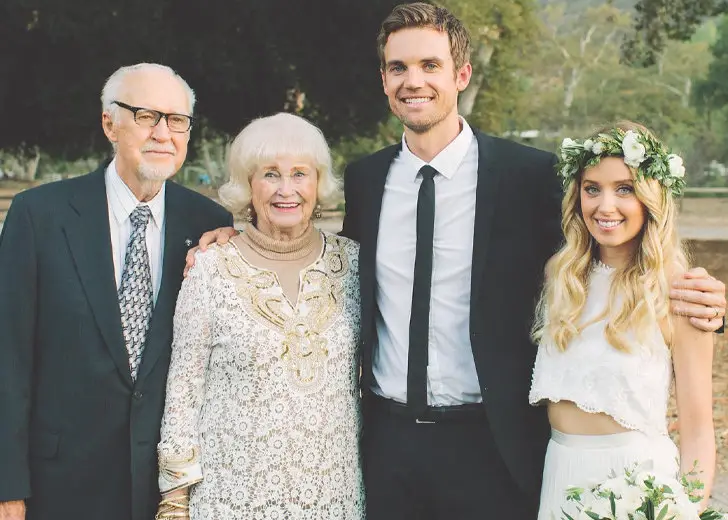 Tyler Hilton and Megan Park met on the set of the movie Charlie Bartlett. After dating for over a decade, the couple announced their engagement in 2014.
A year later, Hilton and his wife married in a small ceremony in Malibu with no bridesmaids or groomsmen. 
Park told the Us Weekly that the wedding was everything the couple wanted to be, and they were excited to celebrate their relationship with their friends and family.
Tyler Hilton and His Wife, Megan Park
Hilton met his wife for the first time in 2007, and they instantly clicked. They started dating soon after. 
Their wedding was presented to their fans via Instagram as they posted a series of pictures of their wedding.
The One Tree Hill actor Hilton looked rad in his black suit, and his wife donned a simple, flowy skirt with a lacy sleeveless bohemian top.
Park reposted a picture of them taking vows and captioned, "Since the invention of the kiss, there have only been five kisses that were rated the most passionate, the most pure. This one left them all behind."

Tyler Hilton and his Wife Megan Park's wedding photoshoot. ( Source: Megan Park's Instagram)
In the above interview with the US Weekly, they added, "To see all our different groups and families making friends with each other and supporting us was overwhelming beyond what we ever would have expected!! We were our most honest and open selves in front of the people the meant the most to us. It was a priceless evening."
After the wedding, Hilton shared a snap where he and Park were dancing. He said she looked beautiful and everything was amazing, and his life was just right.
The couple has their respective careers, and they sometimes have to travel because of their work as a part of it. But the mutual respect has helped them overcome challenges.
They both admire and praise each other through their social media posts. Hilton never misses a chance to amaze his wife. Park shared a picture and mentioned that he had come to Montreal, Canada, to meet her.
The duo seems to be deeply in love with each other.
Tyler Hilton And Megan Park's Daughter
The duo welcomed their daughter Winnie Hilton in 2020 and said they were already "obsessed" with their newborn.
Hilton and Park's Instagram feed is filled with the post of their daughter, and it can be seen how happy they are to travel the parenthood journey.
According to Daily Mail, Hilton said he felt like he knew her daughter his whole life. He added that being a father was the most natural thing he has ever done.
Since the arrival of his daughter, he has been a complete family man. He even released a music video starring his partner and child.
He told the People the video clips of his daughter and his wedding inspired him to make it.
While shooting for the video, he realized how incomplete their life was until their daughter came along.