Tyler Herro and His Girlfriend's Journey to Parenthood in Pictures
The rumors of Herro and Henry becoming parents first started in December 2020.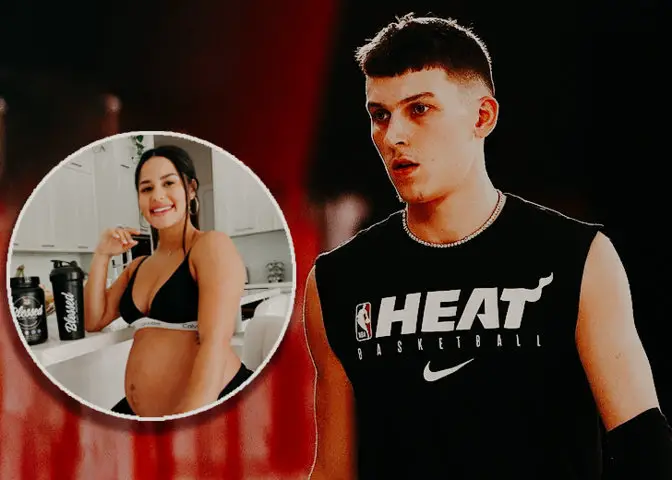 Tyler Herro is going to be a father.
The young NBA star's girlfriend Katya Elise Henry uploaded a monochrome pregnancy photo with Herro caressing her pregnant belly. 
The model had posted a photo of the couple with a questionable caption that read, "Mom + dad 2020."
However, the captions never confirmed anything because many couples playfully refer to themselves as "Mom" and "Dad" even if they are not expecting a child or have one. 
Accidentally Posted a Sonogram on Twitter
Later, on April 1, 2021, the model posted then swiftly deleted what appeared to be a sonogram on Twitter. Eagle-eyed fans noticed Henry's real name, birthdate, and the day's date on the sonogram photos. 
Fans were convinced that she was not just pulling an April Fool's Day prank fueling pregnancy rumors. 
Finally, after months of speculations, those rumors were laid to rest after the expecting couple made it official. Although the model did not mention how far along she was, she did give fans a glimpse into her journey to parenthood now that the secret was out. 
Henry's Pregnancy 
After the official confirmations, the model shared a photo of her from 3-month pregnancy. No one would have guessed she was pregnant had it not been for captions because the fitness model showed no signs of a baby bump in the photo.
In fact, she showed off her hard-earned curves in a racy black bikini in a couple of snaps that appear to have been taken in an empty parking lot. 
Clearly, those photos were a throwback because a month before she showed off her curves, she flaunted the most adorable baby bump in another snap.
In the caption of the April 29 post, she defined joy as gladness not based on circumstance. The accompanying snap embodied the emotion perfectly.
The model was seated on a corner couch, a plush red lipstick outlining a beautiful smile, as her black dress reflected just enough light to let the viewers know that she was expecting. 
Can't Stop Gushing
Even so, the first time that the couple made the announcement blatantly obvious was in the first week of June, when Henry put up monochrome snaps of herself, her beau, and her baby bump on full display. 
In retrospect, that would be the first of many times that she would let her fans gush over her journey to motherhood.
In the following few days, the to-be mother proudly modeled for her fans while deliberately donning outfits that called attention to her obvious baby bump. 
More recently, she made a post on July 10, where she announced that she was in love with a human that she'd not yet met.
Adjacent to the loving caption was a snap that framed her gently placing her hands over her belly while clad in a comfortable-looking dress. 
Although Henry has not yet become a mother, she already has plans for it after she delivers the baby.
In another post, this one dated June 18, she shared a mirror selfie capturing her curves over a set of black innerwear. 
The snap was apparently from well before her pregnancy as that was the body she wished to go back to after she delivered.