Ty Dolla Sign Takes His Girlfriend Zalia to Her First Prom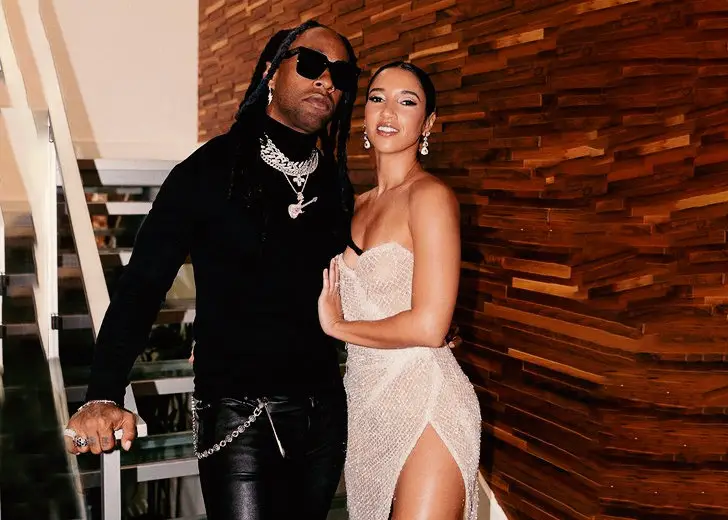 William Griffin Jr., better known by his stage name Ty Dolla Sign, is back into the dating game after his low-key breakup with Lauren Jauregui, a former member of the girl group Fifth Harmony. 
The ex-couple had met on the 'Work From Home' music video set in 2016 and started dating in 2017.
However, around two years later, they broke up but kept the reason behind the split under wraps. As a result, their separation remained dubious for years. 
However, it became crystal clear after the professional rapper started openly dating his girlfriend, Zalia, in late 2019. 
Ty Dolla Sign Took Girlfriend to Her First Prom
On November 25, 2021, Ty took his girlfriend to her first prom, a month after she graduated from college. 
The Instagram model donned a sparkling white strapless high-slit prom dress, completing her look with bright white diamond earrings and a low bun hairstyle. 
As for her partner, Ty rocked black full sleeves high-neck T-shirt and matching shiny pants. The 39-year-old also added silver jewelry pieces to his look, including chains, earrings, rings, and a bracelet. 

Ty Dolla Sign and girlfriend Zalia on her first prom. (Photo: Zalia's Instagram)
Both Ty and his girlfriend shared the glimpses from the bash on their Instagram.
While the record producer wrote nothing much on the caption, his girlfriend poured her gratitude towards him and the people who made the night extra special for her. 
"Thank you for my first prom ever," Zalia wrote in a video's caption that featured her, from getting ready for the party to returning from it.
In addition to that, she took to Instagram story to give a shout-out to her partner.
Posting the same video, the 31-year-old wrote, "Thank you for taking me to prom baby." She added a heart eyes emoji and "love you" at the end of her sweet message.
Ty and Zalia Have Been Dating since 2020
The California native and his girlfriend have been dating at least since late 2019, given that Zalia posted their first picture together on Instagram on December 9, 2019. 
Interestingly, the recent prom date isn't the only special day Ty has organized for his muse. He helped her celebrate her 30th birthday at the Sugar Factory San Diego back in June 2020. 
According to Page Six, the lovebirds and their seven friends first went to The Theatre Box at the famous spot.
Then, they viewed a video message for the birthday girl from friends and family through a private setting. 
Following that, they entered the restaurant area and enjoyed a proper dinner.
Then, after partying until around midnight, the duo made their way out of the eatery. They "were holding hands and acting affectionate," an insider had reported to the news outlet. 
Needless to say, the pair has been pretty vocal about their relationship throughout the years with their fans and followers alike.
In August 2020, Ty gave glimpses of their relationship, sharing Zalia made meal for both of them. He even posted pictures of the meal on his Instagram, proudly writing, "My babe made this just now."