Inside Travis Pastrana's Family Life with Wife Lyn-Z and Kids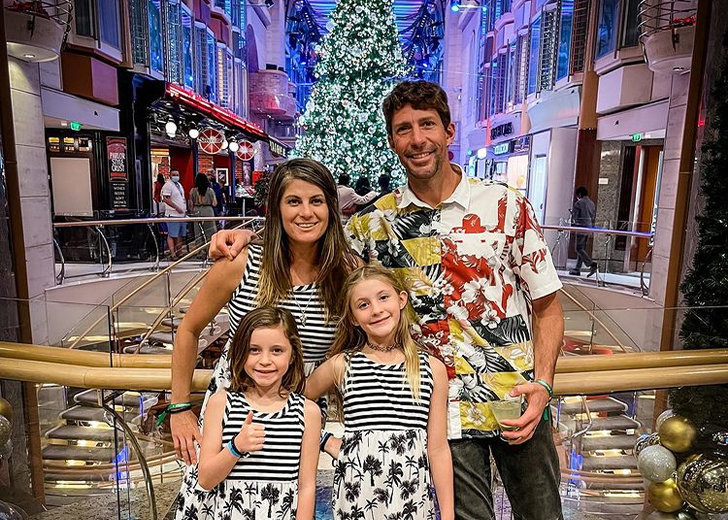 Travis Pastrana and his wife Lyndsey "Lyn-Z" Adams Hawkins have been married for almost a decade now.
The pair got engaged on the Nitro Circus Live World Tour back on June 4, 2011. The professional motorsports competitor posed the big question during the tour's Las Vegas show. 
He got on one knee on the ramp while a crew member delivered Lyn-Z to him and proposed to her in front of the entire audience. Lyn-Z immediately said yes to the surprise proposal. 
And their relationship progressed swimmingly after that.
Travis Pastrana and His Wife Married in 2011
Pastrana married his fiancée on October 29, 2011, four months after the engagement.
The duo tied the knot through a private wedding ceremony in San Diego. 
Pastrana donned a white shirt, jeans, red chequered half coat, and a matching bow tie while his partner wore a short white wedding dress. 
Only a close group of friends and family members attended the ceremony. Two days after the wedding, Pastrana uploaded a wedding picture on Facebook and announced, "We've officially tied the knot."
Later, Pastrana told USA Today that he felt fortunate to have met his wife.
He mentioned she was an athlete and stated that she understood the challenges that came in their marriage because of his career. 
Pastrana's spouse is a professional skateboarder with a decorated career.
A member of the Women Sports Foundation, Lyn-Z bagged three gold, three silver, and one bronze medal from Women's Skateboard Vert at the X Games from 2003 to 2010. 
And after she married Pastrana, she also got into motorsports and toured Australia and New Zealand with The Nitro Circus Live tour.
Travis Pastrana Has Two Kids with Wife
On February 26, 2013, the stunt performer announced through Facebook that he and his wife were expecting their first child. 
Following suit, Lyn-Z also shared the joyous news through her Facebook. She disclosed that their first child was due on September 9, 2013.
Their daughter, Addy Pastrana, however, didn't arrive on the expected date. She was born days earlier, on September 2, 2013.
"@travispastrana and I are so stoked to have welcomed our healthy, happy baby girl into this world on Labor Day," Lyn-Z wrote on Instagram, sharing a picture of their newborn daughter. 

Travis Pastrana, his wife Lyn-Z, and their daughters on December 2021. (Photo: Travis Pastrana's Instagram)
Their second daughter, Bristol Murphy, joined the family two years later. She was born on February 9, 2015. 
"And then there were 4," Pastrana captioned a family picture on Instagram, announcing the arrival of their second daughter. 
Interestingly, the Pastrana kids are both following their parents' footsteps as athletes. On September 15, 2021, Lyn-Z took to Instagram to give a shout-out to her eldest daughter. 
She revealed Addy had got the Athletes Of The Month title from her gymnastic club, Maryland Twisters. 
No wonder Pastrana is living the best of his life with two adorable kids and a supportive spouse. For 2021 Halloween, all of them dressed up in skeleton costumes and enjoyed the day. 
Later, the mother-of-two posted the pictures on Instagram, revealing it was their family tradition to dress up as skeletons.