Travis Barker's Daughter Happy for Him and Kourtney Kardashian Amid Pregnancy Rumors
Alabama Luella Barker is very happy but no one knows for sure why.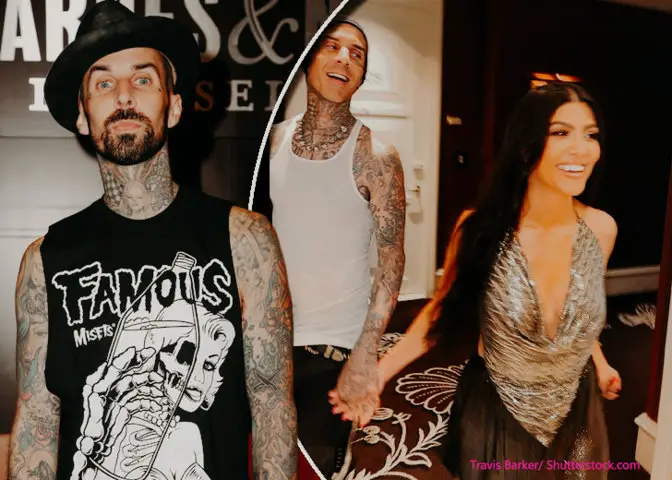 Alabama Luella Barker might have just fueled rumors that her father's girlfriend, Kourtney Kardashian, could be pregnant with possibly her half-sibling. 
The 15-year-old shared a photo on her Instagram stories of Travis Barker and his girlfriend strolling down a hotel corridor beaming while holding hands.
The 42-year-old Poosh founder re-shared the teen's post on her own Instagram stories and replied with a heart emoticon.

Alabama Luella Barker's story of her father and his girlfriend (Source: Alabama Luella Barker's Instagram)
The photo shared by the Blink 182 drummers' daughter was initially from her father's Instagram. The snaps were from the couple's trip to Las Vegas.  
Although no one knows why Barker is so happy for her father and his girlfriend, her post came after weeks of speculation that the couple — who went official in February — is expecting their first child together.
Kourtney's Pregnancy Rumors
According to The Sun, the pregnancy rumors started when Kourtney was spotted in baggier clothes during a recent trip to Disneyland with her drummer beau and some of their children from previous relationships.
Fans also believed that the Keeping Up With the Kardashians star had been dropping hints about her fourth pregnancy.
Kourtney revealed in an Instagram story, which has since been deleted, her vegetarian sushi meal. She mentioned she had not eaten meat or fish in seven months and felt amazing.
She also posted a pic of her sipping water out of a martini glass.
Her dietary and beverage changes stem from the fact that pregnant women are advised to avoid raw fish and alcohol as it can affect the baby's development. 
The rumors further escalated when fans claimed that they spotted Kourtney with a bump in the adorable video of the couple playing the piano uploaded by Travis on his Instagram a few days ago. 
The comment section was flooded with theories and congratulations. 
And to top it all off, Travis was caught lovingly rubbing Kourtney's stomach while waiting for a cab during their trip to Vegas. 
Not Her First Pregnancy Rumors
This is not the first time Kourtney sparked pregnancy rumors, though. 
In May 2020, Kourtney slammed all rumors of pregnancy in the comments section of the photos that started the rumor.
The photo featured her in various angles in a burgundy-colored bikini, with her entire mid-section on display. 
Fans thought she was pregnant because of her slightly bulging midriff.
She immediately fired back, writing, "This is me when I have a few extra pounds on, and I actually love it. I have given birth three amazing times, and this is the shape of my body."
She was with Younes Bendjima at the time, but in 2021, she categorically ended all rumors of a relationship with Bendjima after going public with Travis. 
As Kourtney said, this time too, she might just be embracing her curves.