Is Tory Lanez in Jail over Megan Thee Stallion Tweet Violation?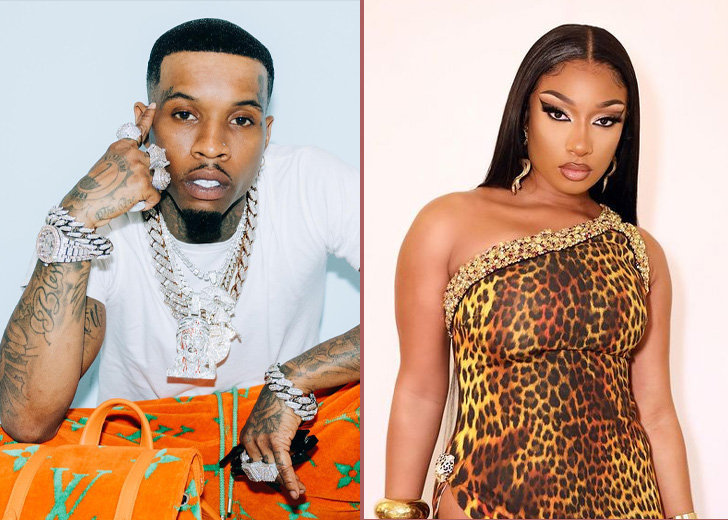 Rapper Tory Lanez spent five hours in jail before being released on bail of $350,000 for violating the terms of pre-trial protective orders. 
On April 5, 2022 court hearing about Lanez allegedly shooting Megan Thee Stallion in 2020, judge David Herriford concluded the musician had violated the court order prohibiting him from contacting or harassing Megan or discussing any discovery in the case with outside parties.
Lanez was taken into custody for allegedly addressing Megan directly on social media and by disclosing DNA evidence via a third-party Twitter user.
The 'SKAT' hitmaker addressed Megan in a February 23, 2022 tweet that read, "Good **** had me ****ing 2 best friends… and I got caught… that's what I apologized 4… it's sick how u Spun it tho…"
As for the matters regarding disclosing DNA evidence via a third-party Twitter user, a YouTube personality known as DJ Akademiks claimed Lanez's DNA was not found on the weapon allegedly used to shoot Megan in the feet.
"UPDATE: Tory Lanez trial adjourned til April with Tory's lawyer telling the court they have completed DNA results from the prosecution which is very pleasing to his client," DJ Akademiks tweeted in February 2022.
The YouTuber also added that he had seen the doctor responsible for the test himself and said the test was inconclusive in finding Lanez's DNA on the gun or magazine.
Lanez's lawyer Shawn Holley claimed the rapper did not provide DJ Akademiks with any information prior to the latter's initial tweet.
"What he [DJ Akademiks] said is incorrect," Holley said of the tweet. "What he said is that the DNA was not found on the weapon. And in fact, the swab of the gun indicates 'inconclusive,' that there were four contributors."
Tory Lanez Said He Felt 'Amazing' after Being Bonded Out of Jail
The judge revoked Lanez's prior bail of $250,000 and raised it to $350,000 after the court hearing on April 5. 
Lanez was bonded out of jail after spending five hours in custody. Once he was processed and released, he briefly talked with Rolling Stone while getting behind the wheel of a waiting Lamborghini.
When asked about how he was feeling, the rapper said he felt "amazing," before driving off.
Tory Lanez & Megan Thee Stallion's Legal Battle
Lanez and Megan were embroiled in a legal battle after the former allegedly shot Megan in the foot during an argument that followed their departure from a pool party at Kylie Jenner's house in 2020.
Detective Ryan Stogner, who was assigned to the case and interviewed Megan, shared that the 'Savage' singer heard Lanez yelling obscenities at her and stated, "Dance, *****!" before he started shooting.
Stogner further added that Megan immediately felt pain in her feet, observed blood, fell to the ground, and then crawled to an adjacent driveway of a residence.
Throughout the case, Lanez and Megan have gone back and forth on social media several times.

Megan Thee Stallion named Tory Lanez as her assailant in an Instagram Live session (Source: Twitter)
Initially, Megan did not publicly identify Lanez as her assailant for an entire month before finally naming him in an Instagram post.
"Tory shot me. You shot me, and you got your publicist and your people going to these blogs, lying and shit," she said in a video posted on August 20, 2020.
In a separate set of tweets, Megan named Lanez her "abuser" and shared she couldn't wait until the facts came out.
"Bitch you shot me AND MY STORY NOT CHANGING AND BITCH YOU GOING TO JAIL," she wrote in the tweet.
Lanez pleaded not guilty to the allegations and has maintained his stance since the beginning. 
Tory Lanez's Trial Postponed?
Lanez's trial in the assault case is scheduled to be held on September 14, 2022. But according to Rolling Stone's reporter Nancy Dillon, Lanez's legal team is planning to postpone the trail. 
The rapper was absent from the court hearing dated July 18, 2022. But his team asked the judge to postpone the trial because of "potential conflicts" arising from unrelated case involving Megan. 
Megan has been in a bitter battle with her label 1501 Certified Entertainment since she sued them for ther claim that she didn't fulfill her contract.