Tori Roloff Talked about Miscarriage on Her Pregnancy Update Post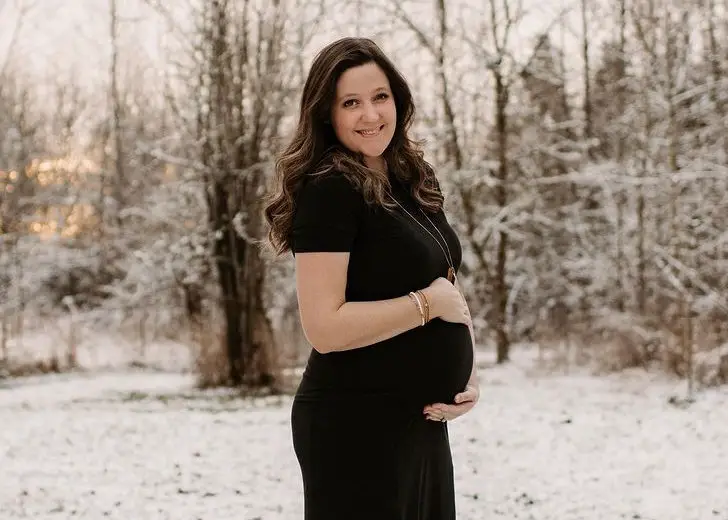 Tori Roloff and her husband, Zach Roloff, are expecting their third child, and the couple is evidently over the moon.
Expressing their happiness, the stars of the Little People, Big World, often take to social media to update the fans regarding the pregnancy and share pictures of Tori showing her baby bump.
Tori Roloff's Recent Pregnancy Update
In a recent Instagram post, the reality TV star shared a pregnancy update as she talked about her previous experience of miscarriage.
Tori stated that she felt the experience of miscarriage took away the joy of raising a baby in her womb. "This pregnancy, it's been so difficult to get excited," she added.

Tori Roloff showing off her baby bump. (Photo: Instagram)
She then said that she and her husband had seen the baby multiple times and heard the baby's heartbeat numerous times, too.
The TV personality noted, "And it's strong. I'm at the point that my husband makes fun of me for going to all the appointments because my OB teased that by the third most women skip out on them."
The pregnancy update didn't end there, as she exclaimed that she had started to feel the baby moving consistently. And that has helped her relax and enjoy her pregnancy.
Moreover, Tori's first trimester was "pretty miserable" because she could not eat anything, slept most of the time, and was bloated beyond her expectations.
But things changed for good soon. In her second trimester, she felt less bloat, had more appetite and realized the time passed by very quickly.
"I am so grateful to God for this gift. This pure and whole gift and I am so thankful that my body is capable of growing this sweet life," she wrote, ending her lengthy but touching pregnancy update.
Baby Coming in Spring of 2022
In November 2021, the couple announced that they were expecting their baby No. 3 via their respective Instagram handles.
In her post, Tori shared a series of the family's pictures, all of which saw her flaunting her baby bump. She additionally revealed that the baby would join the family in the spring of 2022.
Zach similarly shared the same pictures on his Instagram, writing, "We got some exciting news to announce! Baby coming spring of 2022! Tori is looking as beautiful as ever! #zandtpartyoffive @toriroloff."
Following that, the TLC stars have documented their pregnancy progress with baby bump photos on social media so adorably that some of their fans seem to be as excited about the baby as the present parents of two are.
"Drop dead gorgeous!!! Makes me emotional! So happy you are happy sweet friend. Can't wait to meet this nugget!" a fan commented on her February 8, 2022, post.
Tori Roloff and Zach Roloff's Relationship
Tori and Zach tied the knot a few years back in July 2015 in front of nearly 200 guests.
Two years after the wedding, in May 2017, the power couple welcomed their first child, Jackson Kyle Roloff, into the world.
They later had their second baby, daughter Lilah Ray Roloff, in 2019.