Tony Shalhoub's Brother Dan Shalhoub Invented a Dog-Cleanup Device — The Sha-Poopie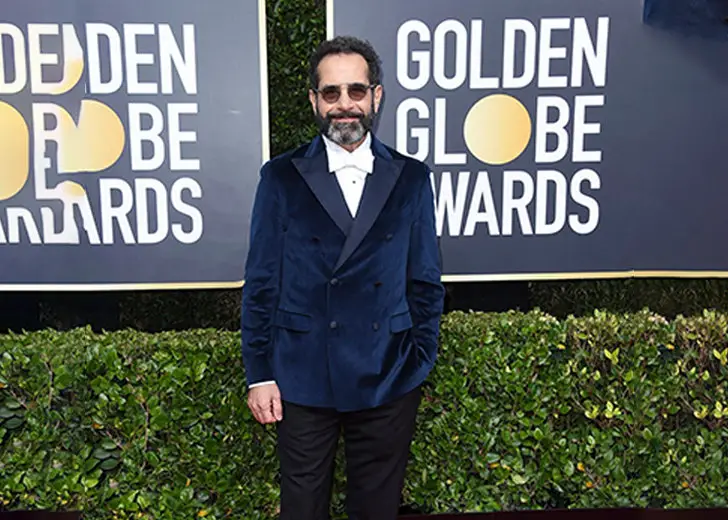 Tony Shalhoub, who is best known for his portrayal of the titular character in Monk — the germ-fearing, obsessive-compulsive detective who hates smudges, straightens crooked pictures and won't shake hands unless he can sanitize them afterward. 
In 2022, we can all likely relate. 
Anyways, it appears as though his real-life brother, Dan Shalhoub, would have been a good friend to his reel-life character. 
Apart from making a living by professionally cleaning window blinds, Dan is an inventor who helped dog owners clean up after their dogs. 

Tony Shalhoub with his brothers (Source: YouTube)
Tony Shalhoub's Brother Owns a Blinds Cleaning Business
The Emmy Award-winning actor's brother, as per The Seattle Times, owns a business that specializes in one of those picky-picky household chores that require meticulous attention — cleaning window blinds.
He owns Milwaukee's White Glove Ultra-Sonic Blind Cleaning.
"It's not your average kind of business," Dan told the publication. 
Dan's firm employed a process that submerged the blinds in a tank filled with soft water and biodegradable detergent and subjected them to sound waves that bombarded the grime away. 
He'd run the business for 21 whole years as of 2009. However, he'd make headlines in the following years for a whole different genre of cleaning.
Tony Shalhoub Promoting His Brother
During an appearance on the syndicated Bonnie Hunt Show, the Monk actor took it upon himself to promote his brother's new invention: The Shapoopie. 
Tony explained that one of his three brothers, Dan, welcomed a pet dog into his household. In a supposedly mutual spousal decision, he was handed the responsibility of walking the dog.

Tony Shalhoub with his siblings and parents (Source: YouTube)
The actor added how his brother loved the dog but absolutely detested the act of cleaning up after the dog defecated. 
After just one day of walking the dog, Tony recalled his brother saying: "This dog is gonna live 15 years or whatever. I'm not doing this for 15 years."
How Shapoopie Came to Be
While there might have been people who would have given up the dog at this point, Dan wasn't one of those people. 
Instead, he invented a device to make his life easier. 
The Shapoopie began as a golf ball retriever with a telescoping handle and a plastic bag rigged on one end of the stick. 
With the telescoping stick, the wielder of the preliminary Shapoopie would place the plastic bag tactfully to catch the dog feces before it hit the ground. 
After undergoing design and engineering, the device now features a basket that holds removable plastic liners with snap-shut lids. Fully extended, it looks like a little toilet on a stick.
So, for the final product, the wielder would open the plastic liner, let the dog do its business in the little chamber, and seal it shut for later disposal. 
Check out this video where Tony did a demonstration. 
Apart from Dan, Tony has seven other siblings, namely Amy Shalhoub, Maggie Shalhoub, Michael Shalhoub, Susan Shalhoub Larkin, Jane Shalhoub, Sherry Matzdorff, Bill Shalhoub, and  Deborah Shalhoub-Landin.
Much like Tony, his siblings Michael and Susan are also actors. In fact, Michael even acted alongside his brother in Monk.