Who Is Tony Romo's Present Wife? Get To Know About His Personal Life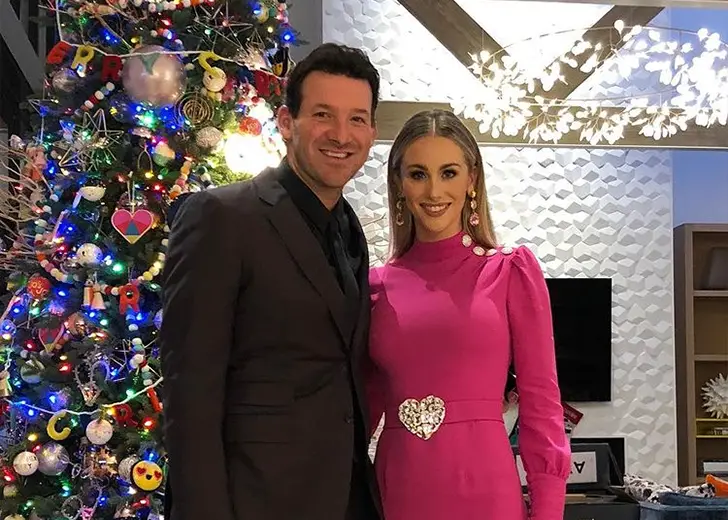 Tony Romo married Candice Crawford on May 28, 2011.
Since then, the former NFL player and his wife have added three kids to their family.
Romo first met his wife when she was a reporter and anchor at CW33 in Dallas. There, she covered high school sports and hosted a daily lifestyle segment.
The two began dating in 2009, a few months after his split with Jessica Simpson.
After two years together, Romo proposed to Crawford on December 16, 2010, on her 24th birthday.

Tony Romo with wife Candice Crawford (Source: Instagram)
A year later, Romo took Crawford as his wife on May 28. The wedding was held in Arlington Hall in Dallas, with 600 guests present to celebrate their big day.
Romo's former teammates and other players from Dallas Cowboys, including Troy Aikman, Roger Staubach, Dez Bryant, and Miles Austin, also attended the wedding.
Tony Romo and Wife have Three Kids
Following their marriage, Romo and Crawford became parents for the first time on April 9, 2012, when they welcomed their son, Hawkins Crawford Romo. 
The couple's representative shared the good news in a statement. "Hawkins Crawford Romo is now a part of the Dallas Cowboys family. He came into the world on 4/9/12 at 5:30 p.m., 8 lbs. and 8 oz. All is well with mom."
On March 18, 2014, their family grew larger when Crawford gave birth to their son Rivers Romo.
After welcoming two sons, Romo and his wife thought they were having a daughter as their third child when she got pregnant once again.
Crawford opened up about it when talking to People. "I felt a lot sicker during this pregnancy, and so we thought it may be because there was a little girl inside, but we were definitely wrong."
Crawford added that while it would have been "new and different" to have a little girl in their family, she was happy to have another son as she loved being  a "boy mom."
Romo and Crawford also shared that they wouldn't be trying for more kids, noting that the Romo family would feel "complete" once their youngest was born.
The pair welcomed son Jones McCoy Romo on August 23, 2017. Romo took to both Instagram and Twitter to share the news while posting pictures of his newborn son.
Tony Romo and Jessica Simpson
Before getting together with Crawford, Romo was in a relationship with Simpson. The 'I Wanna Love You Forever' hitmaker and Romo began dating in November 2007.
The two stayed together for two years. People reported that Romo and Simpson had ended their relationship on July 13, 2009.
According to the outlet, Romo broke up with the singer a day before her 29th birthday.
A source close to Simpson added that the split might have to do with their busy schedules.
Romo was busy with his career in the NFL, and Simpson was getting ready to shoot her show The Price of Beauty.
Simpson made a tweet on her birthday, revealing that her planned Barbie party didn't happen, but she felt like she was on top of the world.
Not long after his split with Simpson, Romo moved on with Crawford.