Tommy Tiernan on Finding Happiness With Wife Yvonne McMahon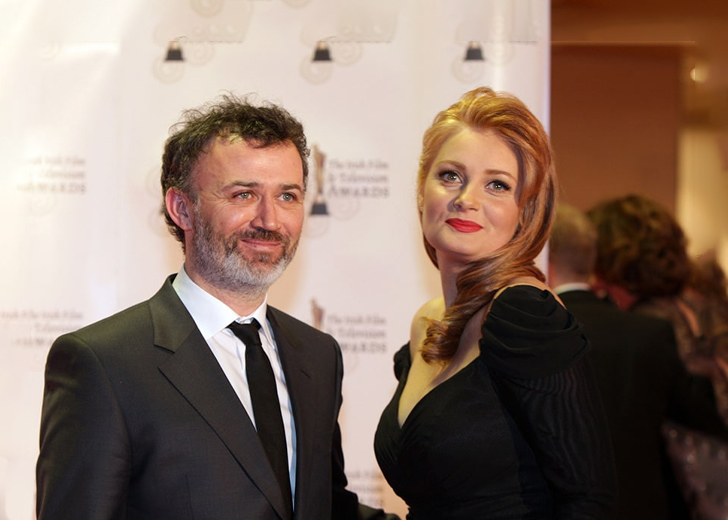 Tommy Tiernan is a familiar face in Irish households thanks to his chat show, The Tommy Tiernan Show, where he interviews Ireland's biggest names.
And most recently, he starred as the loveable dad Jerry in Derry Girls, which boosted the comedian to international fame. 
But for a man loved by many, his personal life has been kept under wraps.
The funnyman is currently married to his wife, Yvonne McMahon. They are notoriously private about their life together and only open up occasionally. 
Here is what we know about Tiernan's married life with his wife and his painful family split.
Tommy Tiernan and His Wife Yvonne McMahon's Married Life
Tiernan and his wife tied the knot in August 2009 at a ceremony in Co Monaghan. 
So what does McMahon do for a living? McMahon has a podcast show called The Couch with Yvonne Tiernan.
She also works as a psychotherapist and counselor in Galway.
And like her husband, she is no stranger to the limelight, for she is a singer with the folk band, The Raines.
According to the band, they play a "blend [of] Folk and Americana with sweet harmonies and melodic fiddle." They have performed with bands such as The Chieftains and The Grey Willows.
"I always sang in bands, but I've always had a manager side of my head, and I ended up having my management company and looking after the Chieftains," said McMahon.

Tommy Tiernan's wife, Yvonne McMahon, and their kids at a disco night event. (Source: Yvonne McMahon/Instagram)
She revealed her father discovered she could sing and encouraged her to sing with The Chieftains. She ended up on tour with them for 15 years.
Tiernan and his wife are parents to six children — three from their marriage and three more from Tiernan's previous relationship with Jayme Street.
In an article for Irish Examiner, McMahon wrote she couldn't love the man she married any more than she did and that she was a much better person for being married to him.
She added the actor was one of the most generous people she knew, not just materialistically, but also with his time and loyalty.
Tommy Tiernan's Painful Split from Longtime Partner
Before Tiernan married McMahon, he was in a relationship with Street for 15 years. 
They met through a Christian community on the Aran Islands when the chat show host was 19. 
But after having three kids, they broke up. Back in 2002, Tiernan admitted that his busy lifestyle as a comedian had strained his relationship. 
The split was painful for the Derry Girls star which he opened up about in 2019. 
"I don't think I've ever recovered from splitting up with my first family. That's always a tough thing. Once you move into uncharted territory, it's tough, and for my generation, we were the first Irish generation who separated," said the actor. 
He added he felt lost because there was nothing or no one to guide him on how to move forward. 
At the time, Tiernan wished he had more confidence in his decision about how to be a father who was not living full time with his children.
Tiernan has since moved on from the past and lives happily with his partner and kids.