'Umbrella Academy's Tom Hopper Makes Us Swoon over His Marriage with Wife Laura Hopper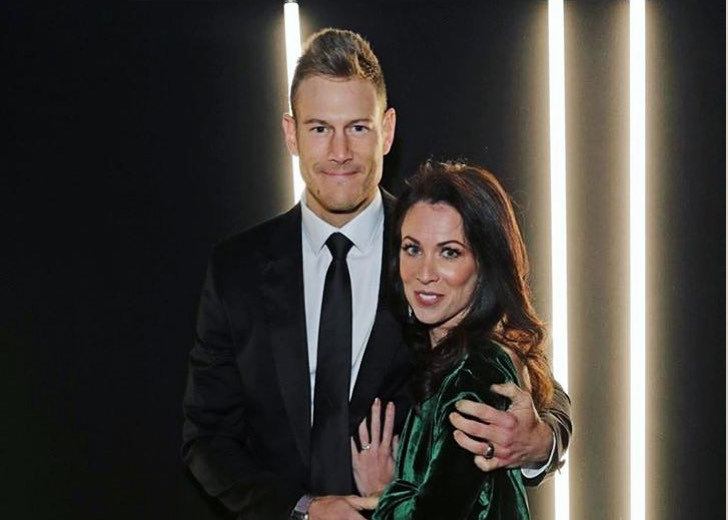 The Umbrella Academy debuted on Netflix in 2019. At the time, there were tons of superhero shows already. 
But the show stood out for its fresh take on the genre and was a popular series on the streaming giant at the time. 
While the show's fascinating storylines were one of the reasons for its popularity, there is no doubt the impressive ensemble cast played a huge role in its success. 
Tom Hopper took on the role of Luther Hargreeves, which certainly boosted his career and star power. 
The show helped him garner a massive female fan base who could help but fawn over his dashing looks. 
And as fans aim to learn more about Hopper, they may be curious about his marriage and who his girlfriend or wife is.  
Tom Hopper and His Wife, Laura Hopper
Hopper is happily married to his wife, Laura Hopper. 

Tom Hopper's wife Laura Hopper shows off her engagement ring. (Source: Laura Hopper/Instagram)
Laura is also an actor, and fans might recognize her as Jenna Gibbs in Hollyoaks and Kayleigh Jackson on Doctors. 
The husband and wife duo has never starred opposite each other, but they starred as Billy Bones and Esther in the Treasure Island prequel, Black Sails. 
As Popsugar reports, the actor met his then girlfriend at a random party in 2009. 
After that chance meeting, Laura ended up becoming his girlfriend. 
The couple dated as boyfriend and girlfriend for five years before exchanging vows in June 2014. They seem extremely happy together. 
Although they are relatively private, they do share glimpses of their lives on their family's YouTube channel called "The Hopper Family." 
But it seems they are not as active as they used to be since their last upload was a year ago. 
Speaking of family, the couple has two kids. 
They welcomed a son named Freddie Douglas Hopper in 2015 and a daughter named Truly Rose Hopper in 2018.
Both the mother and father seem to be hands-on when it comes to raising their children. 
The mother of two often posts pictures of enjoying different activities with their children, like playing in the snow, dancing, blowing bubbles, and many more. 
Tom Hopper and His Wife on Parenting
Most Hollywood parents keep their children out of the spotlight, but not Hopper and his wife, who have a sound reason for not doing so. 
In July 2020, the couple shared with People that their son was nonverbal, after receiving his autism diagnosis. 
They have been detailing their experiences by sharing videos and photos on social media, hoping it would comfort parents in similar situations.
"We thought, we've got to do this for the parents that are going through this so they don't feel alone," Hopper told the outlet.  
The Umbrella Academy actor added that his son was different, and he and his spouse first noticed it when their son was 18 months.  
They noticed that he did not respond to his name, and as he got older, his progress was slower than other children of his age. 
Once they received the diagnosis, the parents educated themselves only to realize that no two kids with autism were the same.
The couple had to figure out what worked for their son.
One of the things they learned was cutting out processed sugar from their son's diet. 
This helped control their son's behavior.