A Glance at 'The Umbrella Academy' Star Aidan Gallagher's Previous Girlfriends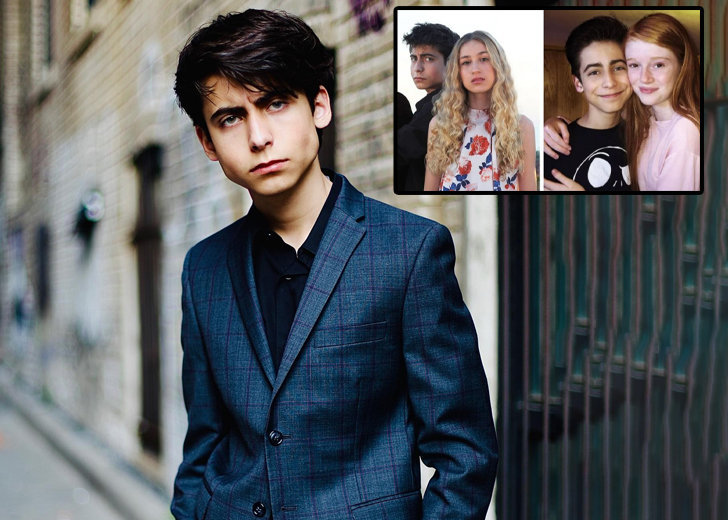 The fact that Aidan Gallagher has wooed fans playing a 58-year-old man trapped in a 13-year-old's body whilst he was still a 16-year-old behind the camera is an ode to his incredible acting skills. 
Understandably, many are swooned by this teenage heartthrob, and even more want to know if he's dating someone and if he is who his girlfriend is. 
Well, a more optimistic way of framing that curiosity would be: Is Aidan Gallagher single?

'The Umbrella Academy' star Aidan Gallagher posing with his dog (Source: Instagram)
As of this writing, all sources suggest that Gallagher is very much single. Albeit, it is to be understood that it won't be the same forever. 
But if you've been wondering, here's a list of girlfriends he's been with in the past. 
1. Madisyn Shipman
Gallagher and his former girlfriend, Madisyn Shipman, were shipped in public all the way back in 2016. 
As per reports from Netflix Life (via The Things), the relationship wasn't a particularly lasting affair, as it began and concluded that same year. 
Gallagher and Shipman began dating in May and had already split by August. 
For those unaware, Shipman is a performer much like her former beau. She is an actress and a celebrated singer who commands a respectable two million-strong following on Instagram. 
2. Hannah McCloud
The Umbrella Academy star kept to himself for the remainder of 2016, or that's what the public eye was led to believe. 
Whatever the case, the actor only found himself another girlfriend in February the following year.
Gallagher began dating Hannah McCloud in February 2017. Much like before, this relationship also fell short of the one-year mark and concluded in only eight months. 
When they were dating, Gallagher didn't shy away from flaunting the relationship on his socials.
However, those posts are nowhere to be found on the internet today — only mentions of them exist in a few publications here and there. 
McCloud is also an actress. She is best known for her work in Revenge, Tenured, and I'll Be Next Door For Christmas.
3. Jessica Belkin
The next entry on the girlfriend list is yet another actress — Jessica Belkin. 
Thus far, Belkin remains the only girlfriend that has made it past the one-year milestone. 
Gallagher began dating Belkin in February 2015. The couple lasted just over a year and broke up around April 2016, just a month shy of his next romance. 
Belkin is a successful actress in her own right, as she has made several appearances in more than a few notable TV shows.
She is perhaps best known for her work as Vampire Girl/WrenWren on American Horror Story and Bethany Young on Pretty Little Liars. 
Honorable Mention: Trinity Rose
The last one on the list is another actress still. 
Rumors of Gallagher dating Trinity Rose began surfacing when the two of them collaborated for the song 'Miss You.'
However, neither of the parties involved ever made any official statement to add any substance in favor of the rumor.
Still, when has that stopped fans from speculating a supposed romance between two young and active figures in showbiz?