Tom Colicchio and Wife Almost Postponed Their Wedding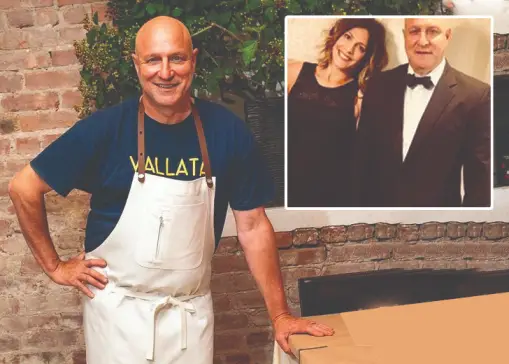 Tom Colicchio and his wife Lori Silverbush married in September 2001 in Martha's Vineyard.
The couple met seven years earlier when Colicchio's wife was a server at Gramercy Tavern, one of Tom's restaurants.
Silverbush had finished her master's degree in cinema studies from New York University and worked to earn money as a young filmmaker. 
The pair hit it off, and in time, romance blossomed, but she left her restaurant job to pursue her passion full-time. 
Colicchio eventually proposed to Silverbush at Second Avenue Deli while they were waiting in line for pastrami sandwiches. 
Of course, his wife said yes and said they were hugging when the guy from the Deli was saying, "Your sandwiches!"
The couple was planning to wed on September 15, and the date had been set a long time back. 
But unforeseen circumstances led them to consider calling off their wedding seriously. 
Tom Colicchio and His Wife Still Going Strong
A few days before the wedding, the deadly 9/11 terrorist attacks took place, causing them to reconsider their nuptials. 
"We felt we didn't have the right to experience joy. But people called and said, 'You've got to carry on,'" said Colicchio.
Ultimately, the couple carried through with their wedding. 
The couple walked down the aisle in front of 120 family members and friends in attendance who arrived after hours and days spent in cars, buses, and trains.
Meanwhile, 30 guests could not make it due to canceled flights. 

Tom Colicchio and his wife at the 2018 Emmy Awards. (Source: Tom Colicchio/Instagram)
After the wedding, the couple postponed their honeymoon plans because of the terrorist attacks. 
The couple understood that it was not the right for a getaway, and Colicchio began cooking as a volunteer to feed rescue workers.
In 2017, Colicchio addressed the timing of his nuptials on Twitter, writing that he had thought about canceling the wedding, but his wedding ring was inscribed "don't postpone joy."
The chef and his wife have two sons together, Luka and Mateo, and are also parents to son Dante from the chef's previous relationship. 
Tom Colicchio Compares Parenting to Cooking
During an episode of the digital series Beats + Bites with the Potash Twins, the Top Chef judge compared parenting to cooking. 
While talking about his journey to the top of the culinary world, Colicchio got emotional. 
He shared that his father, a correctional officer, suggested he become a chef. 
The Top Chef judge worked hard before leaving New Jersey to make it big in New York City. And while trying to succeed in the food world, he hustled hard, but it came with a price. 
Recalling his initial days, he wished he could have been a better father to his oldest son. He said he was very busy when Dante was growing up and could not give him much time.
But he was doing things differently with his younger sons. The chef tried to spend as much quality time as possible with his two younger children, who were growing up.
"I can get a dish back if I screw it up, but children, I can't get that back. Now I'm getting all choked up!" said Colicchio.