Does Tobe Nwigwe Hate his Wife Fat Nwigwe? | Why they Slammed Haters on 'Undressing Criticism'?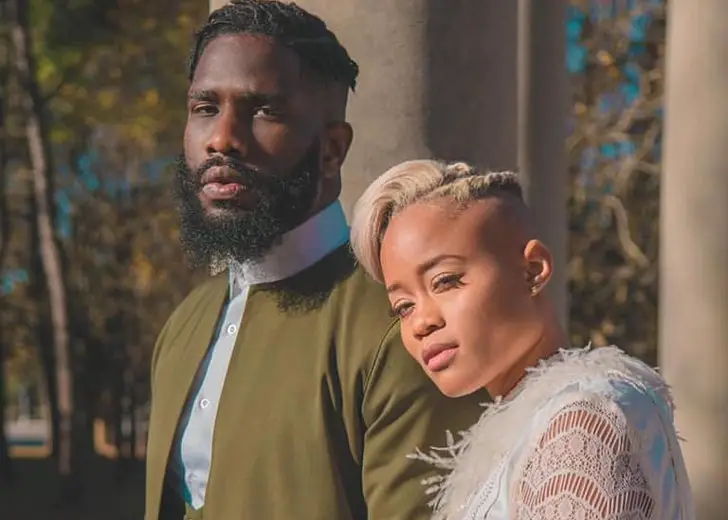 Tobe Nwigwe and his wife, Fat Nwigwe, have been with each other through thick and thin. 
The two met each other in a church, and from there, they worked at a non-profit organization together. Since then, the couple has been inseparable. They got engaged in February 2017 and tied the knot in 2018.
The Nwigwes have also been blessed with three kids — sons Chukwueze and Chikodili Ejikemeuwa Nwigwe and daughters Ivory and Sag. But, while Tobe and his wife have a perfect relationship, they still get a lot of hate. 
In 2023, Tobe and his wife Fat Fat were awaiting the birth of their fourth baby, who was born in the first week of April.
However, the pair have kept the details of the birth of their fourth baby a secret. 
Still, from his Instagram post, we at least know that their youngest son, Chikodili Ejikemeuwa Nwigwe, was born on 7 April 2023. 
On his Instagram post showcasing the newborn, Tobe explained the name of the newborn, "Chikodili Ejikemeuwa Nwigwe aka BIG CHIKO."
He added,
4/7/23 the legend was born

Chikodili: it's in GODs hands

Ejikemeuwa: not by my strength (by GODs grace)

Nwigwe: child of the heavens.
Fourteen days later, The 'I Need You To' singer donned Moncler during his combined performance with his wife at Coachella. And his post-pregnant wife Fat was seen behind the screen singing her parts.  
The pair had previously donned the brand (Moncler) during 'the 65th Annual Grammy Awards in 2023.
Read the article in full to know about Tobe's relationship with his wife Fat as we give our opinion on the frequently asked question, "Does Tobe Nwigwe Hate his Wife Fat Nwigwe?"
Does Tobe Nwigwe ad his Wife Fat have a love-hate Relationship?
It is up to the fans to decide whether the pair have a love-hate relationship. 
If you ask us, we conclude that Tobe doesn't hate his wife. Rather, he just thinks he was a catch in the relationship and usually compares his wife with his standards—like many of us already do.
Here's an explanation of why some people think Tobe doesn't respect his wife.
It all started with the couple started sharing their entire journey, from their proposal to s*x life, on their YouTube channel, Forever Twisted.
Many people started criticizing their relationship after they saw a video in which Tobe and his wife, Fat, summarized their entire journey.
If you didn't know, there have been a couple of reasons people have been criticizing Tobe and Fat's relationship and love story, including the Youtube love story video being one of them. 
According to the videos titled as "Our Love Story," there were a lot of ups and downs in their bonding before they got together.
Fat was in love with him, but Tobe did not want to be with her. The duo addressed this on their YouTube story, where they explained how they eventually fell in love. 

Tobe Nwigwe and his wife, Fat Nwigwe, on their wedding day. (Source: Instagram)
For Fat, it was love at first sight. One glance at Tobe, and she was smitten by him to the point that she believed she could marry him. But the same cannot be said for Tobe. 
He did not like Fat and friend-zoned her. He told her he did not want her and asked her to stop looking at him. 
Tobe even said that he wanted a relationship, but not with her. But Fat never gave up and hoped that he would look at her the same way she did one day. 

Tobe Nwigwe, posing with his wife, Fat Nwigwe, and his kids. (Source: Instagram)
Eventually, Tobe gave it a try and soon fell in love with her. And the rest is history. 
And again, after an interview by the pair with Erykah Badu in 2018, their relationship became a topic of interest because Tobe again spoke about how he wasn't interested in having a relationship with his wife but came to terms with his love for her eventually.
While many saw this as a beautiful love story, some couldn't help but point out that their relationship was problematic. 
Most of them complained about the way Tobe settled for his wife. Some even brought race and unrealistic stereotypes of being a black man into the mix.  
But the couple didn't take any of the criticisms. They responded to the criticisms through the best way they knew— a song.
In January 2022, they released a song called 'Undressing Criticism' and slammed their haters and defend their relationship.
Still, yet another video (of 2023's Grammy) floated the internet in which Tobe could be seen asking counter questions to the interviewer regarding why she (the interviewer) praised his wife for being at the event. 
And the video again created a lot of buzz among fans. Some claimed that Tobe commented as such because he didn't want his wife to outshine him. 
While others believed that he was just trying to reinforce to his wife what he already knew, asking the reporter to praise her in detail with something more substantial.  
Interesting Read: Tobe Nwigwe and Wife Fat Designed the Guests' Clothes for Their Wedding 
In addition, some fans are also not content with the fact that Tobe allowed his wife to perform with him at Coachella despite her being a new mother of just 14 days.
The Nwigwes and 'Undressing Criticism' Explained
On 23 January 2021, Tobe released his latest single 'Undressing Criticism,' where he talked about his relationship with his wife. There, he also slammed the haters for judging their relationship. 

The Nwigwes' cover of 'Undressing Criticism.' (Source: Instagram)
Through his lyrics, he said that he had been married to Fat for over four years, yet people were criticizing their love story. He also explained how he was not initially interested in her, but now he loves her a lot. 
A lyric in a song goes, "How the [explicit] is one offended when presented with someone's genuine experience that doesn't make or break you doing you?"
At the end of 'Undressing Criticism,' Fat addressed everyone triggered by her relationship. She said there was no need to react to someone else's story. 
Instead, they needed to heal, since they deserved it.