Tobe Nwigwe and Wife Fat Nwigwe Slam Haters in 'Undressing Criticism'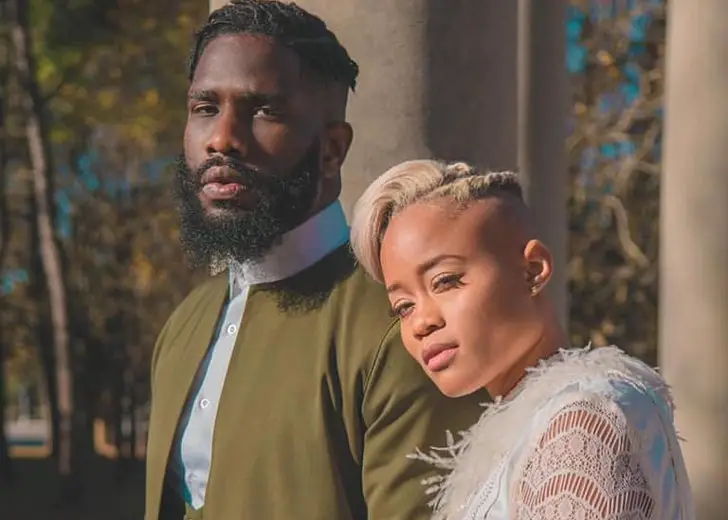 Tobe Nwigwe and his wife, Fat Nwigwe, have been with each other through thick and thin. 
The two met each other in a church, and from there, they worked at a non-profit organization together. Since then, the couple has been inseparable. 
They got engaged in February 2017 and tied the knot in 2018. They shared their entire journey on their YouTube channel, Forever Twisted. 
The Nwigwes have also been blessed with three kids — son Chukwueze and daughters Ivory and Sag. But, while Tobe and his wife have a perfect relationship, they still get a lot of hate. 
Many people have criticized their relationship, and the couple responded to them through the best way they knew — a song. They recently released a song called 'Undressing Criticism' and slammed their haters. 

Tobe Nwigwe and his wife, Fat Nwigwe, on their wedding day. (Source: Instagram)
Tobe Nwigwe and His Wife's Eventful Start
There are a couple of reasons people have been criticizing Tobe and Fat's relationship and love story. First, before Tobe and Fat got together, there were a lot of ups and downs. 
Fat was in love with him, but Tobe did not want to be with her. The duo has addressed this on their YouTube story, where they explained how the couple eventually fell in love. 
For Fat, it was love at first sight. One glance at Tobe, and she was smitten by him to the point that she believed she could marry him. But the same cannot be said for Tobe. 
He did not like Fat and friend-zoned her. He told her he did not want her and asked her to stop looking at him. 
Tobe even said that he wanted a relationship, but not with her. But Fat never gave up and hoped that he would look at her the same way she did one day. 

Tobe Nwigwe, posing with his wife, Fat Nwigwe, and his kids. (Source: Instagram)
Eventually, Tobe gave it a try with her and soon fell in love with her. And the rest is history. 
After an interview with Erykah Badu, their relationship became a topic of interest. While many saw this as a beautiful love story, some couldn't help but point out that their relationship was problematic. 
Most of them complained about the way Tobe settled for his wife. Some even brought race and unrealistic stereotypes of Black men.  
Regardless, the Nwigwes did not hesitate to call out the haters and defend their relationship to 'Undressing Criticism.'
The Nwigwes and 'Undressing Criticism'
On January 23, 2021, Tobe released his latest single 'Undressing Criticism,' where he talked about his relationship with his wife. There, he also slammed the haters for judging their relationship. 

The Nwigwes' cover of 'Undressing Criticism.' (Source: Instagram)
Through his lyrics, he said that he had been married to Fat for over four years, yet people were criticizing their love story. He also explained how he was not initially interested in her, but now he loves her a lot. 
A lyric in a song goes, "How the [explicit] is one offended when presented with someone's genuine experience that doesn't make or break you doing you?"
At the end of 'Undressing Criticism,' Fat addressed everyone triggered by her relationship. She said there was no need to react to someone else's story. 
Instead, they needed to heal, since they deserved it.