Tinx Slammed for Ignoring Republican Tweets in Her Apology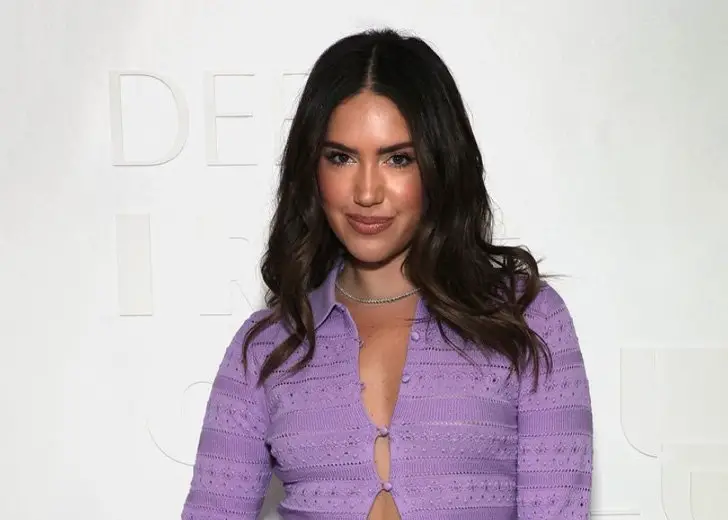 TikTok sensation Tinx found herself in deep, deep trouble when Sophie Ross exposed her old tweets in April 2022. Ross's reporting contained a lot of her problematic tweets from as far back as a decade ago.
In many of those, Tinx was displaying misogyny, fat-shaming, and repeating Republican talking points. The TikTok star has now apologized for many of her fat-shaming and body-shaming tweets.
However, she seems to have missed apologizing for her seemingly Republican stance in her old tweets, which has enraged quite a few people on social media, especially Twitter.
Tinx Apologizes for Problematic Old Tweets
On April 24, 2022, Tinx took to Instagram to post a lengthy apology note where she addressed much of what she had been made aware of regarding her old tweets. She also said that she had been growing and learning as time passed.
"I always say if you're not cringing at yourself a year ago you aren't growing. I'm more than cringing," Tinx started her writing. "I'm beyond embarrassed and I want to take accountability."
She then admitted that she had "f-ed" up, and she would own it and be direct with her fans. She assured everyone she had thought about what she wanted to say and that the apology was not a reactionary thing to save face.
"About 10 years ago I sent some truly nasty, mean, horrible tweets, I called people I had never met fat, pathetic, and ugly," Tinx owned up, remembering how she once called Kim Kardashian, someone that was "[her] number one idol" now, "fat."

Tinx fat-shaming Kim Kardashian in her old tweet. (Photo: Sophie Ross)
She was "ashamed and embarrassed" when she read her old tweets but confessed that even though the tweets were "mean-spirited," and she used to be that, too, she was not mean anymore.
Tinx, who said she was "21 and deeply, deeply insecure," also confessed to hating herself and her body at that age. Sending out mean tweets was her attempt at getting a laugh and feeling better about herself.
"And it's not funny at all," she wrote. "Hurt people hurt people and I know my words caused hurt."
Tinx ended her writing by calling upon her fans to consider how she was now compared to when she made the tweets and apologized — "I am very sorry. I am a work in progress."

Tinx's apology for her old tweets where she displayed fat-shaming and body-shaming, and pro-Trump sentiments. (Photo: Tinx/Instagram)
As for the tweets that caused this drama, Ross collected screenshots of many of her tweets from the past. Many of them were derogatory and mean-spirited.
She called out "fat" people multiple times, talking about their presence at the 2013 Coachella and calling Tori Spelling "ugly and pathetic."
In multiple other tweets, she misgendered Caitlyn Jenner, calling her a "he" and even deadnaming her.
While all these were apologized for, Tinx mentioned nothing about her Republican leanings or tweets and retweets that made it seem like she was on the right. This angered people on Twitter.
Tinx under Fire for Republican-leaning Tweets
Ross's reporting included many of Tinx's retweets where she showed support for Republican talking points.
In a few of those, she made fun of Ken Klippenstein, a DC-based progressive investigative journalist, and his wife, Kelli Klippenstein. calling him "nasty."
In others, she asked if Caitlyn Jenner identifying as a Republican was a bad thing while also deadnaming her in the process.

Tinx tweeted about Caitlyn Jenner and misgendered and deadnamed her in an old tweet. (Photo: Tinx/Twitter/Sophie Ross)
More recently, she was found retweeting controversial COVID-19 takes on the platform from people such as Elon Musk and Eric Weinstein.
Further, Tinx also retweeted Matt Stoller calling democrats "easily intimidated and fooled." She had also liked and retweeted pro-Trump posts and called Hillary Clinton "an exhausted show horse" while comparing her to Theresa May.
Her apology did not touch upon these subjects, and people took an issue with that. Some were angry at her, not because she "was a Republican," but because she did not own it.
Many said that the realization about Tinx being a Republican ruined their day and killed off their good vibes. Others were not so surprised, saying they always had a hunch she was a right-leaning person.
However, someone also found Tinx tweeted in favor of Bernie Sanders, and that made things more confusing.
In comparison to the reactions on Twitter, the responses to her apology post on Instagram were heartwarming. Everyone there appreciated her effort to come out and own up to her mistakes and grow with the times.
It'll be interesting to see whether Tinx clarifies her political leanings soon.