Inside Timothy Simons's Life with Wife and 'Fun Nightmare' Children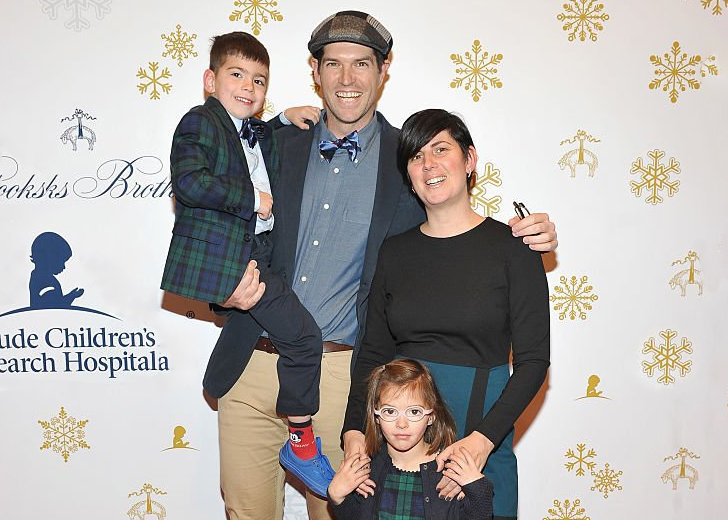 Timothy Simons, most known for his role as Jonah Ryan on HBO's Veep, is not like his character at all in real life. He has a fulfilling, not-filled-with-resentment life.
Making that life possible is his wife, Annie Simons, and his children, of which he has two. He started building that life in 2008 and hasn't looked back since.
Who Is Timothy Simons Married To?
Simons has been married to his wife, Annie Simons, since 2008. They presumably met a while before that in Chicago.
After his days at the University of Maine, he had moved to Chicago in search of a way to forward his acting career. He did theater productions and somewhere in between the work; he met Annie.
They got married on June 7, 2008, and started their journey together, both literally and figuratively.
"I had some luck with commercials and TV stuff, and I loved the city and my friends there, but I knew that all the big parts were in L.A.," he told Bangor Daily News in 2012 of his life in Chicago. "And I was sick of the cold."
"So in June 2008 my wife [Annie] and I got married, and then we shipped out for L.A.," he added. They got their things loaded onto a moving truck and drove to L.A.

An old picture of Timothy Simons with his wife, Annie Simons. (Photo: Timothy Simons/Instagram)
As of June 7, 2022, they have been married for 14 years. Simons and his wife aren't that keen on sharing too much about their personal life, although he does post on Instagram on special occasions, like their anniversaries and their children's birthday.
The family now lives in Los Angeles, where Annie works as a public school teacher.
Timothy Simons's 'Fun Nightmare' Children
Simons's personal and professional lives took off at around roughly the same time. In 2010, he landed a small role — his first movie role — as a bartender on Days Together.
The next year, he welcomed his first children. On December 5, 2011, his wife gave birth to their twins — son Marty and daughter Hopper Simons.
Marty and Hopper spent their first two and a half months in the NICU because of some health complications, but those did not turn out life-threatening.
They grew up observing his work and around his sets as in 2012, Veep came calling. The kids, however, had not seen the show as of 2019.
During the initial years, The Candy actor struggled to find his feet as a dad. While talking to Stephen Colbert in 2017, he confessed that he always saw himself as a dad to older kids.
"I feel like I'm coming into my sweet spot as a parent," he said to Colbert. "I always kind of pictured myself as a parent of, like, five to nine year olds."
He joked he didn't know what to do with a baby and had no idea what he was doing for the first year and a half of his kids' life on earth. But as his kids had just turned five, he was finding parenthood a bit easier.
Earlier in the interview, he talked about himself as a child and how he was a "fun nightmare." He got scolded a lot by his mother, but it was harmless.
He termed his kids the same — and speculated they might have gotten that nightmarish quality from him — but also gushed how his twins were "wonderful, lovely, amazing" children.
They started their 1st grade the next year in August 2018 and were into Story Pirates, a children's podcast built around enactments of stories submitted by children by the time they turned seven.
They are now 10-year-olds, growing quickly, and possibly also growing out of Simons's comfort zone as a parent. Maybe Simons will adapt, too?