Timothy Olyphant Constantly Jokes about His Three Kids — Insights on His Family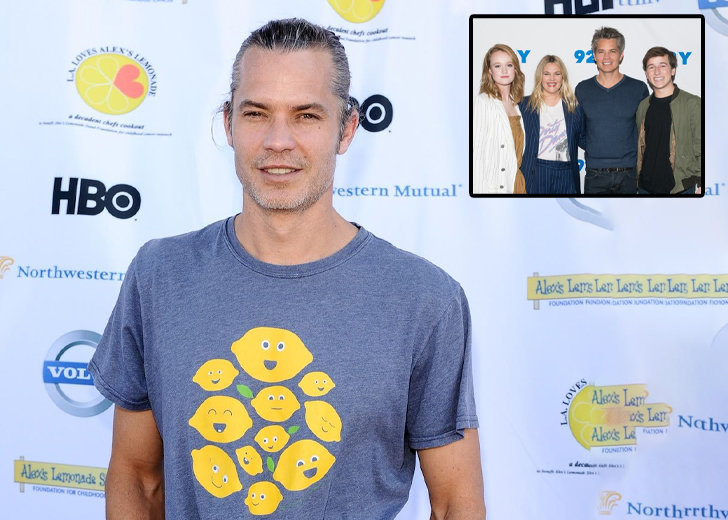 "You know the problem with the third [kid]? You still got the first two [kids]," Timothy Olyphant once famously said during an appearance on Conan on TBS. 
Big reveal! Olyphant has three kids with his college sweetheart turned wife, Alexis Knief. The two of them have not had a divorce if you'd heard rumors of an impending split. 
Anyways, Olyphant can be seen gushing about his wife during live appearances on talk shows and interviews, but seldom has he ever shared personal details about his children — not even their names.
The only time fans get to hear anything about the Olympant kids is when he starts cracking jokes about them in public. 

Timothy Olyphant as Travis Delp in 'The Starling.' (Source: Instagram)
Take, for instance, in Olyphant's appearance on Conan on TBS, which was in 2020, the comedian shared that his kids were about to move out of the house for college. 
He shared that the two of his eldest children were already off to college, and the youngest one had been out for a while due to some trips.
At that point, he and his wife realized that this was how their house was going to be like once all three of their children headed out to college. 
"Oh no! Turns out, it's [expletive] awesome," Olyphant exclaimed. Obviously, he was joking (hopefully).
Timothy Olyphant Couldn't Impress His Kids
Olyphant went on to claim that the whole empty nest thing was a myth.
He also shared how a celebrity's children were just like any other children, "It's the same as any dad. They hate you, and they're not impressed."
With the kids gone, Olyphant got to be as loud in the house as he wanted without anyone yelling: "Dad! I can hear you."
"As if I'm taking up space in the house that I bought," the comic complained. 
Timothy Olyphant Protects Kids from Press
Regardless of how many jokes Olyphant cracked at his children's expense, the comedian and his wife have shielded their children and family matters from the prying public eyes. 
As for the missus herself, she shares humor with her husband. For example, she helped him forge a running joke on their supposedly impending divorce, or so Heavy reported.
There was once a rumor that Olyphant and his wife were getting a divorce. This had stemmed from the fact that the actor was wearing his wedding band on his right hand instead of his left. 
This act somehow snowballed into a rumor claiming that Olyphant was not happy in his marriage and that a divorce was on the horizon.
He deflated those rumors himself when he clarified that he wore the ring on the right hand by preference and nothing else. 
Then again, he once shared that had he won the 2011 Emmy Award for his role as Raylan Givens in the film Justified, he would have joked about divorcing his wife while on stage. 
I was going to look at [the trophy] and then look out at my wife of twenty years and say, 'Well, honey, this is it. I'm finally leaving you.'
And before you say anything about the actual joke, keep in mind that it was his wife Knief who helped him craft it.