'Sister, Sister's Tia Mowry and Husband Have a Schedule for Intimate Times amid Parenting Duties
Mowry gets creative with the calendar, allotting time for everybody.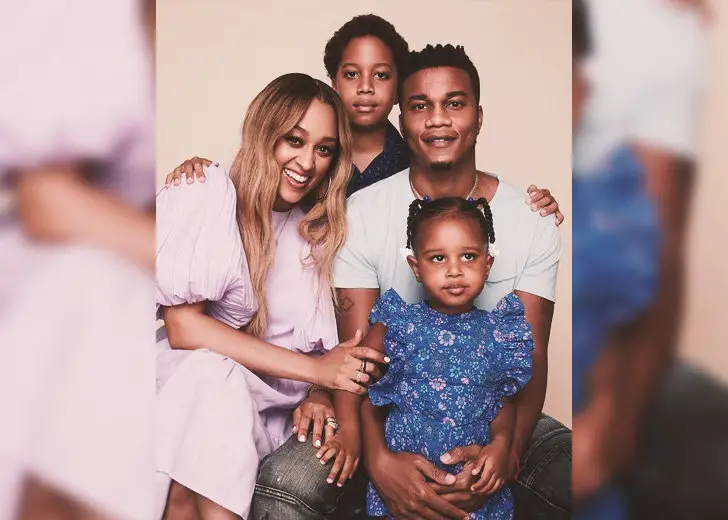 Balancing parenthood and career while keeping the flame in the marriage alive is a challenge many face in their relationship.
But it's a cakewalk for the Family Reunion actress Tia Mowry. Since tying the knots with her partner Cory Hardrict in 2008, Mowry has enjoyed her married life and motherhood.
Here's a rundown on how she provides enough time for her husband and balances motherhood. 
Tia Mowry Schedules Time for Husband
Mowry gushed about her marriage and motherhood during an appearance on iHeartRadio's What to Expect podcast on October 20, 2020.
At first, the host of the podcast Heidi Murkoff opened up about her marriage and approach to intimacy with her husband. Murkoff admitted she and her husband had a strict rule in their house that they had to be intimate once a week. 
After the host shared about her romantic life, Mowry also became candid about her marriage.
Stating that it was her first time admitting her romantic side of the relationship, the 43-year-old confessed she and her partner had to schedule a time for spending private time with one another. 
She even admitted how she thought those things were unnecessary while she was young. But as she got married and had kids, she understood the importance of prioritizing time for her partner-in-crime.
"You have to make sure that it's not neglected in any kind of way," the talented actress stressed, implying that a creative utilization of time helped her to allot needed time for her kids and partner.
Inside Mowry's Family with Husband and Kids
Mowry met her future husband while filming Hollywood Horror in 1999.
The two befriended one another after Hardrict dropped her home. They continued being friends for a year and started dating in 2000. Six years later, the actor proposed to Mowry on Christmas Day.
The lovebirds finally got married on April 20, 2008, at the Four Seasons in Santa Barbara. The marriage bliss soon followed.
The Gelnhausen native and her partner welcomed their first child, son Cree Taylor Hardrict, on June 28, 2011. After seven years, they gave birth to their daughter, Cairo Tiahna Hardrict, on May 5, 2018.
Throughout the years, Mowry and Hardrict have balanced parenthood while fortifying their marriage in every step. On February 6, 2021, the couple shared the secret for their enduring marriage during an interview on People (The TV Show!).
The mother-of-two recalled that the main recipe for their healthy marriage was teamwork. Stating that they didn't focus on specific gender roles, Mowry mentioned she and her husband did whatever was needed at their home.  
She highlighted how taking care of a home takes a lot of responsibilities. Then multi-hyphenate even added that people don't distribute the duties equally in most households, which brings a rift in the marriage. 
After Mowry gave insights on the importance of teamwork, Hardrict stated they were instilling a team effort mentality into their kids. For example, he disclosed their son helped throw garbage and even did the household chores. 
Undoubtedly, Mowry and her husband of 13 years have set an example of a loving and healthy marriage.