Tia Booth's Post about Being Pregnant with First Baby Gets Deleted by Instagram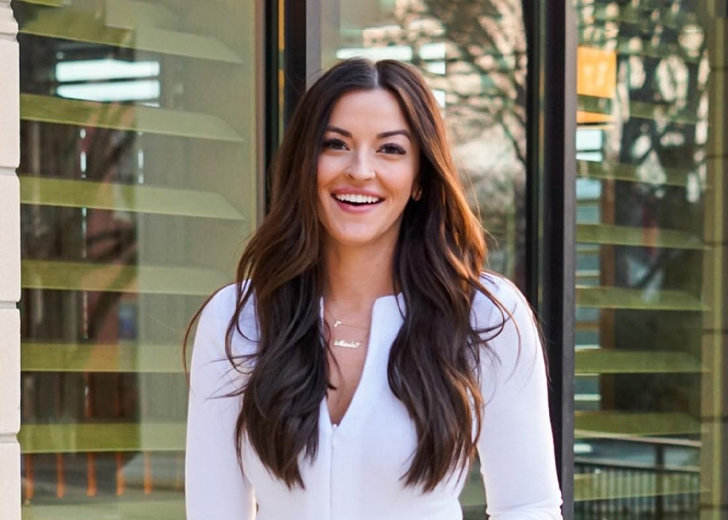 Things are moving quickly for Tia Booth and her fiancé, Taylor Mock.
The Bachelor alum, who got engaged a few months ago, has announced that she is pregnant with her first baby with Mock. She took to Instagram to share the joyous news.
However, in a weird turn of events, Instagram deleted her announcement post. The platform's decision to take down her post surprised Booth and everyone else.
Tia Booth Announces First Baby with Fiancé Taylor Mock
On June 19, 2022, Booth took to her Instagram to write a lengthy post about her soon-to-be first baby. But the post's caption clearly showed how bittersweet the moment was for her.
The pregnancy announcement came on Father's Day and having lost her father back in February, she was understandably a bit sad.
"This has undoubtedly been my most challenging season thus far," she began the post. "I've never felt such overwhelming sadness and pure joy at the same time."
She then alluded to how it had been "difficult to be grateful for the good" because her father, one of the most important people in her life, was missing from the celebrations of their new arrival.
But she hadn't lost all hope, though. "While I wish I could tell my dad all the good news in person, it brings me peace that he knows about it long before I do," she added.

Tia Booth announces she is pregnant with her first baby with fiancé Taylor Mock. (Photo: Bachelornation.Scoop/Instagram)
"I have no doubt my dad had a hand in this," Booth wrote, as she admitted it had been difficult to experience both the joy of welcoming a new life and mourning the loss of the one gone.
To end the post, she wished both her father and her fiancé a happy Father's Day. She uploaded a picture of her cradling her stomach as she leaned on Mock, who was kissing her on her forehead with his one arm on her side.
Tia Booth's Reaction to Her Deleted Post on Instagram
Soon after the post was live, congratulatory as well as sympathetic comments started pouring into the comment section of the post. The Bachelor Nation and other celebrities were quick to send their good wishes to her and Mock. 
But Instagram had other ideas than to let the good times roll. They, for some reason, decided to delete the post.
Booth was one of the first ones to notice this and even took to Instagram stories to talk about the deletion.
She uploaded two screenshots of her IG wall, taken within minutes of each other, to show how quick the deletion had been.

Tia Booth explained her Instagram post was still up at 7:37 pm. (Photo: Tia Booth/Instagram)
"7:37pm," she wrote over the first screenshot, circling the then-existing announcement post she made. Then, in her next story, she revealed it had disappeared just three minutes later.
"7:40pm~gone," Booth explained. "My post disappeared!!!" What in the actual f, @instagram ????"

Tia Booth reveals her first baby announcement post got deleted in a matter of minutes. (Photo: Tia Booth/Instagram)
She detailed she had just gone outside to water her grass and wasn't near her phone when the post got removed. With this, she clarified it wasn't her that removed the post, but the platform itself.
As of this writing, the post has not been reinstated, nor has Booth provided any updates on Instagram's responses, if any.