Thomas Sadoski and Wife Amanda Seyfried Waited till They Were Single to Get Together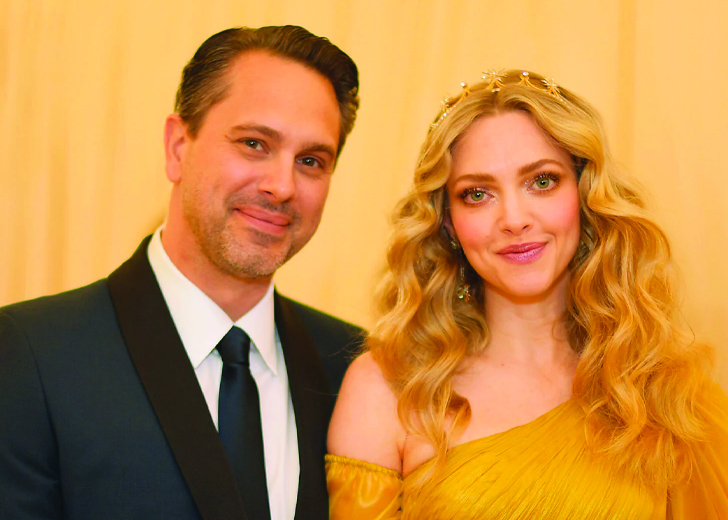 Thomas Sadoski and his wife Amanda Seyfried met while costarring in a two-person off-Broadway called The Way We Get By.
They were both in terrible relationships at the time. 
Sadoski was married to his first spouse, Kimberly Hope, while Seyfried was seeing someone. 
While working together, the duo developed a friendship, and when the Mean Girl star had panic attacks on stage, he would help her. 
According to Seyfried, they kept it strictly platonic, and Sadoski "never flirted and never disrespected his wife."
When their relationships ended, the actress suggested Sadoski star as her love interest in The Last Word with Shirley MacLaine.
And as they worked together, their love grew. 
"It was amazing. It felt healthy and freeing and clean. We can tell the story with no guilt," said the actress. 
But because of her past, Seyfried worried that what she had with Sadoski might end. 
Thomas Sadoski and His Wife Had a Private Wedding
All her past relationships had ended after two years, and she didn't want to say goodbye to her husband.
Fortunately, after dating for six months, the couple got engaged in 2016. 
And later, on March 12, 2017, they tied the knot in Topanga and had a very private affair. 
Sadoski's wife told Net-a-Porter that their wedding was driven by her desire to have at least their wedding rings on before the birth of their child. 
She bought a dress at Free People and eloped with Sadoski to Topanga with an officiant. 

Thomas Sadoski and his wife Amanda Seyfried on their fifth anniversary. (Source: Amanda Seyfried/Instagram)
"Didn't have [a wedding reception]! We got married in Topanga, March last year. Just the two of us. And afterwards, I was like, 'Can we just go to Cheebo [a restaurant on Sunset Boulevard in Los Angeles]?' It was awesome," recalled the actress. 
Sadoski also recalled their wedding was perfect during an appearance on The Late Late Show with James Corden.
He shared that he wrote his vows and that their wedding was beautiful and everything it should be. 
He then gushed about his wife, saying she was "the person he loved, admired and respected the most in the world."
Thomas Sadoski Is a Softie When It Comes to His Kids
Two weeks after the wedding, the couple gave birth to their first child. 
And on September 2020, they welcomed their second daughter. 
During an interview with Fatherly, the actor opened up about his new role as a father to his children. 
He shared that the coolest part of being a father was seeing the world through his daughter's eyes. 
Every time his daughter discovered something new, he would choke up, knowing that her world was not jaded like his. 
When asked how he planned to teach her, she could achieve whatever she wanted; he shared that he did not tell her she could be anything she wanted. 
"I don't tell my daughter that she can be anything she wants to be. The thought has not entered her head that she can be limited. I don't want to introduce that idea. She exists within limitless possibilities. Nobody has told her otherwise," said the actor.
Instead, the father hopes he can teach her to become a human being who understands the importance of her voice and her truth.