Thomas Petrou Says He Doesn't Have Anybody beside His Amazing Girlfriend Mia Hayward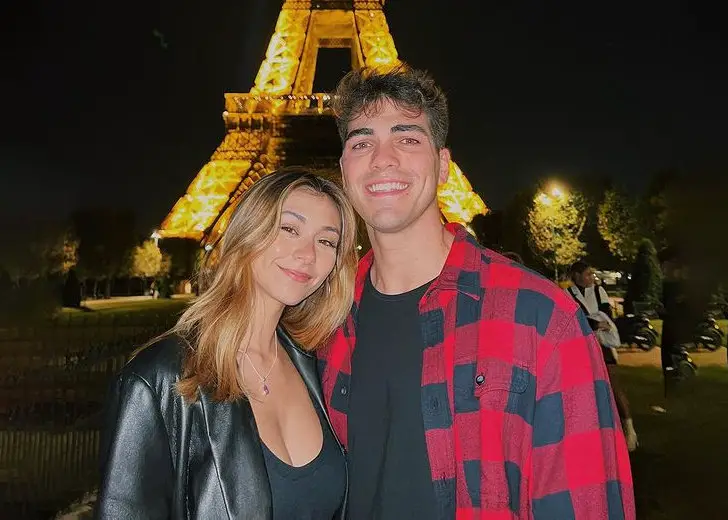 Thomas Petrou, the founder of The Hype House, has been with his girlfriend, Mia Hayward, for more than two years.
On December 8, 2021, the social media personality even took to Instagram to describe his sweetheart as the "love of my life."
While doing that, he also shared a collage of two photos, one of which was allegedly clicked two years ago.
Moreover, the couple seemingly took another snap around the time the post was made.
Thomas Petrou Regards His Girlfriend Highly
Like the mentioned instance, Petrou has expressed his love for his girlfriend and talked about her importance in his life several other times.
In his recent YouTube video, too, uploaded on January 9, 2022, he opened up about his journey with The Hype House and life as a content creator, while explaining what Hayward meant to him.
He started by saying that he felt like people took advantage of him, even though he had been nothing but helpful to others in the last two years.
"I have tried to help as much as I can — whether it was emotional problems, whether it was relationship problems, whether it was business problems, whether it was cloud problems. Whatever it may be, I tried to be there for everybody," the TikTok star stated.

Thomas Petrou with his girlfriend, Mia Hayward. (Source: Instagram)
Petrou went on to share that he had a tough upbringing and had lost a lot of people in his life.
But that being said, he always found his girlfriend by his side during his hardest times — as well as in his good times.
"I don't really have anybody besides my amazing girlfriend," he added.
Thomas Petrou's and Girlfriend Mia Hayward's Relationship
Petrou and Hayward reportedly started dating in early 2020, a few months after The Hype House founder's split with his alleged high school sweetheart and social media star, Kayla Pimentel.
He was in a five-year-long relationship with Pimentel. He announced the split in a since-deleted YouTube video, where they both appeared and stated that it was time for them to move on.
"Kayla changed my life and I have nothing but love for her. Sometimes in life people come in and out of your life to change you for the better. I wouldn't be who I am today without the time that we spent together and for that I'll always be grateful," Petrou noted in the description.
Petrou made his relationship with his present partner Instagram public in April 2020.
Hayward eventually moved to The Hype House's mansion and started collaborating with other social media stars in the house.
Fast forward to February 2021, and the rumors started swirling that they got engaged.
The rumors were fueled by an Instagram post, posted by Petrou, where Hayward was seen flaunting a beautiful ring.
But it was later known to be just a promise ring — and not an engagement ring — since Hayward wore it on her right hand.
At present, Petrou and Hayward are still together, but they are yet to shed any light on their future plans as a couple.