ABC Reality Competition Series 'The Ultimate Surfer': Everything We Know So Far
Surf through the details of 'The Ultimate Surfer.'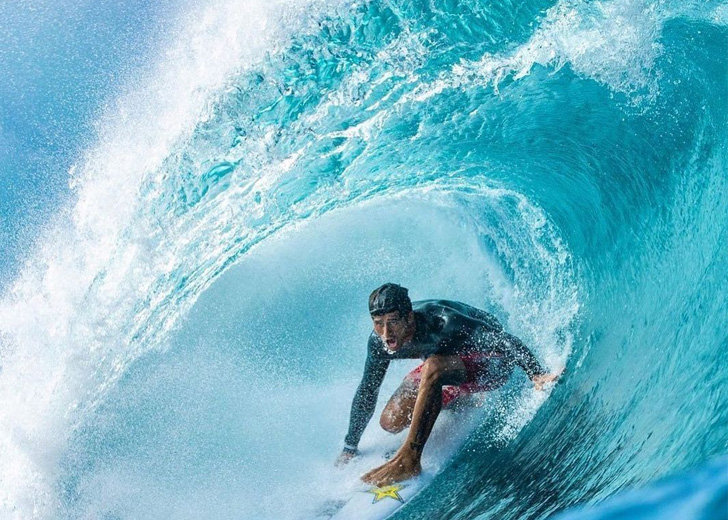 Nowadays, reality shows have been taking over every streaming platform out there. As a result, reality shows are rising to fame day by day — be it a dating show, cooking competition, or game show. 
A new show is on the horizon for which people are incredibly excited. The upcoming ABC reality show, The Ultimate Surfer, has been dubbed the largest, greatest, and most explosively exciting show to air in the summer of 2021.
The Format of 'The Ultimate Surfer'
The show will revolve around fourteen men and women who will live and train together, with cameras rolling as they experience the highs and lows of tough contests.
Similarly, there will be weekly eliminations, with each challenge focused on a different surfing specialty. There will be individual and team tasks on the show with the added spice of drama and romance. 
The contestants will compete against each other at The Surf Ranch in Lemoore. At the end of the tournament, one male and one female will be awarded a once-in-a-lifetime opportunity — $100k and three wildcard berths on the WSL Championship Tour in 2022.
The release date for the first season is August 23, 2021. 
Who Is the Host of 'The Ultimate Surfer?'
The reality show will be hosted by Jesse Palmer, a former NFL quarterback who also starred in season five of The Bachelor. He played for the New York Giants and San Francisco 49ers. 
He previously hosted another ABC show, The Proposal. For The Ultimate Surfer, he will be joined by sports anchor Erin Coscarelli and Joe Turpel as commentators.
Kelly Slater, a surfing legend, is the primary consultant and a special correspondent. The competition series was shot at her Surf Ranch in Kings County, California. 
The show is produced by Lionsgate's Pilgrim Media Group and WSL Studios. UFC President Dana White, Craig Piligian, Faye Stapleton, and WSL CEO Erik Logan serve as the executive producers for The Ultimate Surfer. 
The Cast of 'The Ultimate Surfer'
Seven male and seven female professional surfers will be the cast members of The Ultimate Surfers.
Alejandro Moreda
For the past 15 years, Alejandro Moreda has competed professionally. He now operates a surf camp in San Juan that aids in the development of the next generation of Puerto Rican talent.
Anastasia Ashley
Anastasia Ashley is one of only two women to win a Pipeline surf event, and she's also been nominated for the XXL Big Wave Award for women.
Kai Barger
When Kai Barger was young, he was on top of the surfing world. He won the world title as a junior pro at 19. Unfortunately, he lost a few sponsors and decided to stop surfing.
After a string of losses, Barger gave up the Championship Tour. Now, he is back at the competition to redeem his title and honor. 
Brianna Cope
Brianna Cope is attempting to become the first Kauai surfer to qualify for the Championship Tour since Alana Blanchard. She's now in her sixth year on the Qualifying Series and feels that winning The Ultimate Surfer will assist her.
Koa Smith
Koa Smith is one of the most well-known surfers. Smith is a jack-of-all-trades who has mastered them all, whether it's rapping on his YouTube channel or threading minute-long tubes in Skeleton Bay.
Bruna Zaun
Bruna Zaun began surfing when she was nine years old. She signed a deal with Roxy when she was 14 and a few years later qualified for the Championship Tour, where she stayed for three years.
Luke Davis
Luke Davis' hidden weapon in a crowded field of elite surfers is his ability to find the greatest waves on the planet. Davis has spent more time weaving Surf Ranch tubes than any other surfer on the show, so he knows his way around the tides.
Juli Hernandez
Juli Hernandez was a skilled surfer, but she lacked the sponsorship and financial support she needed to pursue her ambition of becoming a professional surfer.
Mason Barnes
Mason Barnes, a native of North Carolina, usually spends his winters in Hawaii. He soon discovered his love for big-wave surfing. After a lot of hard effort and little fanfare, he became one of the world's hardest-charging surfers.
Kayla Durden
Kayla Durden has had a lot of competitive success over the years, but she's also a cast member whose career has been hindered by financial difficulties.
Zeke Lau
Zeke Lau is the only male surfer on the show that has competed on the Championship Tour. From 2017 to 2019, Lau competed against the finest in the world, frequently winning.
Malia Ward
Malia Ward is the daughter of Chris Ward, so she is like a surfing royalty. Practicing since a young age, she has groomed herself to be one of the most talented surfers out there. 
Austin Clouse
Austin Clouse is not a well-known figure. Only a few people outside of his hometown of Jacksonville Beach, Florida, are likely to know who he is. But it doesn't matter since Clouse surfs every day to keep his dream alive.
Tia Blanco
Blanco traveled every few years as a child, growing up in a military family, until settling in her current city of Oceanside, California. She has a shy and mellow personality, yet she is a formidable opponent.