The Miz's Wife Maryse Ouellet Slaps Him on Air during WWE Raw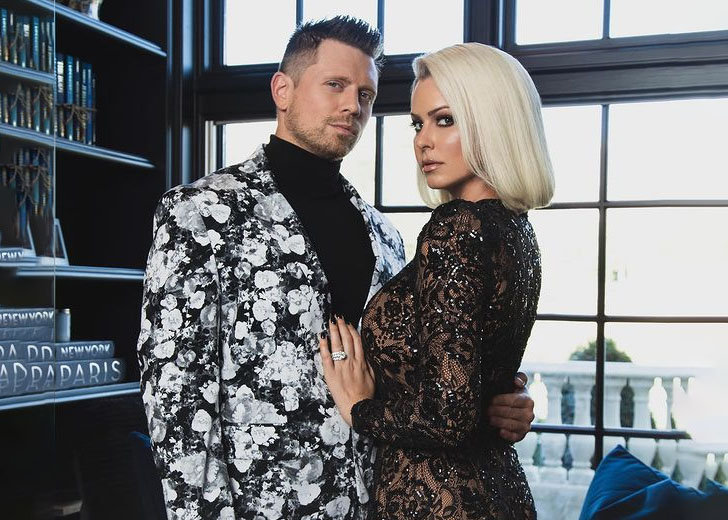 The husband-wife duo of The Miz and Maryse Ouellet is never out of the news for too long.
The WWE power couple is always doing something that creates headlines. And recently, things got physical between the two inside the ring.
Things got a bit heated during The Miz's altercation with Edge. And at the end of this fiasco, Miz received a slap on-air from his wife.
The Miz and Edge Went at for One Another before the Pay-Per-View
On December 13, 2021's episode of WWE Raw, Maryse came out to the ring to announce her husband The Miz's induction to the WWE Hall Of Fame.
With this announcement, he is set to be the first inductee into the WWE Hall of Fame Class of 2022.
At the start of the Miz TV episode, Maryse announced her husband, the father of her children, and "the most awesome human being on this planet."
Then they showed off his Hall of Fame package and proceeded to mock R-Rated Superstar Edge.
Further, he claimed that his win would cement his position as one of the greatest in WWE history.
While the celebrations continued on stage, Edge appeared from backstage. Miz, however, kept going with his insults.
Edge, too, hit back with strong comments. He called Miz a "showoff" and mocked his "me first" attitude.
Adding to this, Edge opined that while being a talented superstar, Miz lacked the right attitude, unlike himself.
Towards the end of his speech, he talked about not taking their face-off lightly and hinting at what he was planning to do to him.
'I'm going to knock that constipated look off your face…," said Edge, while also promising to teach him a few lessons at Day 1 of Miz's pay-per-view match.
The Miz Used Wife Maryse Ouellet as a Human Shield
After being at the receiving end of pretty heavy disrespect, Miz was frustrated. And he took this out on Edge.
He splashed his champagne on Edge's face. Distracted by that, Edge could not defend himself.
He fell down but got back up just as quickly. However, he did not take time to set up his signature move, Spear.
Miz, on the other hand, wasn't well-prepared for the attack. So, he used Maryse instead.
The future Hall of Fame inductee used his wife as a human shield. This blindsided Edge, who could not get to Miz.
Hiding behind Maryse, Miz then delivered a kick to Edge's head and put the altercation to an end with his signature move, the Skull Crushing Finale.
After finishing Edge off, Miz kissed his wife on the cheeks, caught and raised their hands, and began celebrating his victory.
Maryse, however, was not impressed.
She began arguing with him in the middle of the ring. Finally, after exchanging a few words, she looked like she had had enough of him for the time being.
So, she slapped her husband right square in the face.
As for Miz, he looks perplexed at what had just happened.
The couple's show ends as she storms off backstage, clearly not happy with her husband's actions. Miz runs behind her requesting her not to be angry at him.