'The Chair': David Benioff and DB Weiss Back with a New Show after 'Game of Thrones' Debacle
David Benioff and D.B. Weiss return with 'The Chair' after the disappointing season 8 of 'Game of Thrones.'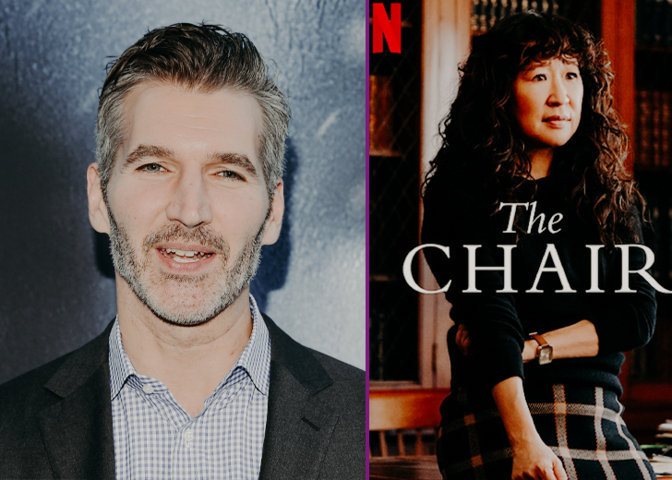 David Benioff and DB Weiss executively produced the new Netflix college comedy The Chair starring Sandra Oh.
Most known for being the executive producers behind Game of Thrones, Benioff and Weiss had also joined forces in the past for other projects such as Game of Thrones: The Last Watch (2019), Three Guys with Similar Leather Jackets (2017), and Meta Lords (2021).
Benioff's wife, Amanda Peet, is the writer and showrunner behind The Chair. 
Rushed Ending of 'Game of Thrones' 
Game of Thrones is one of the world's most successful TV series. With estimated gross earnings of $2.28 billion, it easily ranks among the most profitable shows of all time.
Adapted from George R. R. Martin's series of epic fantasy novels, A Song of Ice and Fire, Game of Thrones is HBO's most popular show ever. According to Decider, Game of Thrones made a profit of roughly $285 million per season. 
The series saw millions of viewers tuning in to catch the latest episode each week throughout its eight-season run. Each season received rave reviews, often being touted as the greatest TV series ever made. 
However, Game of Thrones couldn't continue its stellar streak and received harsh criticisms and disappointing ratings for its last season. For context, all the seasons from one to seven have great ratings in Rotten Tomatoes, with season 4 receiving an impressive 97% from both critics and audience alike.
In comparison, season 8 got a critic score of 55% and an even worse audience score of just 30%. The lowest Game of Thrones had gotten before was an 82% audience score for season 7 and every other season surpassed a 90% rating.
The main complaint people had for the 8th season of Game of Thrones was the rushed ending with conclusions to character arcs that made little to no sense of the great buildup that had been done in the past seven seasons.
'The Chair'
Coming from the same executive producers, it would be perfectly normal to be concerned over the ending of The Chair. However, there's nothing to worry about, and it has received largely positive reviews on Metacritic.
The Chair also does not have the same expectations as people had for The Game of Thrones. Coupled with the light-hearted approach the show is taking with its premise being based on a campus comedy, it's bound to be a great watch.
Plot, Cast & Release Date
The Chair revolves around Jin-Yoon Kim (Oh) as she rises to become the first-ever female chair of Pembroke University's English Department.
She's initially proud of her achievement but starts learning how tough being in the position is as she has to constantly deal with headache-inducing issues that keep popping up.
Aside from Oh, some other cast members of The Chair are Jay Duplass (Search Party), Holland Taylor (Two and a Half Men), David Morse (The Hurt Locker), and Bob Balaban (Lady in the Water).
The Chair will have six episodes in total with a run time of roughly three hours. It's coming out on August 20, 2021.