Did Teyana Taylor Have Incomplete Tattoos? A Look at Her Body Art Collection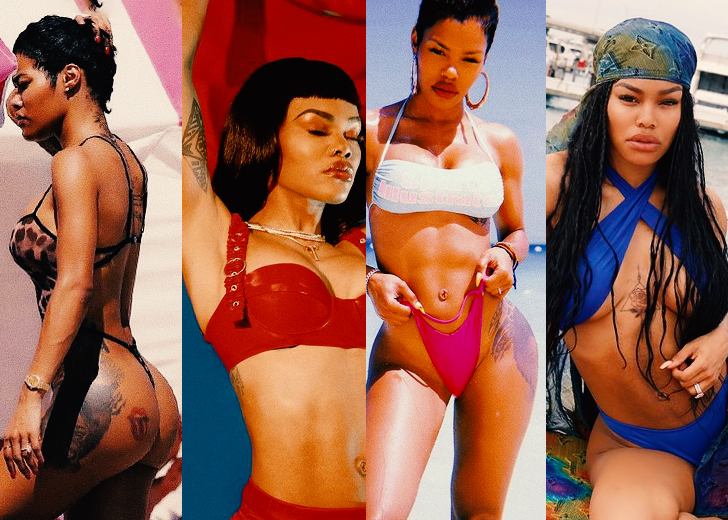 Teyana Taylor is a singer-songwriter, dancer, actress, director, and model married to NBA player Iman Shumpert. 
The couple star in their reality TV show Teyana and Iman, which airs on VH1. The show revolves around them and their daughters — Junie Shumpert and Rue Rose Shumpert. 
Taylor and Iman's relationship is adored by their fans and followers. The pair got married on October 1, 2016, but they were together for a couple of years before that. 
In July 2019, the duo did the GQ's couples quiz, where Taylor asked 30 different questions to Iman. One such question was about her tattoos. 
Teyana Taylor and her Tattoos
Taylor asked her husband how many tattoos she had on her body, and the NBA player was confused. The singer emphasized the fact that he should know about it since he had seen her body. 
After thinking and contemplating, Iman said Taylor had ten tattoos, but the latter said she had nine. In the end, Iman had the correct answer since the singer forgot about a recent tattoo she had gotten on her leg. 
Iman then went on to tease his wife, saying she did not know how many tattoos she had, but he did. However, she might have had some incomplete tattoos, but we don't know if she has completed them.
Here are all the tattoos Taylor has inked on her body — that we know of. 
Tribal Design
Taylor has a black-ink tribal design on the waistline of her hip. It extends from her V-lines to her back. Similarly, she also has some tribal designs on her lower stomach. 
Portrait 
The singer has a massive tattoo of a woman with an afro on her left hip. It serves as an extension to her tribal design tattoo. 
Diamond 
Taylor has inked a shape of a diamond with the words "shine on you crazy diamond" on her right biceps. The words are based on a Pink Floyd song of the same name. 
GOOD Music
Taylor has a tattoo dedicated to her former record label, GOOD music, on her left forearm. It reads "good / getting out our dreams." Additionally, an angel is inked above the words. 
The angel is an homage to GOOD music since it was a logo of the record label. 
Girl and Butterflies
The singer has been inked by Banksy, a famous street artist. The tattoo is of a girl shooting herself in the head. But instead of blood, red butterflies are coming out of the gunshot aftermath. 
It is on her right side, which extends to her breast. 
Roman Numeral 
Taylor has a few Roman numerals tattoos on her left side, near her breasts. 
The Rolling Stone Logo
The singer paid homage to the band, The Rolling Stone, by tattooing their iconic logo on her body. She has the rock band's lips and tongue logo inked on the left side of her derriere. 
Lightning Bolt
Taylor has a lightning bolt tattooed on her left under-boob. 
Gummy Bears
The reality TV star has a tattoo of three gummy bears on her right buttock. The bears are in red, yellow, and green colors, and they are stuck together side by side. 
This ink represents the pan-African colors and looks like the flag of Guinea. 
Other Tattoos
The singer has a few other tattoos scribbled around her body. For example, she has something written on her right arm and a design between her breasts.
Similarly, in the GQ video, she mentioned she got something related to her elder daughter tattooed on her leg.