'Gorilla Glue Girl' Tessica Brown Gives Worrying Hair Update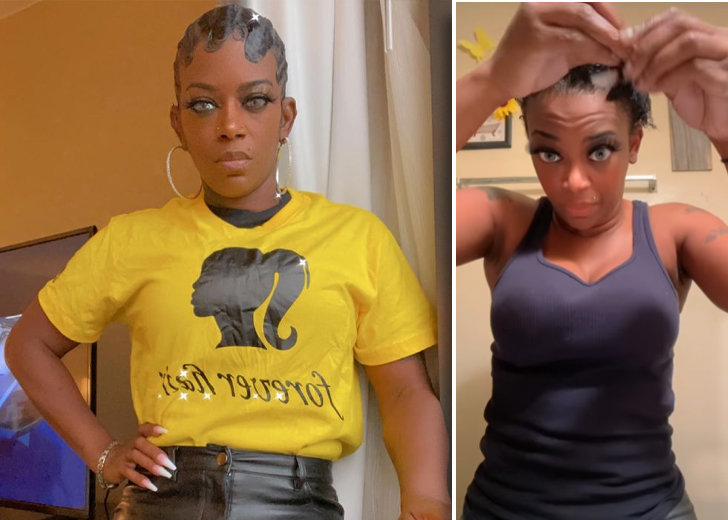 Tessica Brown recently hopped on Instagram to give fans a hair update. 
Judging from her recent video, it appears Brown is still undergoing hair problems. On December 2, Brown uploaded a video and explained what was going on.
She noted that she was in the mood to wear her natural hair but realized she had lots of gray hair.
So she gave it a quick fix by dying it, thinking her hair was strong enough to hold chemicals. But, unfortunately, she was wrong.
As Brown was rinsing the dye off, her hair came out in clumps which she showed in the video.
She even removed her towel and combed her hair to let her viewers see the damage. She was on the verge of breaking down from frustration. 
"I am so, I am I am over it. Look at it. Look at all of it," Brown said as her voice cracked. 
Tessica Brown the "Gorilla Glue Girl"
Early this year, Brown made a big mistake that accidentally made her viral.
The Louisiana woman wanted to gel down her hair in a long, braided ponytail but was all out of Got2b Glued Blasting Freeze spray, a typical heavy-duty hairspray known for its lasting hold. 
She improvised and used a Gorilla Glue spray adhesive. And the result - hair that would not budge. Brown was stuck with her ponytail hairstyle for over a month. 
She cried for help on social media, fearing the worst. She uploaded a video on TikTok, and well-wishers and hecklers alike flooded her comments section.
Some people suggested using coconut oil, Goo Gone, vinegar, rubbing alcohol, but her efforts were to no avail. 
She even got nicknamed the "Gorilla Glue Girl." Brown had no choice but to visit the emergency room, but even then, they could not do much for her.
It wasn't until she got a call from a stranger who connected her with Dr. Michael Obeng, a renowned plastic surgeon in Beverly Hills.
Obeng, who has a background in chemistry, concocted a homemade solvent and went to work. And luckily for Brown, it worked. Her hair was free, and the pain had dissipated. 
Tessica Brown Releases Hair Product and Rap Song
Brown's hair problem might be gone, but it looks like she is not ready to retire from her 15 minutes of fame. 
A few months ago, Brown launched her hair care line aptly named "Forever Hair." The products comprise "all natural" ingredients that helped Brown's hair grow back.
She told CNN that she wanted to help those struggling with similar hair experiences. 
But that wasn't all. Recently she released a rap song recalling her hair ordeal. The song was written by herself, and it was the first time the social media star had ever rapped.
She had also tried to get Nicki Minaj to collaborate on the track, but Minaj never responded to the request.
So far, the song has almost 100,000 views on YouTube.