Sha'Carri Richardson Channels Nicki Minaj to Announce Comeback after Olympic's Drug Ban
Sha'Carri Richardson is getting another chance.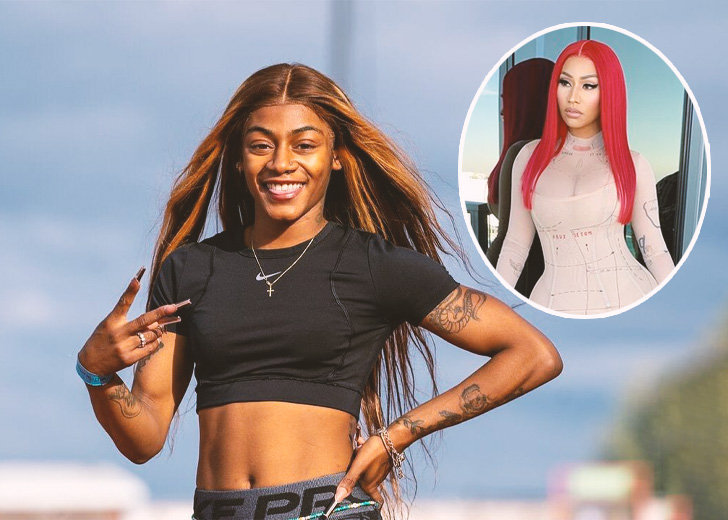 During the U.S. Olympic Trials in June, Sha'Carri Richardson became the sixth-fastest woman in history when she clocked in at 10.72 seconds for the 100m. Everybody pinned their hopes on the texas sprinter to bring home the Gold medal. 
But sadly, she received bad news. In early July, Richardson was suspended for a month and left off the Olympics team because she had tested positive for cannabis use during the qualifying race. She said the stress of her biological mother's recent death and the pressure of trials led her to use the drug.
Her 30-day suspension ended before the start of the relays on August 5, but unfortunately, USA Track and Field (USATF) chose not to offer her a spot and banned her from the Tokyo Olympics roster for Team USA.
Many had mixed reactions to this. Some thought the sprinter deserved it, while others felt it was unjust, as marijuana is not a performance-enhancing drug. Regardless of how one feels about it, it is legal in many states, including Oregon, where Richardson smoked it in. 
Richardson Responds to Her Rematch
Richardson might have missed her chance at Tokyo, but it looks she is getting a shot at a rematch at the Prefontaine Classic, a meet on track and field's international Diamond League circuit, in the August 21 race at the University of Oregon's Hayward Field. 
Richardson will face all three Olympics 100-meter medalists, Elaine Thompson-Herah, Shelly-Ann Fraser-Pryce, and Shericka Jackson, who finished first, second, third, respectively. Thompson-Herah even broke the Olympics record during the final race in Tokyo. 
It may not be the Olympics, but the race sets up to what could have happened between Richardson and the three Jamaican winners in Tokyo, had Richardson not failed the test. And it looks like Richardson is ready to devour her competition in her comeback. 
On August 18, the athlete uploaded a TikTok clip to her Instagram post, and in the caption, she definitely let everyone know she was in it to win it. She was also lip-synching to Nicki's Minaj's verse from one of her tracks. 
Not sure if she was taking a dig at the Grammy-winning rapper, but considering how Minaj reacted to Richardson's previous tweet, it might as well be true. But drama aside, it looks like Richardson is ready to give the performance of a lifetime. 
Nicki Minaj Takes a Dig at Richardson
Many are rooting for Richardson at the Prefontaine Classic, but some might be more excited to see the Jamaicans win, including Minaj.
On July 30, Richardson tweeted if anyone missed her presence in the Games, which ruffled feathers and received negative responses, particularly Minaj's. Beenie Man responded to Richardson's tweet, which Minaj replied to. 
After Minaj's tweets, fans dug up old tweets from Richardson against the rapper, and they speculated the two did not get along well. In those old tweets, Richardson had criticized Minaj's music. 
Whether or not the speculations are true, Minaj subtly let everyone know how she felt about Richardson.