Who Are Tessa Thompson's Parents? A Look at Her Early Life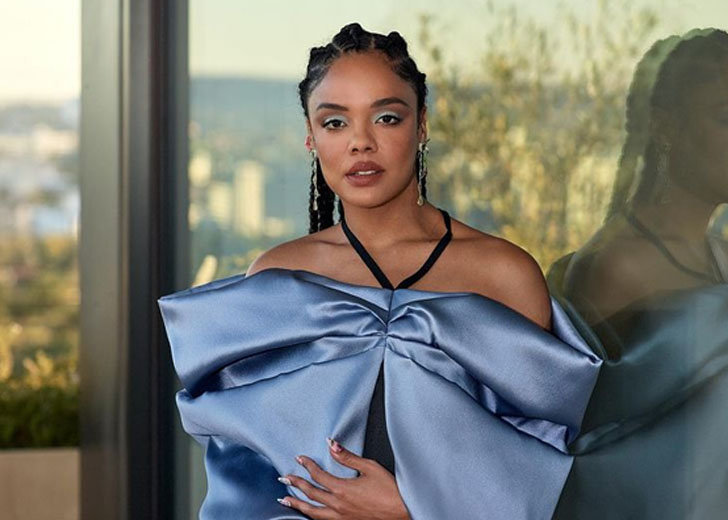 Tessa Thompson, a biracial actress, was born to parents of different ethnic backgrounds. Born in the 1980s, she grew up during a racially charged time.
Her parents, however, raised her to be strong. Her mother, in particular, raised her to be proud of her origins.
Who Are Tessa Thompson's Parents?
Tessa Thompson was born on October 3, 1983, in Los Angeles, California. Her parents are Marc Anthony Thompson and Maciallah Thompson.
Marc, a musician and the founder of Cholocate Genius Inc., a musical collective, is Afro-Panamian. He has scored music for productions such as Shut Up and Dribble (2018) and Rodeny (2017).
Her mother Maciallah, on the other hand, is half-Mexican and half-white with some European ancestry. She was a painter and sculptor.
Thompson's grandfather, Bobby Ramos, is of Mexican descent. He was, and still is a performer — he is an actor and musician. He has three acting credits on IMDb, with the latest one coming in 2020 on Tar.
And he was often the only performer around during his time. Thompson said he had "a real pressure" to adapt to an only English-speaking society.
Due to this, he did not want Maciallah to even speak Spanish.
While growing up, Thompson split her time between Los Angeles and Brooklyn. She grew up listening to her father play around with instruments in his studio.
During her interview with Embrace You magazine, she gushed about how her father was a gifted storyteller, lyrically speaking.
He might have also nudged her towards acting. She noticed he used to adopt a character on stage.
Further, he also used to make her the subject of his home videos. These left an impression on a young Thompson who then started to drag her little sister into little scenes she wrote.
She became interested in linguistics, which eventually brought her to acting. She started with theater acting, then moved to cinematic projects with Veronica Mars being her breakthrough job.
Tessa Thompson's Mother Taught Her to Be Proud of Her Blackness
Thompson's mother is not Black. But she understood the importance of being proud of one's heritage.
And that is exactly what she instilled in her daughter. During her speech at the 11th annual ESSENCE Black Women In Hollywood luncheon in 2018, Thompson said her mother taught her to be proud of being a Black woman.
Further, the Thor actress also mentioned that her mother gave her enough room to explore her identity and provided her with enough guidance in figuring herself out.
Talking about her experience in school, she said, "She told me that my broad features and my brown skin looked beautiful when classmates did their best to convince me otherwise."
Ending her speech, she said she aspired to be brave because her mother wanted that.
Now, she has not just one mother, but two. Her parents divorced when she was young, and Marc married Kate Sterlin, a photographer and writer.
They both have inspired her and her half-sister Zsela to be kinder to themselves and "cherish the skin" they were in.