Teddi Mellencamp Got Sweet Letters from Kids and Husband While on 'Celebrity Big Brother'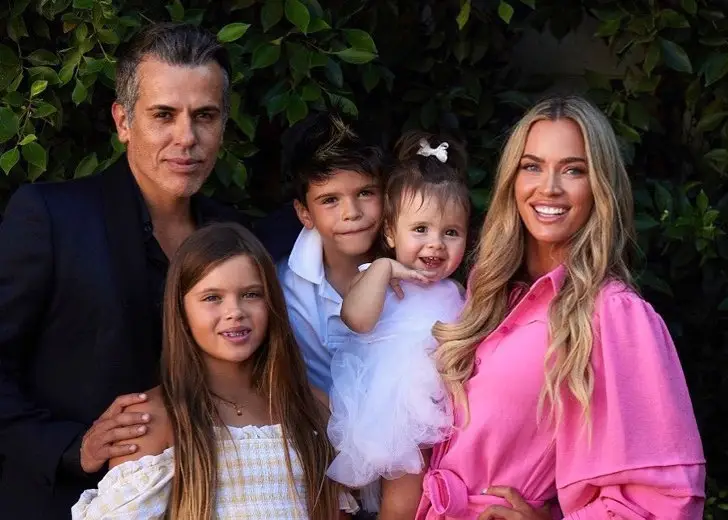 Teddi Mellencamp, who is perhaps best known for her time on The Real Housewives of Beverly Hills, was the first one to be booted off Celebrity Big Brother's third season. 
However, being out of the show meant that she got to go back to her own household where her doting husband, Edwin Arroyave, and their two children were patiently waiting for her to return. 
The husband and wife celebrated their 10-year wedding anniversary in July 2021.
Teddi Mellencamp Was the First to be Evicted
Teddi was evicted from the show on the third episode this season, which aired on February 4, 2022. 

Teddi Mellencamp with two of her kids (Source: Instagram)
The very next day, the reality star shared the sweet letter from her family that she would have received when she won the in-game Head of Household next week. 
"But being I wasn't given the chance I'll just continue to run my own household," she shared. 
She went on to take a swipe at the reality show she'd just been voted out of and penned:
Maybe snuggle with the kids in my comfy bed and tell them stories about how to play games with your heart and integrity.
The not-so-subtle shade aside, she admitted that her time on the reality TV show had been fun while it lasted. 
Teddi Mellencamp's Husband & Kids Wrote Her Letters
Having been away from their Teddi for about 18 days, her husband and kids had drafted letters to send to the family's matriarch. 
In said letters, both of her kids had listed down the achievements they'd accomplished while their mother was away. 
Slate had been enjoying the mindfulness class that Teddi had apparently signed her up for before she left, and the youngster was also getting better at math. 
Teddi's eldest daughter also shared that she was excited about her upcoming horse show.
The adorable daughter affirmed that she would document it all on video so she could watch it with Teddi once they were together again. 
The loving son shared the excitement about his upcoming football game before telling his mother that he'd been reading every single day that she was away. 
For his school project, Cruz was studying up on the American Bison, which he affirmed were the largest mammals in North America. 
While he admitted that school had been super fun, reading on his own was even more engaging. 
Both the kids penned that they were missing their mother and couldn't wait to write more letters to her. 
Unlike the kids, the husband's letter was all about appreciation and motivation. He'd penned down how much he appreciated his wife and how blessed he felt to have her in his life. 
Only later did he share that he had everything at home under and how he was holding down the fort while she was out shooting for the show. 
Who Is Teddi Mellencamp's Husband Edwin Arroyave?
As per his website, Arroyave is the CEO and Founder of Skyline Security Management, one of the largest authorized dealers of Brinks Home Security.
Arroyave was born in Colombia but moved to the US early on in his life. He's been living in Los Angeles ever since. 
He was forced to take financial responsibility for his family at a young age and started working remotely as a telemarketer at the age of 15, while still attending high school. 
With the company he established in 1999 with a partner, his business is amongst the top 35 minority-owned businesses in all of Los Angeles.