A Look inside Taylor Tomlinson's Relationship with Boyfriend Sam Morril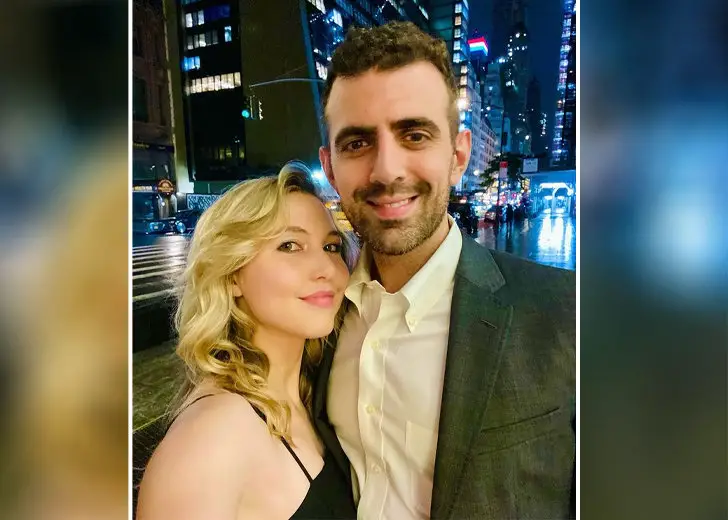 Taylor Tomlinson's relationship with boyfriend Sam Morril only became extant after she broke her engagement with her previous partner in 2019. 
Tomlinson was in a pretty serious relationship, and she had even planned a wedding after being engaged.
But for reasons never shared with her fans and followers, the 28-year-old and her fiance called off their engagement. 
"It sucks that I had to get engaged and then go through an excruciating breakup," Tomlinson told The Washington Post in April 2020. 
She also mentioned it was hard to let go of the future she had planned for herself with the particular person.
But as time passed on, the humorist admittedly realized what had happened was in her best interests, and she had become a better person after the experience. 
Also, she met her current boyfriend, Morril, which was like a second chance in love after her engaged life was over. 
Taylor Tomlinson and Boyfriend's Love Story
In late 2019, Tomlinson crossed paths with fellow comedian Morril. They started as friends, and their friendship eventually progressed into love. 
The pair stayed in a long-distance relationship for about five months and moved in together before the pandemic escalated.  
In an interview with People in March 2020, Tomlinson opened up about her new dating life and shared that their relationship progressed naturally. 

Taylor Tomlinson with her boyfriend, Sam Morril. (Photo: Taylor Tomlinson's Instagram)
When the host wondered aloud who made the first move, the famed television personality quickly replied,
I don't know if anybody even made the first move... We sort of became friends, and it was very organic.
She also mentioned they had exchanged "nice messages" and Morril had been very respectful. 
Elsewhere in the sit-down, Tomlinson gushed about how it was like dating a comedian. In her own words, the best thing about dating a humorist was they understood her and her lifestyle.
She shared that her life differed from ordinary people's because it was laden with travel, press shows, and hectic schedules. And she stated only a comedian would only understand that. 
Tomlinson also added her previous boyfriends never understood her lifestyle. She noted it was nice to be with somebody who understood her and her jokes. 
Taylor Tomlinson Made Sketches with Boyfriend
After Tomlinson and her partner moved in, they made the best out of the quarantine.
The duo created a web series titled 'New Couple Gets Quarantined' and hosted the This is Important to Me podcast.
They used their humor and created content based on the hardships and fun of quarantine dating. 
However, the lovebirds didn't continue with the project for long, which spurred rumors they had split. But the breakup rumors were just mere speculations.
Tomlinson and Morril have been going strong in their relationship, and a brief look at their social media handles proves that. 
On Tomlinson's 28th birthday, dated November 4, 2021, Morril posted a throwback picture of himself with her on Instagram. In the caption, he recounted the times they spent together.
Further on, he disclosed he was on a flight while his partner was driving to the airport when uploading the post. "Someday we will take another night off," he added. 
Morril's post clarified that the couple was pretty busy with their respective careers but still making their relationship work.