Who is Taylor Tomlinson's Boyfriend after Relationship with Ex-fiance Sam Morril?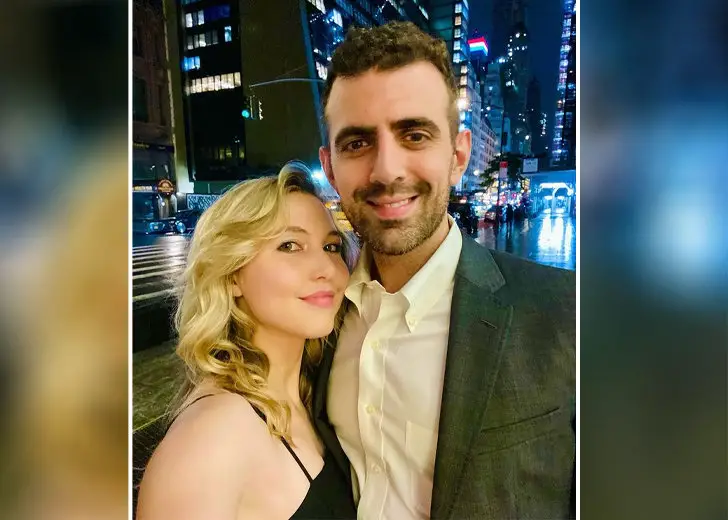 Canadian comedian Taylor Tomilson is known for her two Netflix stand-up specials, Quater-Life Crisis (2020) and Look At You (2022). The Orange County native has flourished in the comedy scene because of her confidence and breezy take on controversial subjects with build-up style contexts. 
The 29-year-old has been on the comedy scene since the age of 16 after her father listed her for a stand-up class. Since then, the talented comedian has gone from performing in school venues, church basements, and coffee shops to performing the renowned shows and events and sharing the stage with her idols, including Whitney Cummings. 
This article aims to cover Tomilson's private life and relationship status, which she has referenced repeatedly in her routines. 
Was Sam Morril Taylor Tomlinson's boyfriend? 
If you didn't know, many thought Taylor Tomlinson's relationship with boyfriend Sam Morril only became known after she broke her engagement with him (her fiance's name hadn't been revealed then) in 2019. However, as it turned out, Tomlinson dated Morril even after their engagement was over. 
Tomlinson was in a pretty serious relationship with him, and she had even planned a wedding after being engaged.
However, she eventually called off their engagement. She first joked about her failed engagement while making appearances on The Tonight Show with Jimmy Fallon in March 2020. 
Later, she also shared with The Washington Post how she felt when her engagement ended. "It sucks that I had to get engaged and then go through an excruciating breakup," Tomlinson said.
She also mentioned it was hard to let go of the future she had planned for herself with the particular person.
Who is Taylor Tamlinson's ex-fiance Sam Morril?
Sam Morril is a 36-year-old American Jewish stand-up comedian who got his big break on Stephen Colbert's The Colbert Report. Eventually, in 2014, he became a regular feature on shows such as The Late Show with Stephen Colbert and Conan. 
Morril was born on 29 August 1986 to a painter and fiction writer mother, Marilyn Greenberg, and a father who is from the Elgort family. Morril's step-father's name is Mark Charles Morril. He is also related to actor Ansel Elgort from his father's side. 
In 2018, he had joked about not wanting kids in his life. "I like babies," he jokingly said. "But do you know what is better than a baby? Not having a f***ing baby!." Tomlinson also had disclosed to Seth Meyers that they had a similar talk about having children.
Why did Taylor Tomlinson and her ex-fiance's Morril relationship turn sour?
After her engagement was over, Tomilson admittedly realized what had happened was in her best interests, and she had become a better person after the experience. 
Although Tomlinson and her ex-fiance past relationship seemed unbreakable, she also understood that there might always be a second chance in love after her engaged life with him was over.
Although their engagement was over, they didn't give up on their relationship. They started dating again.
It was in March 2020 she released her special first special Quater-Life Crisis at the age of 25. The special could be taken as a vivid representation of her worldview and how she managed to make fun of the immaturity of her 20s. 
Although she didn't explicitly mention the reason for calling off the engagement, she implied in clever jokes that she wasn't ready to take the next step in life with someone with whom her values didn't align. She also noted the intimate relationship between them had declined.  
Also, in her second special, Look At You (2022), Tomlinson also delves into her struggle with mental health, dating, and relationships as a whole. She also discussed why she wouldn't date "loser" guys anymore. 
When did Taylor Tomlinson and ex-boyfriend Sam Morril's love story begin?
In late 2019, Tomlinson crossed paths with fellow comedian Morril. They started as friends, and their friendship eventually progressed into love. 
The pair stayed in a long-distance relationship for about five months and moved in together before the pandemic escalated.  
In an interview with People in March 2020, Tomlinson opened up about her dating life and shared that their relationship progressed naturally. 

Taylor Tomlinson with her boyfriend, Sam Morril. (Photo: Taylor Tomlinson's Instagram)
When the host wondered aloud who made the first move, the famed television personality quickly replied,
I don't know if anybody even made the first move... We sort of became friends, and it was very organic.
She also mentioned they had exchanged "nice messages," and Morril had been very respectful. 
Elsewhere in the sit-down, Tomlinson gushed about what it was like dating a comedian. In her own words, the best thing about dating a humorist was they understood her and her lifestyle.
She shared that her life differed from ordinary people's because it was laden with travel, press shows, and hectic schedules. And she stated only a comedian would only understand that. 
Tomlinson also added her previous boyfriends never understood her lifestyle. She noted it was nice to be with somebody who understood her and her jokes. 
Who is Taylor Tomlinson dating now after her failed engagement with Sam Morril?
Tomlinson and her partner Sam Morril had moved in after dating long-distance for five months. And later,  they made the best out of the quarantine.
They then created a web series titled 'New Couple Gets Quarantined' and hosted the This is Important to Me podcast.
"Well, we kind of lost control of our careers about a week ago... not just our careers, but our lives. [But] it's fun to be creative together," Morril shared the reason behind their new quarantine project.
"We are genuinely stuck together, so we figured this would keep us sharp and creative, and not at each other's throats," Taylor added and agreed with her then-boyfriend's comment. 
They used their humor and created content based on the hardships and fun of quarantine dating. 
However, the lovebirds didn't continue with the project for long, which spurred rumors they had split after sticking together through the pandemic quarantine and even failed engagement. And many thought that their breakup rumors were just mere speculations.
On Tomlinson's 28th birthday, dated 4 November 2021, Morril posted a throwback picture of himself with her on Instagram. In the caption, he recounted the times they spent together.
Further, he disclosed he was on a flight while his partner was driving to the airport when uploading the post. "Someday we will take another night off," he added. 
Morril's post clarified that the couple was pretty busy with their respective careers but still making their relationship work.
Previously in August 2021, Tomlinson had also shared a story about her New Yorker boyfriend in Late Night WIth Seth Meyers. The former pair were still dating at the time.
She said, "My boyfriend lives in New York and is like born and raised in Manhattan, which I consider low-key abuse," joked Tomlinson. And because he grew up in New York, he cannot drive... He could drive, but he won't, because he's like, 'I'm a New Yorker!'"
Later on 13 March 2022, Tomlinson revealed in the U UP? podcast that she was single. Similarly, on Your Mom's House Podcast, Morril also confirmed their breakup, saying, "I had a breakup in like February, and I'm just not ready to date someone." 
Also, Morril has also made several revelations about his relationship and breakup with Taylor on the We Might Be Drunk podcast. 
As of now, there have been no reports on Taylor's relationship status. However, she seems to be in the dating game again, but she would consider it a lot before moving into a serious relationship.