Taylor Lewan's Wife Taylin Helped Him Set up a Better Future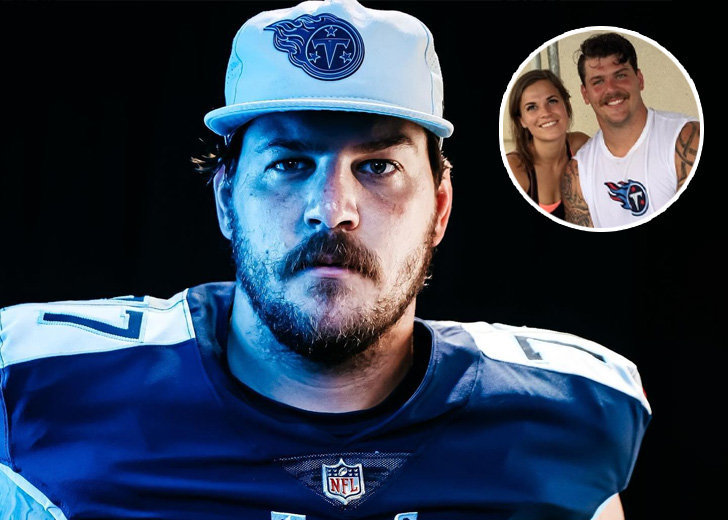 Tennessee Titans tackle Taylor Lewan tied the knot with his wife Taylin Lewan in 2018. Together, the two are parents to two daughters — Wynne Rebel Lewan and Willow A. Lewan.
Lewan started dating his wife in 2016, and when talking to Tennessean in 2017, the athlete shared she had changed his life.
Taylin also revealed that when the two first met, Taylor wasn't satisfied with the direction his career and life were heading towards. She also expanded a little on his transformation.
"I mean, as much as everyone kind of pumps him up in the media about how he's changed on the field, it started off the field," she said. "As I think everything kind of does."

Taylor Lewan and his wife Taylin Lewan got married in Big Sur, California, in 2018. (Source: Instagram)
Taylor noted that meeting his wife and having kids with her had changed his outlook on life. If it weren't for them, he said he probably wouldn't have become an integral part of his team.
"I never thought I'd be 26 years old and have a kid, and be with someone I knew I'd spend the rest of my life with," he shared.
"Those two are the best things that have ever happened to me. Without them, I don't think I would have had much more time here in Nashville."
Taylor Lewan and Wife Taylin Lewan
Though Taylor and his spouse post about each other frequently on social media, not much is known about how they met or got together.
However, Taylin has revealed a lot about her relationship with her husband through many of her posts. When the duo learned they were becoming parents for the first time, she shared the news with a sweet post on Instagram in February 2017.
"Earlier in the night we found out we're welcoming a sweet baby girl," she wrote in the captions.
"I can't express the excitement and love I have. This 310 pound man will be wrapped around a tiny little finger in 5 short months…"
Taylin has also shown her support for Taylor on several occasions.
Regarding the statement he made in July 2019 about being suspended for four games of the 2019 season for violating the league's policy against performance-enhancing substances, she dedicated a lengthy Instagram post to show she stood by his side.
"And I'm sorry for being to the right of you during that video, probably didn't make it easy to hold back. You always have a way of doing things your way, it's why I fell in love with you in the first place," she wrote.
"I don't know if it's always right or wrong, but it's you. And you've always been eager to learn and grow. I hope that if anything this brings awareness to change. This is just your statement, this isn't the end of your fight."
Taylor Lewan & Wife Have Two Kids
Taylor and Taylin are parents of two kids. The pair welcomed their first child together, daughter Wynne, in 2017.
Taylin announced their baby's arrival with an Instagram post where she revealed their daughter got her name from her great-grandpa Wynn.
Their family of three grew larger in July 2020 when Taylin gave birth to their daughter Willow. Taylor broke the news with a picture of Taylin holding onto their newborn daughter right after delivery.