Taylor Lautner Engaged to Girlfriend Taylor Dome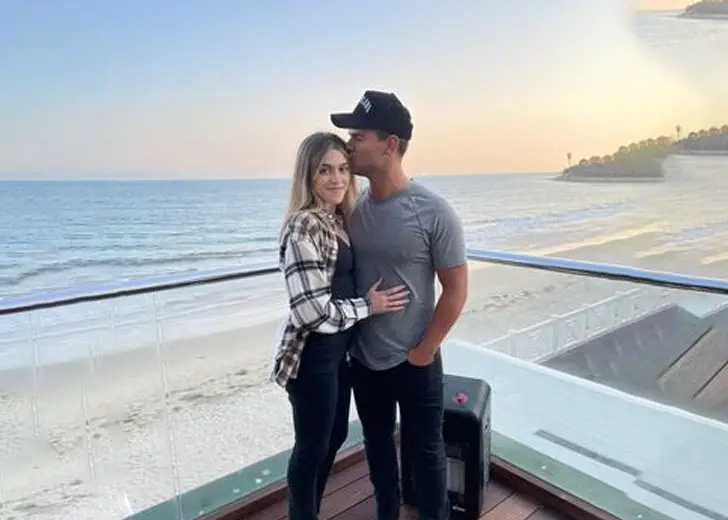 Taylor Lautner got engaged to his girlfriend, Tay Dome, on November 11, 2021. The actor shared a four-minute video on his Instagram, where he showed the preparation that went behind his proposal.
Lautner broke the news about his proposal by sharing a picture of him asking her the question while down on one knee.
The Twilight star and his girlfriend were surrounded by candles and roses. Behind the couple was a neon light that read, "Lautner," and scattered all over the floor were rose petals.

Taylor Lautner proposing to his girlfriend Tay Dome (Source: Instagram)
"11.11.2021," he captioned the post. "And just like that, all of my wishes came true."
When talking to Extra TV, Lautner shared how he knew Dome was the one for him.
"She's the best person I know," he shared. "I mean, she's my best friend and I strive to be more like her every day. That's how I knew."
He had shared similar sentiments in an Instagram post he made a few days after his engagement.
Uploading a picture of his girlfriend showing off the engagement ring, the actor wrote how he couldn't wait to spend forever with his girlfriend.
In the aforementioned interview with Extra TV, Lautner said he was excited about getting married to his girlfriend, but that they hadn't started planning it yet.
Taylor Lautner and Girlfriend
Lautner took a break from acting in 2016 after playing in Run the Tide and Scream Queens. It was during this break that the actor met Dome.
"I wanted to take a step back and enjoy life and spend some time with my family and friends," he said. "And I met my fiancée out of it, so it all worked out."
Lautner was introduced to Dome by his younger sister, Makena. "She called me and said, 'Dude, I found your future wife. You need to meet this girl.'"
Makena shared she met Dome for the first time at a church in Nashville. She wrote she knew she had to introduce Dome to her brother because they were perfect for each other.
It's not known when Lautner and Dome got together, but they have been dating publicly since 2018.
Who Is Taylor Lautner's Girlfriend?
Dome is a registered nurse from California. She also runs a blog/shop about all things mental health and self-care called Lemons by Tay.
In her first blog post, Dome wrote she hoped to help people realize how important it was to prioritize mental health.
She got serious about mental health and self-care after watching many of her family members struggle with addiction
Losing one of her closest friends from high school to suicide because of his battle against bipolar disorder was another incident that left a deep impression on her.
Dome started her career as a cardiac nurse at a hospital in LA County in the fall of 2020. 
Not long after she started, she and her colleagues had to deal with the second surge of COVID.
Because of the hectic schedule and situations that followed, she found herself struggling with anxiety and depression.
Dome started Lemons by Tay, hoping to talk about mental health and self-care.